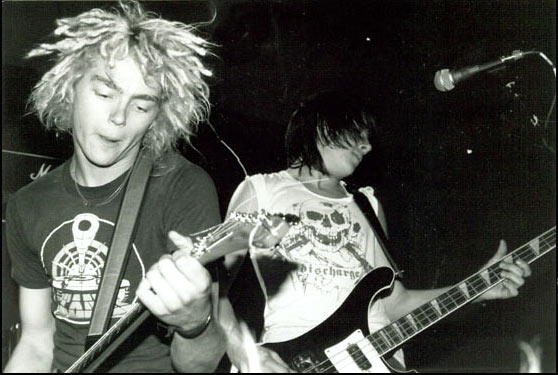 Formed: Oak Harbor, Washington, USA
Considered by many to be one of the very best crossover acts, The Accüsed actually started out as a standard hardcore band of the sort that wouldn't have been out of place on the New York Thrash compilation. Initially, bassist Chibon 'Chewy' Batterman sang (and can be heard doing so on their early demos), but then John Dahlin took over for their debut album (a split effort with The Rejectors) and they started morphing into a metal/punk outfit. Mark Prindle, that GREAT reviewer, described the band at this point as "one of the worst punk-metal bands in the short history of the universe".
It took the arrival of Blaine Cooke from The Fartz on vocals to get the band into top gear. The self-released Martha Splatterhead 12" EP injected vicious doses of metal into their music and went overboard on the horror movie/splatter aesthetic, with Blaine screaming away in a most disconcerting manner. With Martha as their mascot (much like Iron Maiden's Eddie) they've stuck to the same formula - shrieking vocals, intense riffage, high speed tempos, splatter movie subjects - ever since. They were popular enough to have been the subject of a tribute album, 1990's Mechanized Death CD, on Transparent Records, featuring loads of really obscure bands. The Return Of...Martha Splatterhead is considered something of a classic of its kind.
The group's post 1986 ling-players are: More Fun Than An Open Casket Funeral (1987), Martha Splatterhead's Maddest Stories Ever Told (1988), Hymns For The Deranged (mini-LP, 1990), Grinning Like An Undertaker (1990), Straight Razor (mini-LP, 1991), Splatter Rock (1992), Oh Martha! (2005) and The Curse Of Martha Splatterhead (2009).
They split in the early 90s and returned in 2003, although after the comeback LP Oh Martha! (2005), the entire band deserted Niemeyer, who recruited a heap of new members and soldiered on as the only original member,
As you can guess, I'm not a big fan, what with finding crossover a tad tiresome and often annoying, but they deserve a mention here.
Josh Sinder later played in Tad and currently plays in The Insurgence.
ORIGINAL LINEUP (1981-83):

John Dahlin - vocals
Tom Niemeyer - guitar
Chibon 'Chewy' Batterman - bass, vocals*
Dana Collins - drums
*Chewy actually sang/played bass briefly before John Dahlin joined
CLASSIC LINEUP (1984-1989):


Blaine Cooke - vocals
Tom Niemeyer - guitar
Alex Sibbald (aka Alex Maggot Brain) - bass
Dana Collins - drums
OTHER MEMBERS AT VARIOUS TIMES INCLUDE:

Brad Mowen - vocals
Tom Niemeyer - guitar
Prof. Iman A. Phid - bass
Mike Peterson - drums
Josh Sinder - drums
DISCOGRAPHY
Singles / Albums

VARIOUS ARTISTS
Brain Of Stone US LP 1984 (BCT): Civil Defense / In a Death Bed / God Drives A Blue And White Car / The Right
Thrasher Skate Rock 3: Wild Riders Of Boards US Tape 1985 (High Speed): Take No Prisoners
Not Yet Decided US Tape 1986 (no label): Lonely Place / Take My Time
What Syndrome? US Tape 1983 (Deux Ex Machina Records And Tapes): Reagan's War Puppets / Highway Star
All For One..One For All US CD 1995 (Grand Theft Audio): No Accusations
Louder Than Hell EP US 7"/CDSl 2005 (Six Weeks): Take My Time
Links
SPLATTER ROCK: HOME OF THE ACCÜSED
A slew of great Mark Prindle band reviews