Wild Billy Childish with Armitage Shanks - Shirts Off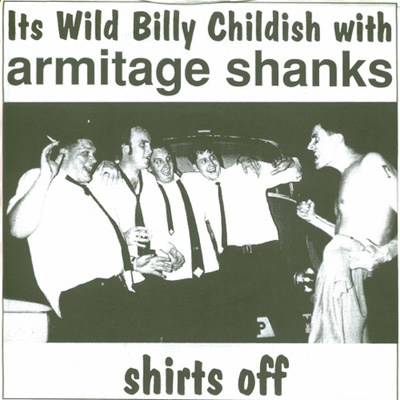 Original Release Date
1993
Release Information
UK 7" 1993 (Damaged Goods - DAMGOOD 23)
A1 Shirts Off
A2 Kray Twins
B1 Icon Schmicon
B2 Bernard Manning
Chart Placings
None
Credits
Armitage Shanks are:
Rich - git, lead vocals (Icon & Manning)
Graham - bass
Duncan - rhythm git
Simon - drums
With....
Billy - lead vocals (Shirts & Kray)
Reviews & Opinions
PUNKY GIBBON: "Elvis Presley, God he must be bitter/Only remembered/For being found dead on the shitter". A great little EP, here: rude, obnoxious and sloppy 77-style punk with yobbo vocals - really funny stuff. The title song and 'Bernard Manning' were re-recorded for
Takin' The Piss
.
Additional Notes / Lyrics
None yet
Images