Blitz - Never Surrender / Razors In The Night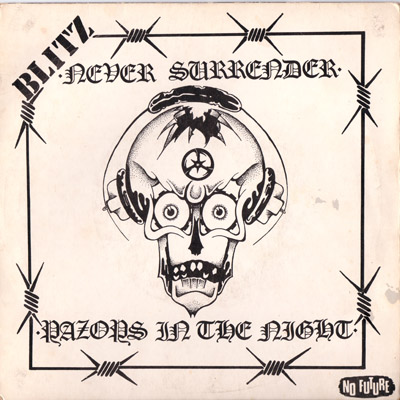 Original Release Date
1982
Release Information
UK 7" 1982 (No Future - Oi 6)
A Side
1 Never Surrender 1:32
AA Side
2 Razors In The Night 1:55
Chart Placings
UK Indie Hit: 2, 20 wks
Credits
Recorded at Hologram Studios Stockport.
Mixed and produced by BLITZ & Tim (BOMBER) Harris.
All songs written by Blitz (Carl & Nidge) mostly but bits by Charlie & Mackie.
Additional Credits
Carl Fisher - vocals
Nidge Miller - guitar
Mackie - bass
Charlie Howe - drums
Reviews & Opinions
JEFF BALE, MAXIMUM ROCKNROLL #1, JULY 1982: The best of the "skunk" bands comes up with a second terrific release. On this one the guitar sound isn't quite as heavy and dense, but it's more than compensated for the accelerated tempo. A must.
Additional Notes
None yet
Images