The Boys - Punk Rock Menopause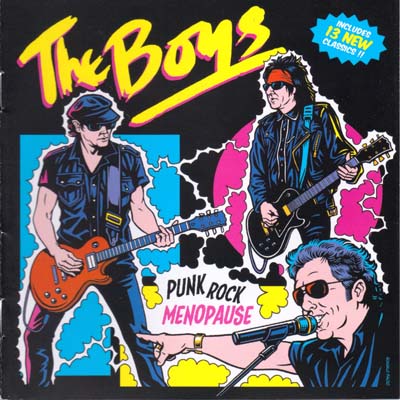 Original Release Date
2014
Release Information
Germany CD 2014 (Wolverine - WRR 204)
1 1976 3:34
2 I Need You 1:57
3 I'm A Believer 5:02
4 She's The Reason 2:32
5 Global Warming 2:56
6 Keep Quiet 3:26
7 How Hot You Are 3:05
8 Punk Rock Girl 3:18
9 Organ Grinder 4:34
10 How Can I Miss You 2:41
11 What's The Matter With Morris 3:39
12 Pistol Whipping Mama 3:21
13 Baby Bye Bye 2:21
Chart Placings
None
Credits
Matt Dangerfield - guitar, vocals
Honest John Plain - guitar, vocals
Casino Steel - keyboards, vocals
[With:]
Steve Fielding - bass guitar (except tracks 1 & 5 - Dangerfield & 4 - Plain)
Stephane Reynaud - drums on tracks 1,2,3,4,5,7,8,10,12 & 13
Martin H-Son - drums on tracks 6,9, & 11
Recorded at Rock On Studios, Seynod, France
Engineered by Jean Cataldo
Produced by Johnny Cat, Matt Dangerfield, Casino Steel and Honest John Plain.
Mastered by Mats "Limpan" Lindfors at Cuttingroom, Stockholm, Sweden
Cover design by Gonzalo Facio

Additional Credits
None yet
Reviews & Opinions
PUNKY GIBBON: There isn't much that fills the heart with more trepidation than a comeback record, and punk rock history is littered with shoddy examples: SLF's Flags & Emblems, Sham 69's Volunteer, the Buzzcocks' Alive Tonight EP, X-Ray Spex's Conscious Consumer, PiL's This Is PiL. Etc and so on. But what about when a band hasn't released an LP in more than three decades? (I'm ignoring Power Cut from 1997, because that was just a load of reworked Boys oldies). Surely it can't work?
Well, the good news news is that this sounds just like The Boys; unlike The Weirdness by The Stooges, which sounds nothing like The Stooges. God that was shit!
When the opening chords of '1976' come blasting out of the speaker you recognise that distinctive guitar sound. And when the vocals start, it takes you right back to the glory days of 1978. I've always struggled with who sings what on The Boys records, but this sounds exactly like one of the guys who used to sing on all those old Boys records - he has not aged at all! The rest of the LP maintains this masterful turning-back-time vibe, as the band pump out one very catchy song after another, full of simple effective melodies, lovely harmony vocals, great chugging guitars and winning vocals. Standouts are the harmony-drenched 'I Need You', the sarcastic 'I'm A Believer' and the delightful 'Punk Rock Girl', which name-checks Poly, Siouxsie, Gaye, Johnny Thunders and, er, Doris Day.
The songs are really good, as are the lyrics, with 'What's The Matter With Morris' sounding in particular like an outtake from Alternative Chartbusters, but there are some minor issues which detracts from the LP's greatness. One, it's a bit too long: I've always thought 38 minutes is the ideal length for a record of this type, and this lasts five minutes longer than that. (I'd have jettisoned the baffling 'Organ Grinder' and the Beatles-y closer, 'Baby Bye Bye'.) Two, it could do with at least one full-tilt rocker, and ideally three or four. Everything here is the same tempo, familiar to anyone who knows 'Brickfield Nights'. It gets a bit samey and you really start to long for a fast song that truly rocks, in the vein of 'No Money' or 'Do The Contract Hustle'. The (very colourful) cover says it includes "13 new punk classics", but it doesn't. But it's a pretty good LP all the same, its much better than Boys Only or To Hell With The Boys and it doesn't do the band's reputation any harm at all.
In short: worth getting.
Additional Notes
Hear and see i"m A Believer' here
Images