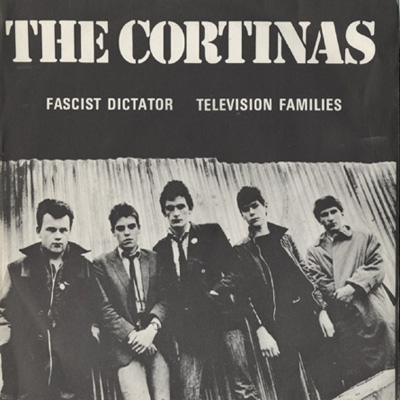 Original Release Date
1977
Release Information
UK 7" 1977 (Step-Forward - 1)
1 Fascist Dictator 2:36
2 Television Families 2:22
Chart Placings
None
Credits
Jeremy Valentine - vocals
Dexter Dalwood - bass
Nick Sheppard - guitar
Mike Fewins - lead guitar
Daniel Swan - drums
Lyrics - Valentine
Music - The Cortinas
Recorded at Polydor Studios
Engineer: Pete Wilson
Produced by M.C. and M.P.

Reviews & Opinions
DANNY BAKER, SNIFFIN' GLUE #10, June 1977: New wave fast and furious, I reckon 'TV Families' is the better, in the Saints vein but with more brains, edge and anyrate Marks [sic] got his boot on me neck. ("Let 'em know I don't sign shit"). This single is proof.
Additional Notes
Producers by M.C. and M.P. are Miles Copeland and Mark Perry.
Images