Formed: Redditch, Worcestershire, England, UK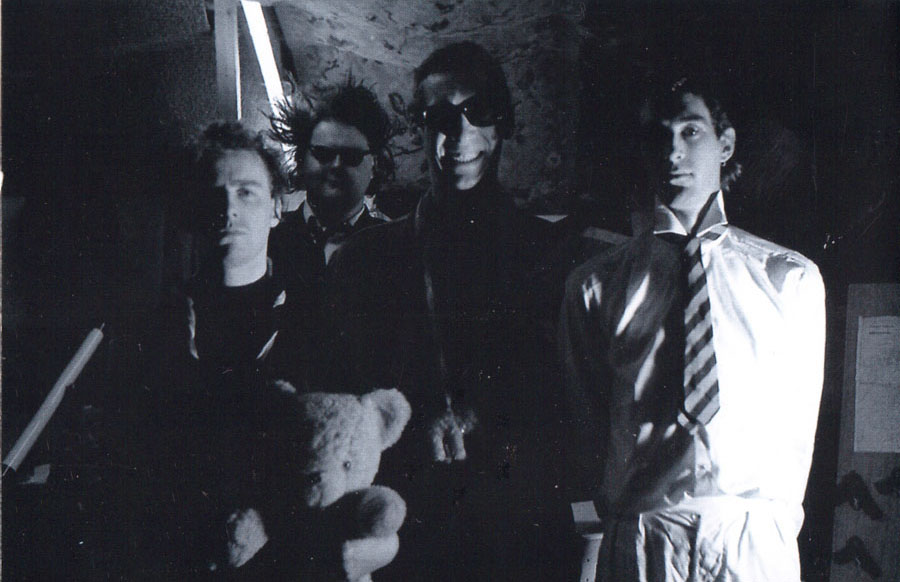 Dark, dense, foreboding, funny and paranoid, The Cravats hailed from Redditch's (near Coventry) and formed in Spring '77. In stark contrast to the prevailing mood, where simplicity and directness was "the thing", they dabbled in complicated song structures, utilising surreal humour to paint a picture of world caving in on itself. With a honking saxophone, weird chord progressions and obtuse sociopolitical lyrics, they were one of a kind, somehow fitting into Small Wonder's roster of pseudo-pop acts (labelmates Punishment of Luxury and Pere Ubu would be fair-ish comparisons). They were also a brilliant band, albeit one generally ignored throughout their career.
Their first single, Gordon, was independently pressed in plain white labels and sold well, and the last few unsold copies were sent to Small Wonder. Pete Stennet hand-stamped these and sold these remaining copies himself. For collector nerds, here is how you can spot the Small Wonder ones: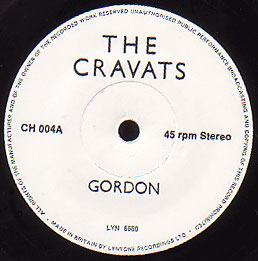 GORDON
GORDON WAKES UP TO HIS LOT
HIS TEASMADE'S MADE ANOTHER POT OF BOILING WATER
YOU KNOW YOUR BREAKFASTS ON ITS PLATE
GORDON YOUR FIVE MINUTES LATE IT'S BORING SHE SAYS IT EVERYDAY
YOU GOT YOUR BONDS AND YOUR "M" REG CAR
THE NEIGHBOURS ALL THINK THAT YOU'LL GO FAR, GORDON
GORDON GOES INTO THE TOWN
HIS WASHED AND BUFFED CORTINA BROWN AND SHINY
SATURDAYS ARE QUITE A THRILL
GORDON DOESN'T RISE UNTIL 9.30 OR WHEN SHE CALLS HIM
HIS MUMMY BOUGHT HIM THE ARK ROYAL
DON'T START IT NOW OR YOUR TEA WILL SPOIL GORDON
HIS MUMMY WON'T LET HIM MAKE DATES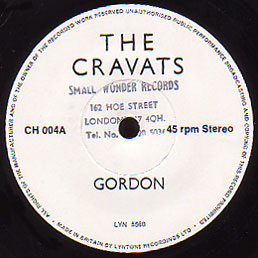 AND SO GORDON MASTURBATES HIMSELF TO SLEEP
GORDON HAS A SINGLE SCOTCH
LOOKS AT HIS WATCH AND SEES IT IS 9.30
ONCE A GIRL SAT ON HIS LAP
REMOVED HIS CAP AND SAID THAT HE WAS LOVELY
GORDON HIS EXCUSES MADE
THEN RAN HOME HIS EGO FRAYED AND TATTERED
GORDONS LOCKED INSIDE THE SHED
IN HIS HANDS HE HOLDS HIS HEAD AND A HATCHET
HIS MUMMY SHOUTS THAT HE IS LATE
GORDON SLAMS THE GARDEN GATE AND WALKS IN
IF I'VE TOLD YOU ONCE GORDON I'VE TOLD YOU A THOUSAND TIMES,
PUT DOWN THAT HATCHET GORDON OR AT LEAST DRAW THE BLINDS SO
THE NEIGHBOR'S CAN'T SEE
I HATE THE UNIVERSE
YOU EAT YOUR STODGY GOO AND YOUR TEETH GO BAD
YOUR BREATH SMELLS OF CIGARETTES AND THAT'S TOO BAD
YOUR DADS DRIVE MARINAS DOWN CUL DE SACS
WHILE YOUR SONS CREEP AROUND IN THEIR PLASTIC MACS
I HATE THE UNIVERSE
HAD IT UP TO HERE WITH THE HUMAN RACE
SWALLOW MY PRIDE, SUCH A BITTER TASTE
BEEN CAGED UP AND TIED DOWN TOO FUCKING LONG
THE PRESSURE SO GREAT CAN SO MANY BE WRONG?
I HATE THE UNIVERSE
2 MILLION YEARS AND WE REACH THIS PLACE
TURN AROUND AND STARE IT IN THE FACE
IF I DESPISE FOR TOO LONG,IT'LL BE TOO LATE
BUT RIGHT AT THE MOMENT ALL I CAN DO IS HATE
I HATE THE UNIVERSE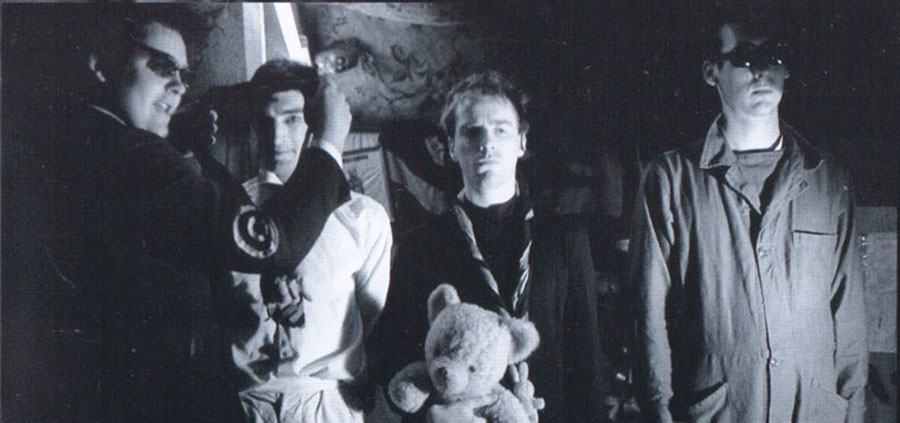 During their three year stint with the label they issued four superb singles and one magnificent album, and also recorded four Peel Sessions. None of their records sold in huge amounts, although Precinct crept into the Indie Top 40 and In Toytown spent a couple of weeks in the same chart. Its success was possibly due to its high profile producer.
Penny Rimbaud of Crass. Rimbaud remained behind the mixing desk for the great You're Driving Me, and Stennet himself co-produced their final release for the label, Off The Beach. 1982 saw the release of Terminus (on Glass Records) and Rub Me Out (on Crass, again with Rimbaud producing).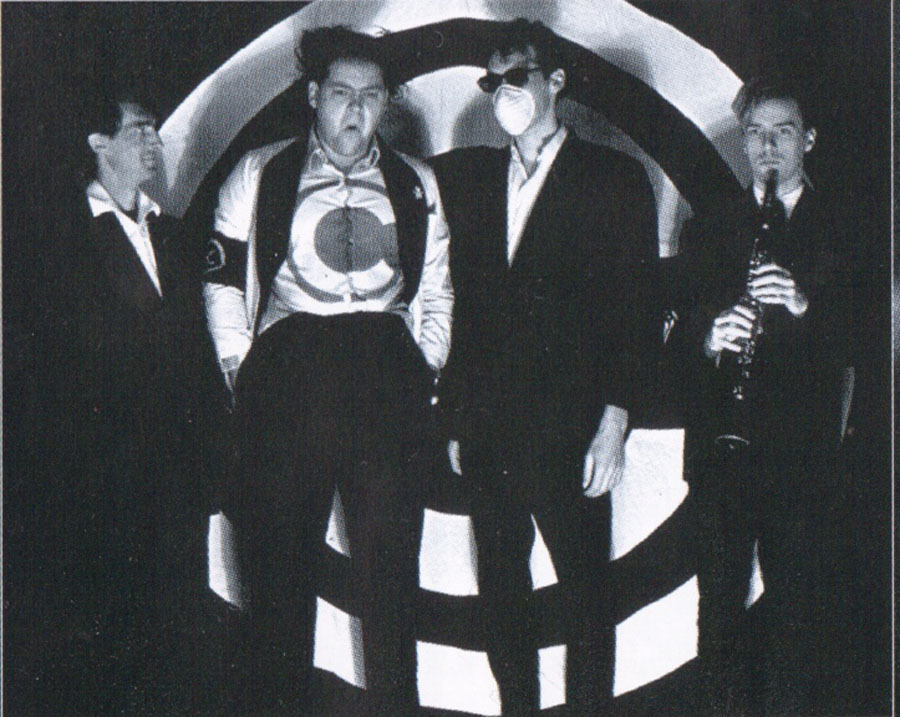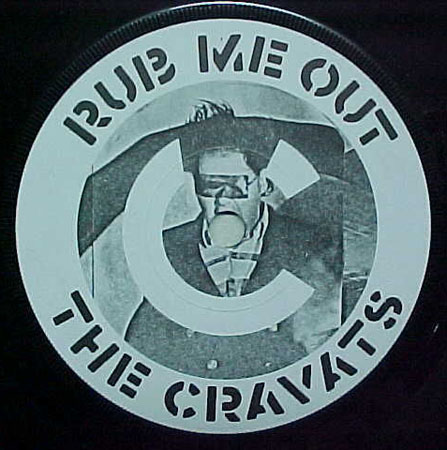 I AM THE DREG
CONDITIONING IS WEARING THIN
I'VE GOT THICK SKIN SO IT CAN'T GET IN
I'VE UPSET A FEW BUT THAT'S THEIR CRIME
I TRIED TO EXPLAIN BUT I HAVEN'T GOT TIME
A DREG OF HUMANITY,I DON'T PRODUCE
THERE'S NOTHING USEFUL SO WHAT'S THE USE
I DON'T CONDEMN YOU,YOU HAVE TO EXIST
SYSTEM RECRUITMENT THEY MAKE YOU ENLIST
I AM THE DREG
I AM MYSELF
I'M OFF THE PEG
AND ON THE SHELF
A CARD TO PAY FOR EVERYTHING,A CARD WITH YOUR NAME
A CARD WITH ALL THE DETAILS, SO THEY KNOW WHO TO BLAME
YOU'RE LABELED,TAGGED AND FILED AWAY
PUT IN THE WINDOW AS PART OF THE DISPLAY
SHOWING CONCERN FOR ANOTHER'S PLIGHT
IS ALL VERY WELL IF THE MOTIVES RIGHT
IT ISN'T EASY WHEN YOU'RE JUST IGNORED
YOU TRY TO SHOW AN INTEREST BUT YOU END UP BORED
I AM THE DREG
I AM MYSELF
I'M OFF THE PEG
AND ON THE SHELF
RUB ME OUT
LAW IS THE PENCIL,THE UTENSIL
THAT YOU USE,TO DRAW THE LINE
INDENTIKIT FOR THAT NEW OUTFIT
THERE ARE MANY NAMES ON THAT LIST
AND ONE IS MINE
HOW YOU WISH THAT I WASN'T HERE
THERE ARE WAYS TO MAKE ME DISAPPEAR
TURN THE PAGE AND IT'S ALL CLEAR
RUB ME OUT
ERASE MY VOICE
REDUCE MY FREEDOM OF CHOICE
KEEP YOUR FINGER ON THE BUTTON
SO YOU'RE READY TO DELETE
I'M NO PERMANENT FIXTURE
YOU CAN TAKE ME OUT OF THE PICTURE
YOU CAN ALTER THE MACHINE
SO THE ERROR WON'T REPEAT
THEY MUST BE CORRECT
WITH WHATEVER THEY SELECT
I'M THE BUZZ OF INTERFERENCE
ON YOUR SYSTEMS CASSETTE
WHEN I'VE LEFT WITHOUT A TRACE
LIKE A SPOT ON YOUR FACE
THERE'LL BE OTHERS TO TAKE MY PLACE
OTHER DEFECTS
ABOVE: Punk Lives #8, click on images to make them readable.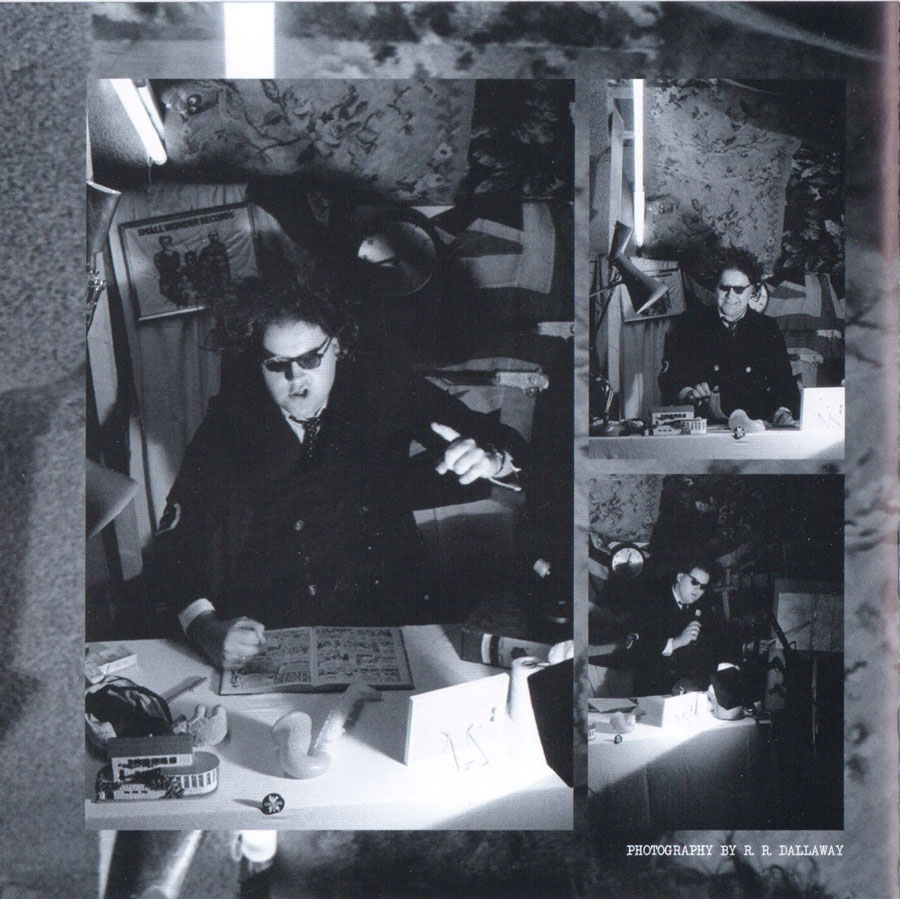 A compilation album, The Colossal Tunes Out appeared in 1983, containing a free flexi, the 'DCL Laboratory Series #1 Flexi' DCL stood for 'DadaCravat Laboratories' and was, according to the band's official website, "an umbrella group of sorts D.c.L were not limiting themselves to being one group like The Cravats but a myriad of bands such as..The Babymen, D.c.L Locomotive, and The Very Things who all released stuff. And Mourning Dobermen, Piston Smash who didn't. There was even talk of an as yet unthought of band called Gritty Foreskin". The Very Things were the best known of these side projects, chiefly for their bizarre 'The Bushes Scream While My Daddy Prunes', which was promoted by a lengthy black and white video of stunning strangeness.
As Cravats DCL, they made a short-lived comeback with 1986's The Land Of The Giants 12", and in 2006 recorded a one-off single with Paul Hartnoll of Orbital. The Shend and and Svor Naan reformed the band in 2009 to play at the Rebellion Punk Festival in August 2009, and they continue to gig. They also recorded no less than four Peel Sessions (one per year from 1979 - 1982).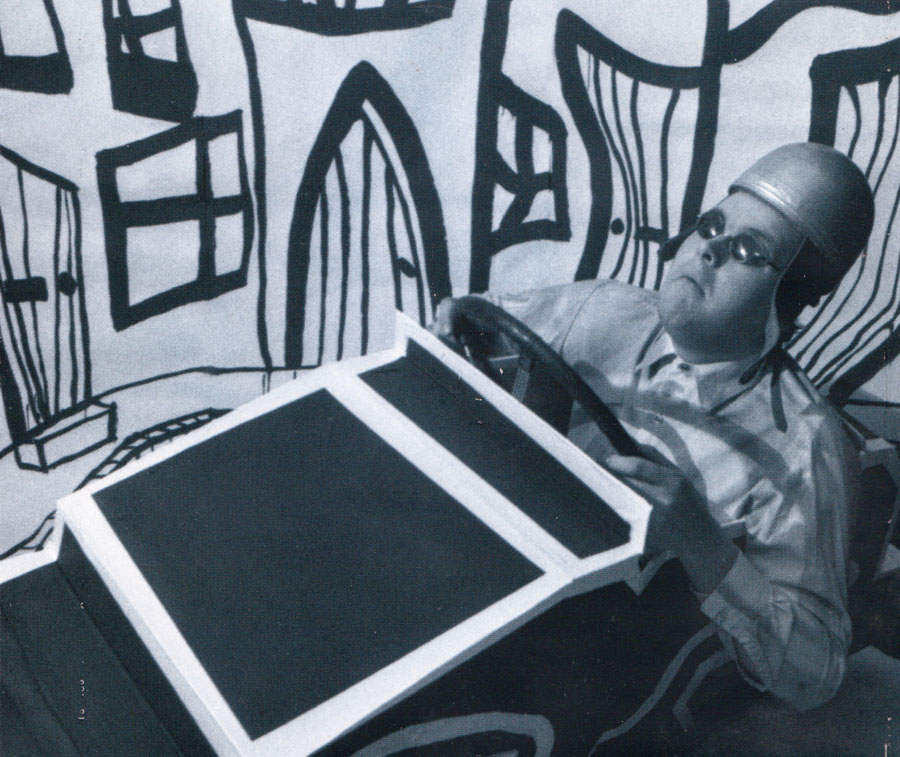 Rob, vocals: We created total confusion. We didn't do two minute guitar thrashes and swear. We wore black evening suits, we had a saxophone played through strange effects, we miked up vacuum cleaners and coffee peculators, we used a theremin, we had cassettes with speech loops which we held up to mike (in the days before sampling). We were spat at a lot and we made people angry because they didn't understand.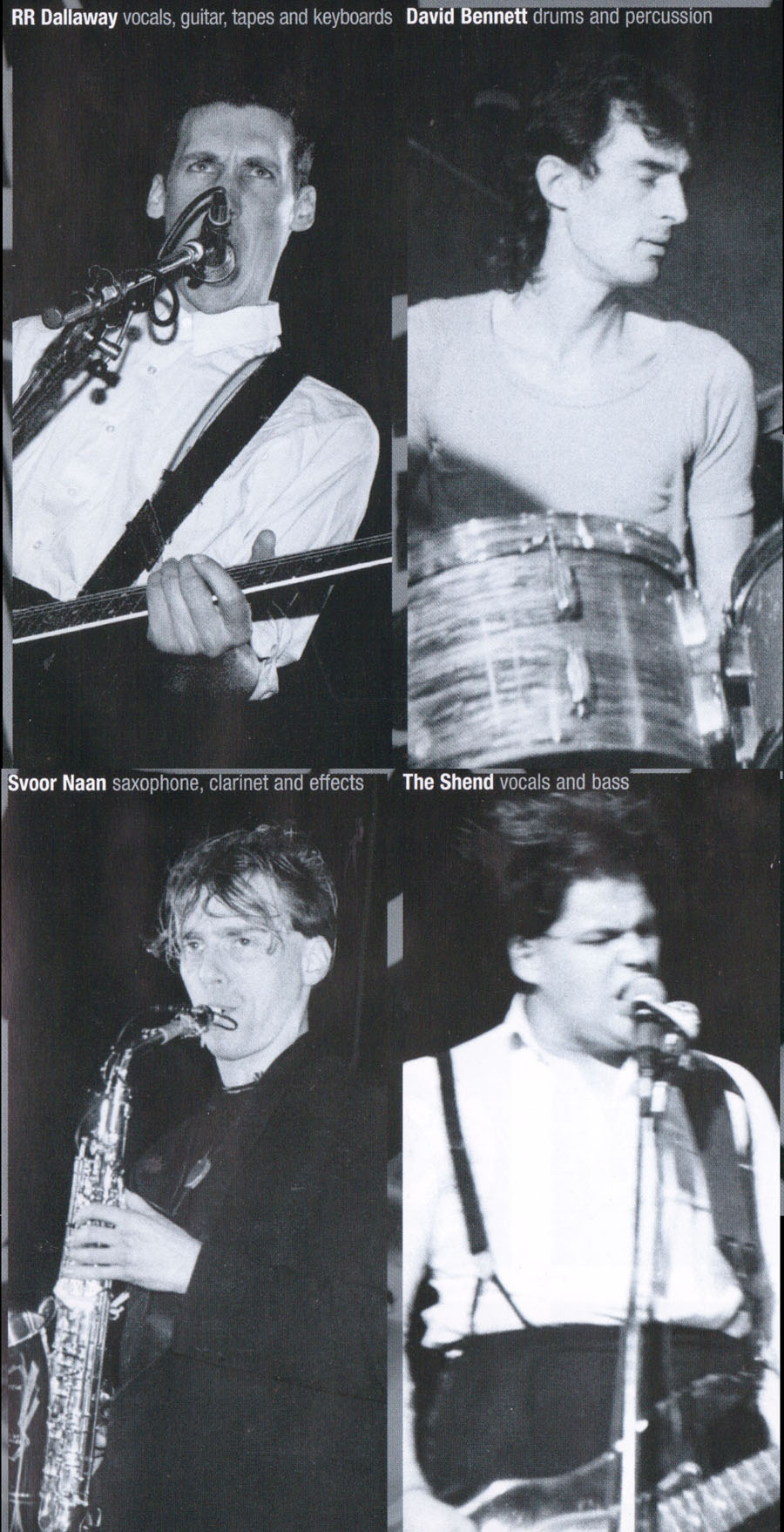 DISCOGRAPHY
Singles / Albums
Gordon
(7", 1978)
The End. Spring 1979
(7", 1979)
Precinct
(7", 1980)
In Toytown
(LP, 1980)
You're Driving Me
(7", 1981)
Off The Beach
(7", 1981)
Terminus
(7", 1982)
Rub Me Out
(7", 1982)
The Colossal Tunes Out
(LP, 1983)
The Land Of The Giants
(12", as The Cravats DCL, 1986)

Extraneous Releases

Fireman
(7", split with A Flux In 3D
The Land Of The Giants (The Best Of The Jazz-Punk Colossals)
(2xCD, 2006)

Bootlegs

The Cravats Out
(CDR)
Various Artists
A Reflex Compilation UK LP 1985 (Reflex): Shroud Of New York, Chapter One
1984 And All That... UK Tape 1980s (no label): Rub Me Out

A-Sides (Part Two. 1982-1984) UK CD 1992 (Crass): Rub Me Out
Small Wonder: The Punk Singles Collection UK CD 1994 (Anagram): The End / Precinct / You're Driving Me / Off The Beach
Small Wonder: The Punk Singles Collection Volume Two UK CD 1996 (Anagram): Burning Bridges / Who's In Here With Me / I Am The Dreg
Anti-Capitalism: Anarcho-Punk Compilation Vol. 4 UK CD 2007 (Overground): Xmp
Messthetics #7 UK '78-82 "D.I.Y." Bands: "C" US CD-R (Hyped To Death): Situations Vacant
Links
THE CRAVATS - Amazing official website