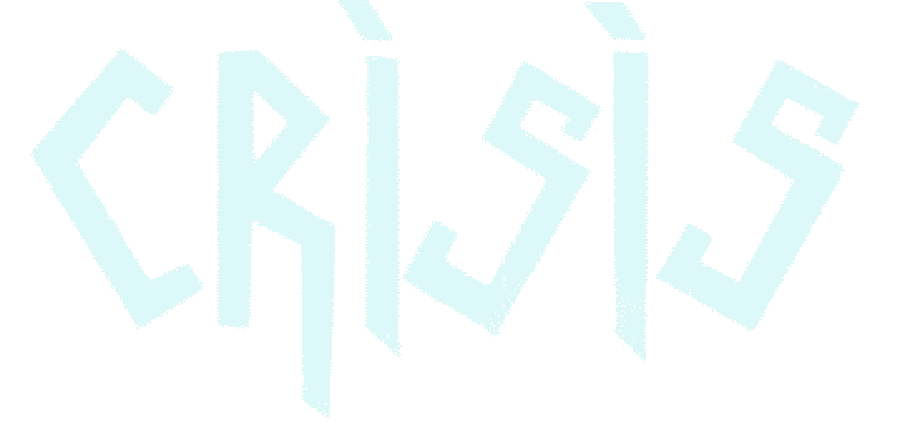 Formed: London, England, UK
These left-leaning punks took an especially strong stance against racism and the police, and wrapped their dogmatically black-and-white lyrics in catchy singalong tunes. According to Deathrock, "They took a different approach to punk, while the music was still aggressive, it was rhythmic, structured, and poetic - not merely powerchord thrash". They performed at rallies for Rock Against Racism (RAR) and the Anti-Nazi League (ANL), and also at Right To Work marches.
The first single No Town Hall (Southwark) was actually recorded a Peel Session, the second single UK '79 had them labelled (in some quarters) as fascists, because of the B-Side 'White Youth', a dubby effort which was actually very much anti-racism.
In 1980 they released the Hymns Of Faith 12", the nearest they got to an LP.
Alienation, which came out in 1981 - 16 months after Crisis split up - and contained the two other songs from the same Peel Session that spawned the first single.
LINEUP #1 (1977-1979):
Phrazer - lead vocals
Douglas P. - rhythm guitar, vocals
Lester Jones - lead guitar, vocals
Tony Wakeford - bass guitar, vocals
Insect Robin The Cleaner - drums
LINEUP #2 (1979-1980):
Dexter - lead vocals
Douglas P. - rhythm guitar, vocals
Lester Jones - lead guitar, vocals
Tony Wakeford - bass guitar, vocals
Luke Rendall - drums

Their last show was in support of Magazine and Bauhaus, and took place in May in Guildford, Surrey. Pearce and Wakeford went on to form Death In June, Rendall joined Theatre of Hate, and Jones formed Carcrash International and played in Quick Gas Gang.
DISCOGRAPHY
Singles / Albums

No Town Hall (Southwark)
(7", 1979)
UK '79
(7", 1979)
Hymns Of Faith
(12", 1980)

Extraneous Releases

Alienation
(7", 1981)
Holocaust-UK
(12", 1982)
We Are All Jews And Germans
(2xCD, 1997)
Holocaust Hymns
(CD, 2005)
Ends!
(CD, 2005)
Complete Collection (CD)
Kollectiv
(2xLP, 2014)

Bootlegs

The Guilty Have A Past - Singles & Demos 1977-1979
(LP, 2004)
Surrey University - Guildford, UK - 10-05-1980
(LP, 2010)
Various Artists

Labels Unlimited - The Second Record Collection UK LP 1979 (Cherry Red): Holocaust
It Ain't No Legend Germany Tape 1992 (Hick-Up Tapes): PC 1984
Links
RECORD COLLECTORS OF THE WORLD UNITE - Big pictures
DEATHROCK - Crisis - The Political Side of Punk
WIKIPEDIA - Crisis info
PUNK 77 - "Swap a couple of vowels and you end up with Crass"