Formed: Cleveland, Ohio, USA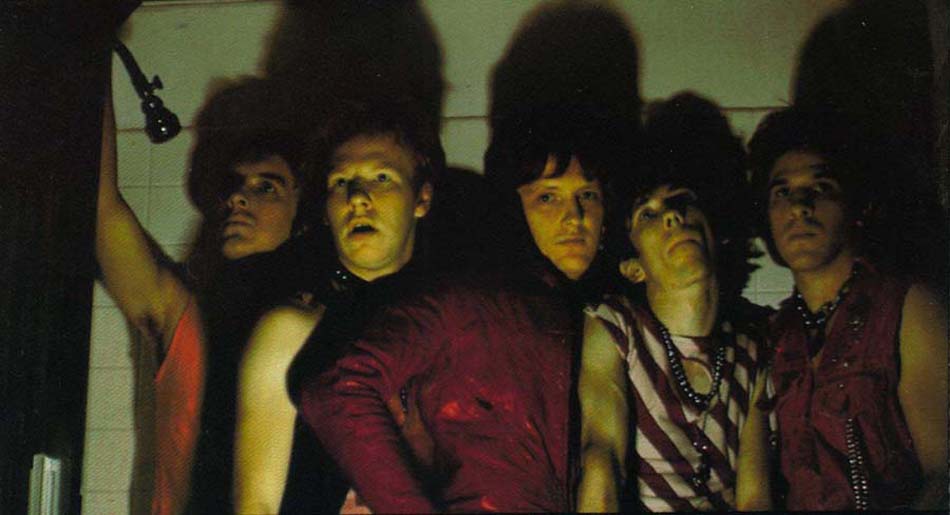 The punkiest of all the original New York Bowery circuit bands, the Dead Boys' "fuck art, let's rock" philosophy was an inspiration for many, many bands throughout the '80s and '90s, and a respite from the lofty pretensions of fellow New Yorkers like, say, Talking Heads and Television. Considered by many to be a pale imitation of The Stooges, the Dead Boys quickly reduced punk to parody, albeit unconsciously, and made enough interesting and entertaining noises to guarantee immortality.
The Story
They sprang up from smouldering corpse of Cleveland art-rockers Rocket From The Tombs, a band which in its final incarnation had (for two minutes) Stiv Bators on vocals, Gene O'Connor (later re-dubbed Cheetah Chrome) on guitar and Johnny Blitz on drums. With RTTT's demise this trio joined forces with Jimmy Zero (guitar) and Jeff Magnum (bass) to form Glam rockers Frankenstein. This band comprehensively failed to make a favourable impression on anybody (although In 1996 they were honoured with a three-song EP offering demos recorded in 1975).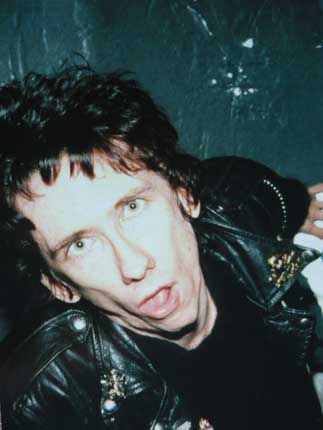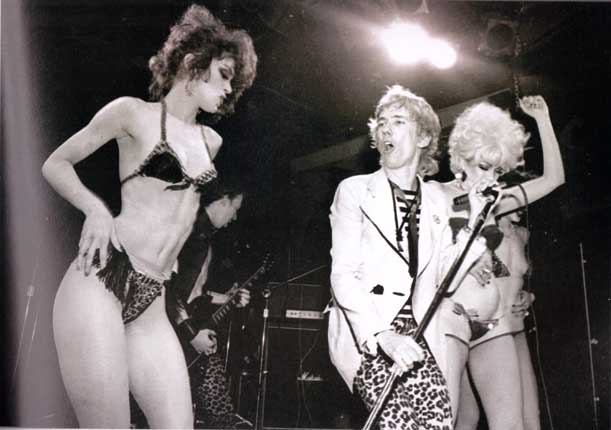 In July 1976 the newly christened Dead Boys relocated to New York and, thanks to word of mouth from Joey Ramone (who hadn't actually ever seen them), their debut at GBGB's - as part of a festival of unsigned bands - won a rave review in Punk magazine, although at least one on-looker didn't really get it.
Craig Leon: [When] the Dead Boys drove up to the [1976] festival, [they were] a little bit out of the look of the scene, wearing Nazi uniforms and stuff. They came looking very right-wing. I was not impressed. They did not have that pop sensibility. - as told to Clinton Heylin in From The Velvets To The Voidoids
Armed with a bunch of old RFTT and Pere Ubu songs and galvanised by Stiv's Iggy routine and Cheetah Chrome's blazing guitar, by early 1977 they were a big draw, chiefly thanks to their wild antics (Stiv getting on-stage blow jobs or slashing his stomach with the mic). When The Damned embarked on their first US tour in early '77, Dead Boys were the support. As a result of witnessing the whirlwind that was The Damned, the Dead Boys sped up their songs and increased their obnoxiousness even further. Soon, they signed with Sire.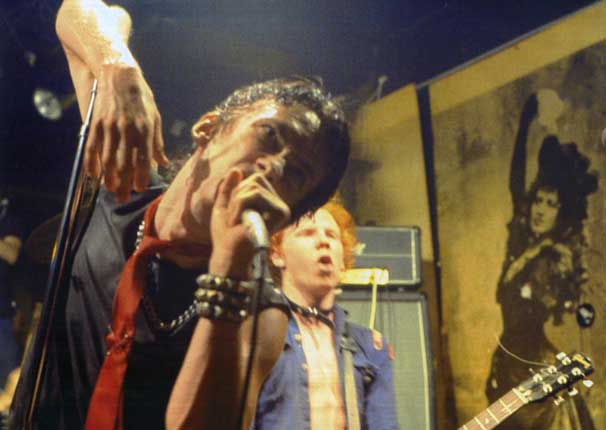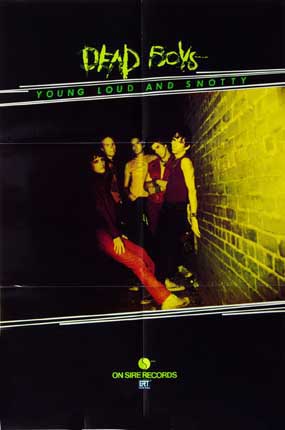 Highlighted by one truly magnificent song left over from the Tombs ('Sonic Reducer'), Young Loud And Snotty was a relentlessly dumb album, filled with hilariously leery vocals and tasteless, misogynistic numbers like 'Caught With The Meat In Your Mouth' and 'I Need Lunch'. In spite (or more precisely, because) of being outrageously stupid, it's a humdinger, with marvelous Stooges type guitar solos and lots of idiotic lyrics. 'Sonic Reducer' is clearly the best track, but 'Ain't Nothin' To Do', 'Not Anymore' and 'All This And More' are gutter classics.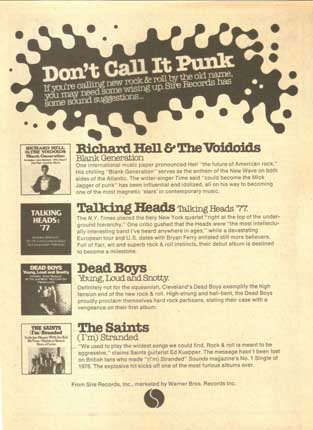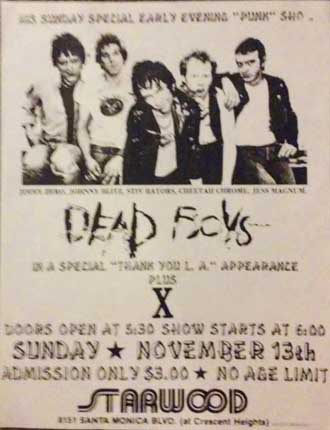 (Younger Louder And Snottyer is one for collectors and obsessives: a rough mix of the debut, it claims superiority over the Sire release but, due to poor sound quality, is nowhere near as powerful, and the inclusion of a badly-recorded live 'Search And Destroy' is no bonus at all, thank you very much.)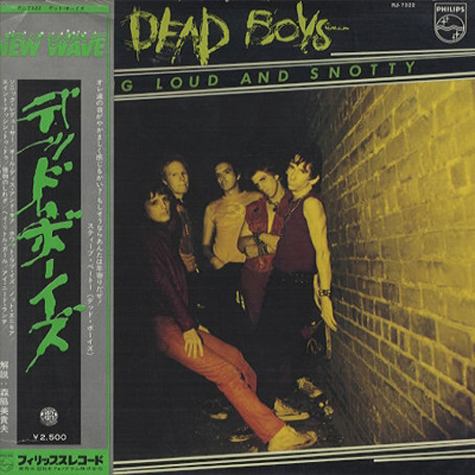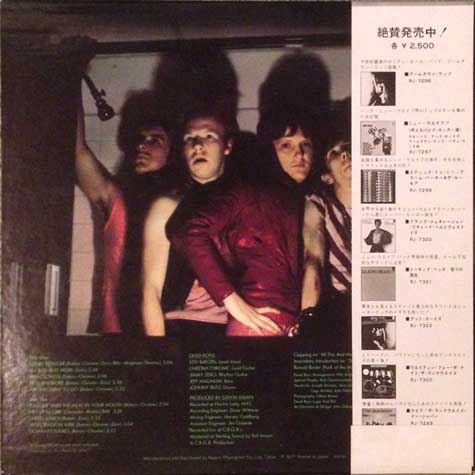 ABOVE: The Japanese pressing of 'Young Loud And Snotty'
Towards the end of the year the Dead Boys toured England supporting The Damned, returning to the US in December to demo songs for a second LP.
In the true punk crash and burn fashion, the Dead Boys crashed and burned in fairly spectacular style with We Have Come For Your Children. Just as The Damned had enlisted the services of an old hippie – Pink Floyd's Nick Mason - to produce their second LP, the Dead Boys roped in Mountain's Felix Pappalardi to helm their's. This was not in fact their choice, but rather their record company, and he ripped the bollocks out of their sound with his bass-free mix, allegedly the result of deliberate sabotage after he had fallen out with the band.. The record somehow managed to be even cruder than the debut. Joey & Dee Dee Ramone provided barely audible backing vocals on one track, but songs like '(I Don't Wanna Be No) Catholic Boy', 'Flame Thrower Love' and '3rd Generation Nation' were pure genre creations: cartoonish and idiotic, designed-to-offend and highly entertaining. A faithful version of the Stones' 'Tell Me' was issued as a single, but the clear highlight was an oldie written by Peter Laughner, 'Ain't It Fun', a slow burning negation of everything and everyone which outdoes all the competition for sheer nihilism.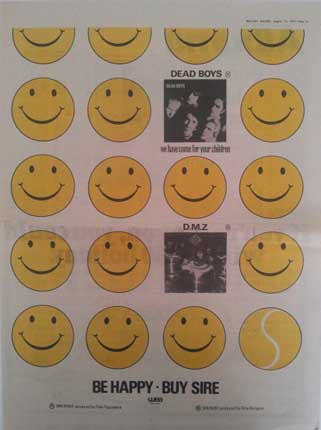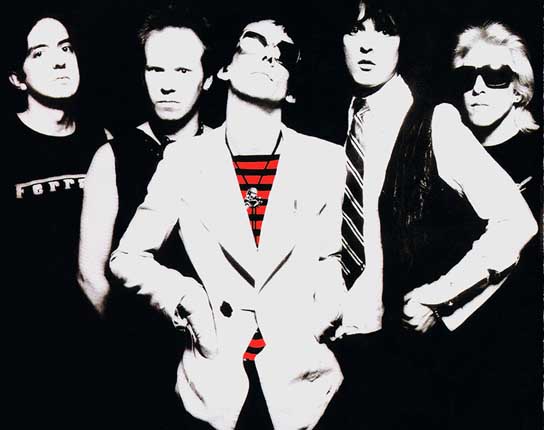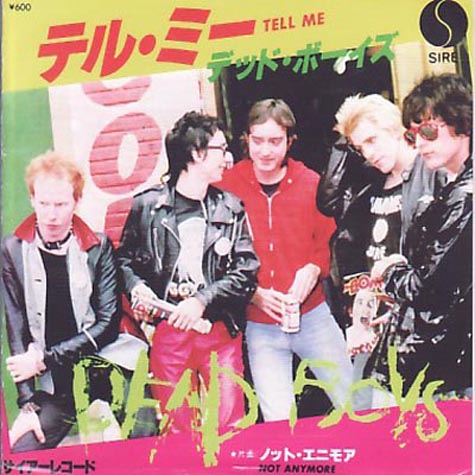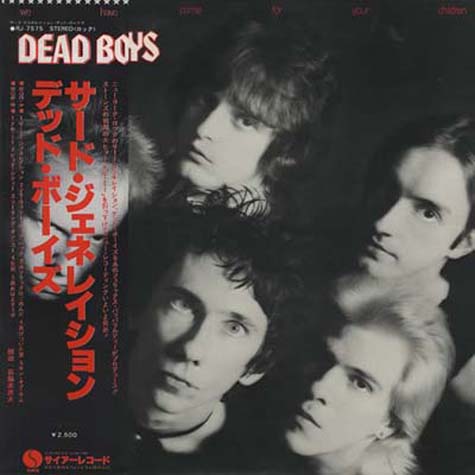 ABOVE: The Japanese pressing of the 'Tell Me' single and the 'We Have Come For Your Children' LP.
As with the first LP, the second album is also available in an alternate form: 3rd Generation Nation is the Cheetah Chrome-approved "pre-mix", which sounds better than the Sire version, with a punchier bass/drum sound and more clarity on the vocals. Although not really worth acquiring if you already own the second album, it shouldn't be counted out if you want to hear these tunes for the first time.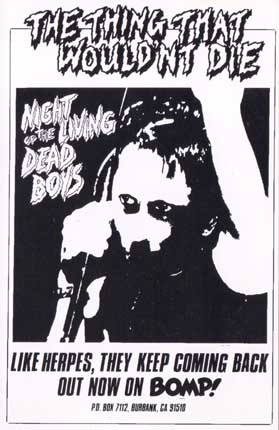 The band split in 1979 amid much acrimony and back-stabbing. The rot had actually set in early 1978 when Johnny Blitz was involved in a street fight, and was nearly stabbed to death, and what with all the recriminations and bickering, they stopped writing songs. Bators' apparent willingness to listen to record company execs and "go pop" was apparently the final straw.
Recorded in 1979 year but released with overdubbed vocals in 1981, Night Of The Living Dead Boys was a raucous commemoration of their final show, with 'Detention Home' making its splenetic debut. Unlike many live albums, this one is well-recorded and actually worth buying.
The original band got back together in the mid-'80s for a brand spanking new studio recording, issued in the shape of a two-song single, All The Way Down. Sadly, this proved to be their swan song, with Bators shuffling off this mortal coil in 1990.
The band reunited in 2004 for a show at the Beachland Ballroom in Cleveland.
Lineup (1975-1979)
Stiv Bators (real name Steve Bator) - lead vocal
Cheetah Chrome (real name Gene O'Connor) - lead guitar
Jimmy Zero (real name William Wilden) - rhythm guitar
Jeff Magnum (real name Jeff Halmagy) - bass
Johnny Blitz (real name John Madansky) - drums
Stiv went on to form The Wanderers and The Lords Of The New Church. He also released several solo albums. He died in 1990 when he was run over by a car in Paris.
After leaving the Dead Boys, Blitz moved to Toronto (with his wife, Lucasta Ross, of The 'B' Girls) and formed three bands: Slaughterhouse, then The Tribe, and then Raw Dog.
Chrome, in the '80s played with Ronnie Spector, Nico and Jeff Dahl. He also recorded several solo releases and, in 2003 reformed Rocket From The Tombs with David Thomas and Craig Bell. He later played with The Blackhearts (Joan Jett's backing group) and Sylvain Sylvain. Moreover, he has written an autobiography, Cheetah Chrome: A Dead Boy's Tale From The Front Lines Of Punk Rock.
Jimmy Zero kept a relatively low profile, although he did surface many years later in a band called Lesbian Maker.
__________________________________________________________________________
DISCOGRAPHY
Subsequent studio albums: Still Snotty: Young Loud And Snotty At 40 (2017).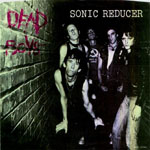 Sonic Reducer (7"/12", 1977)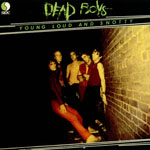 Sonic Reducer (7"/12", 1977)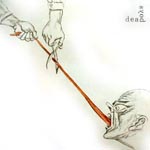 Tell Me (7", 1978)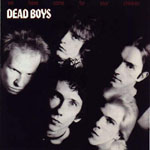 We Have Come For Your Children (LP, 1978)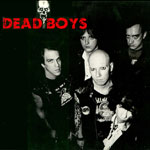 All The Way Down (Poison Lady) (12", 1987)
Extraneous Releases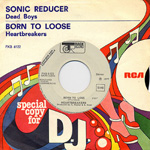 Sonic Reducer / Born To Lose (7", split with The Heartbreakers, promo, 1977)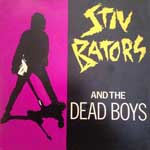 Stiv Bators And The Dead Boys (7", 1980)
Night Of The Living Dead Boys (LP, 1981)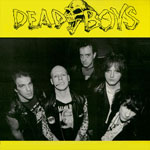 The Nights Are So Long (12", 1987)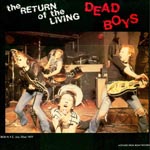 The Return Of The Living Dead Boys (LP, 1987)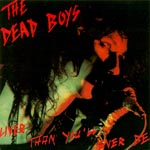 Liver Than You'll Ever Be (2xLP/CD 1988)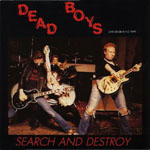 Search and Destroy - Live CBGB N.Y.C. 1979 (7", 1988)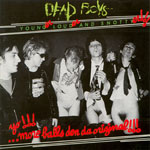 Younger, Louder And Snottyer (LP/CD, 1989)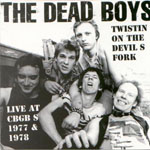 Twistin' On The Devil's Fork: Live At CBGB's 1977 & 1978 (LP/CD, 1997)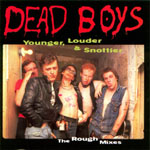 Younger, Louder & Snottier - The Rough Mixes (LP/CD, 1997)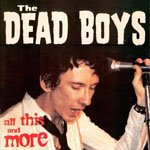 All This And More (LP/2xCD, 1998)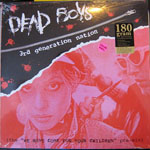 3rd Generation Nation (LP/CD, 1999)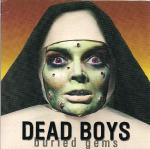 Buried Gems (7", 2000)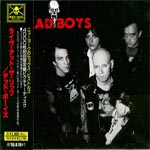 Live At The Ritz (CD)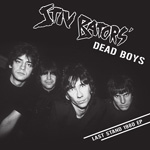 Last Stand 1980 EP (7", as Stiv Bators' Dead Boys, 2013)
Bootlegs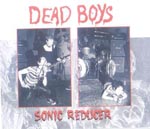 Sonic Reducer (CDR)
Various Artists
New Wave UK LP 1977 (Vertigo): Sonic Reducer / All This And More
Punk Collection Italy LP 1977 (RCA Victor): Sonic Reducer
New Wave - Rock 'N' Roll - Get Behind It Before It Gets Past You. US 2x7" 1977 (Sire): All This And More / Sonic Reducer
The Sire Machine Turns You Up UK LP 1978 (Sire): Ain't It Fun
Experiments In Destiny US 2xLP 1980 (Bomp!): 3rd Generation Nation
The Best Punk Album In The World ... Ever! 2 UK 2xCD 1996 (Circa): Sonic Reducer

1-2-3-4 Punk & New Wave 1976-1979 UK 5xCD 1999 (Universal): Sonic Reducer
No Thanks! The '70s Punk Rebellion US 4xCD 2003 (Rhino): Sonic Reducer
__________________________________________________________________________
Links
Punk 77 - A typically great article from one of the best punk sites out there
Cleveland Scene - A Dead Boy Lives - Excellent article about Cheetah Chrome
Stiv Bators - Extensive fansite, but not updated for a long time