Dead Boys - Young Loud And Snotty

Original Release Date
1977
Release Information
UK LP 1977 (Sire - 9103 329)
US LP 1977 (Sire - SR 6038)
A1 Sonic Reducer 3:04
A2 All This And More 2:48
A3 What Love Is 2:06
A4 Not Anymore 3:38
A5 Ain't Nothin' To Do 3:35
B1 Caught With The Meat In Your Mouth 2:04
B2 Hey Little Girl 3:01
B3 I Need Lunch 3:33
B4 High Tension Wire 3:04
B5 Down In Flames 2:13
___________________________________________________
Germany CD 1991 (Sire/Warner Bros - 7599 26038-2)
1 Sonic Reducer 3:09
2 All This And More 2:50
3 What Love Is 2:10
4 Not Anymore 3:41
5 Ain't Nothin' To Do 2:28
6 Caught With The Meat In Your Mouth 2:10
7 Hey Little Girl 3:06
8 I Need Lunch 3:41
9 High Tension Wire 3:08
10 Down In Flames 2:17
11 Not Anymore/Ain't Nothin' To Do (Medley) 7:15
11: B-Side of Tell Me 7", 1978
Chart Placings
None
Credits
Stiv Bators - lead vocal
Cheetah Chrome - lead guitar
Jimmy Zero - rhythm guitar
Jeff Magnum - bass
Johnny Blitz - drums

Produced by Genya Ravan
Recorded at Electric Lady, N.Y.C.
Recording Engineer: Dave Wittman
Mixing Engineer: Harvey Goldberg
Assistant Engineer: Jim Galante
'Hey Little Girl' recorded live at C.B.G.B.'s.
Mastered at Sterling Sound by Ted Jensen
A C.B.G.B. Production.

Photography: Glenn Brown
Dead Boys logo: Ken Sitz

Reviews & Opinions
None yet
Additional Notes
A rough mix of this album has been released twice: Younger, Louder And Snottyer (1989) and Younger, Louder And Snottier - The Rough Mixes (1997).
Images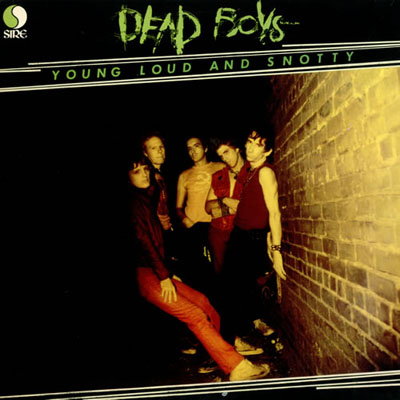 UK LP 1977 (Sire - 9103 329). Click here for more
US LP 1977 (Sire - SR 6038). Click here for more
Germany CD 1991 (Sire/Warner Bros - 7599 26038-2). Click here for more