Formed: Los Angeles, California, USA
One of L.A.'s first punk bands, the Germs – particularly lead vocalist Darby Crash (or Bobby Pyn, though mummy and daddy would call him Paul Beahm) – embodied the spirit of American punk as influenced by the
Sex Pistols
. Initially unable to offer even remotely acceptable standards of musicianship, they compensated for their outrageous incompetence with hilariously abusive live performances at such legendary venues as the Masque, the Mabuhay Gardens and the Whiskey. One such deliriously ragged performance (their first) is captured on
Germicide
, which was released shortly after Crash's fatal heroin overdose. It features future Nirvana bloke Pat Smear on guitar, drummer Donna Rhia and bassist Lorna Doom providing the "rhythm", and pre-Go-Go's singer Belinda Carlisle introducing it with the words "I left the Germs cuz they were sluts". Depending on how sick one might be, this is either one of the funniest or most boringly inept records ever released, with the lack of musical expertise rendering all the tracks a plodding squall of out-of-tune guitars and incomprehensible vocals, punctuated by long patches of audience bating. Definitely not for fans of Journey or Sky, you haven't lived until you've heard this mess. However, you're not likely to listen to it twice. No surprise that the band was banned from the venue as a result of this chaotic gig.
They made their vinyl debut in July 1977 with the shambolic and charming Forming. The A-Side was backed by the abysmally recorded 'Sex Boy', which was recorded at the Roxy for a Cheech & Chong film. They got banned after that show, too. Better still was the impressive, explosive and amazing Lexicon Devil, released in May 1978 with new drummer Don Bolles, who was mainly responsible for creating a dynamic foundation for Smear's caustic guitar.
LEXICON DEVIL
I'm a lexicon devil with a battered brain
And I'm searchin' for a future
the world's my aim
So gimme gimme your hands
gimme gimme your minds
Gimme gimme this, gimme gimme that
We're gonna wreak havoc
on the rancid mill
I'm serachin' for something
even if I'm killed..
I want toy tin soldiers that can push and shove
I want gunboy rovers that'll wreck this club
I'll build you up and level your heads
We'll run it my way cold men and politics dead...
I'll get silver guns to drip old blood
Let's give this established joke a shove
We're gonna wreak havoc on the rancid mill
I'm searching for something even if I'm killed...
Empty out your pockets you don't need their change
I'm giving you the power to rearrange
Together we'll run to the highest prop
Tear it down and let it drop...away...
Despite an utterly irresponsible attitude to performing live, by the time of their debut album they had become a punk machine of statuesque proportions. (GI) was so-called: the band actually changed its name to "Germs (GI)" when they released it, and the album is therefore eponymously named. However, everyone knows it as a album called (GI) by a band called the Germs, so I won't break with tradition. The LP boasts one magnificent cut after another, climaxing in the tortured howl of 'Shut Down', a nine-minute meat-grinder of a song that defies the listener to remain sane.
WHAT WE DO IS SECRET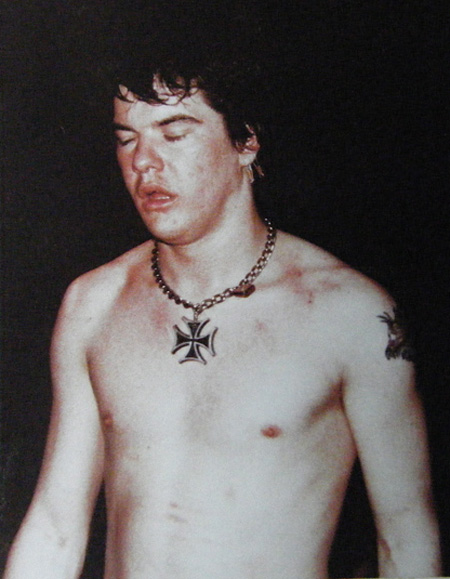 Standing in the line we're aberrations
Defects in a defect's mirror
And we've been here all the time
real fixations
Hidden deep in the furore
What we do is secret - secret!
We're influential guys for the D.C.C.
We can lie so perfect
And we've got a party line
to every call
It's a very short circuit-
What we do is secret - secret!
Licensed to drill with the torch
in our lives,
Walking on shallow water
Progressed to the
point of no distinction
Dementia of a higher order-
What we do is secret - secret!
The band split soon after when Crash kicked Bolles out of the band and decided to head for London. Lorna quit. Upon his return Crash launched a solo career, but even with Smear on board things never worked out. And so, in late 1980, Crash and Smear refirmed the Germs. One of their staggeringly loose shows was filmed for The Decline Of The Western Civilization. Crash, however, died of a "china white" overdose in December 1980, almost on the same day as John Lennon, in what some considered a ghoulish, conscious tribute to Sid Vicious. And that was the end of that.
Since then there have been a vast amount of bootleg singles and albums, beginning with What We Do Is Secret, a 12" mini-album compiling both singles, an outtake from the debut album ('Caught in My Eye'), and two songs from the band's final show.

(Cats Clause) and Media Blitz both contain stuff recorded at the Hong Kong Café in 1979 and the so-called "Canterbury Rehearsal Tape". The latter title adds nine songs from the famous Whiskey Riot of Christmas '79, which was also issued by as Rock 'N Rule. The most interesting of these three, (Cats Clause) is a 10" album with an incredibly detailed booklet and the novelty of incorporating a closed groove into the lengthy 'Shut Down', so that the only way to bring the song to an end is to manually remove the needle from the record. The sound quality on all of these is, at best, poor.
MIA (An Anthology) is a CD compilation that should belong in any collection. You get the whole of the studio album, both sides of their two singles, various compilation tracks, and six songs from the soundtrack to the dodgy Al Pacino cop-movie Cruising. The near-rockabilly guitar row on 'Throw It Away' makes it resemble early X, 'Not All Right' is a classic buried recording, and the whole caboodle is simply indispensable.
DISCOGRAPHY
Singles / Albums

Forming (7", 1977)
Lexicon Devil
(7", 1978)
(GI) (LP, 1979)

Extraneous Releases

What We Do Is Secret (12", 1981)
Germicide (LP, 1981)
(DCC) (7", 1992)
Media Blitz
(CD, 1992)
(MIA) The Complete Anthology (CD, 1993)
(Cat's Clause)
(10"LP, 1993)
Starwood (7", 1994)
Round And 'Round
(7", 2004)
The Germs
(12", 2006)
I Fucked Your Mom
(LP, 2007)
Lexicon Devil (Live)
(7", 2007)
The Whisky/The Hong Kong Cafe - 78-79
(LP, 2008)
Live At The Starwood Dec. 3, 1980
(CD, 2010)

Bootlegs

Cruising Studio Sessions (7", 1985)
Lion's Share (LP, 1985)
Rock N' Rule
(LP, 1985)
What God Means To Me... (7", 1991)
What We Do Is Bootleg! (LP, 1992)
(GI) (7", 1992)
At The Masque
(7", 1997)
We Must Bleed
(CD, 2002)
Los Angeles Is Burning (LP, 2008)
What We Do Is Still Secret (CD)
Various Artists
Tooth And Nail US LP 1979 (Upsetter): Manimal / Dragon Lady / Strange Notes
Yes L.A. US LP 1979 (Dangerhouse): No God
Cruising (Music From The Original Motion Picture Soundtrack) US LP 1980 (CBS Records): Lions Share
The Decline Of Western Civilization US LP 1980 (Slash): Manimal
What Is It. US LP 1982 (What Records?): Forming / Forming #2
Where Is J.R. ? Germany Tape 1982 (Schrott): Forming
Life Is Boring So Why Not Steal This Record US LP 1983 (New Underground): Strange Notes (Live) / Caught in My Eye (Live)

Slash: The Early Sessions US 12" 1983 (Slash): Caught In My Eye
Life Is Beautiful So Why Not Eat Health Foods? US LP 1983 (New Underground): Media Blitz / What We Do Is Secret (Live at the Hong Kong Cafe)
Flipside Vinyl Fanzine Vol. 2 US LP 1985 (Flipside): Forming (Live)
What Stuff US LP 1990 (Iloki): Forming / Sexboy (Live) / Forming #2 / Round N' Round
The Best Of Flipside Vinyl Fanzines US 2xCD 1992 (Flipside): Forming
We're Desperate - The L.A. Scene (1976-79) US CD 1993 (Rhino): Forming / Lexicon Devil
Faster & Louder - Hardcore Punk, Vol. 2 US CD 1993 (Rhino): Lexicon Devil
Punk Anderson's Favourites Germany 2xCD 1995 (Starving Missile): Forming / Lions Share
No Thanks! The '70s Punk Rebellion US 4xCD 2003 (Rhino): Lexicon Devil
Live From The Masque US CD 2003 (Dionysus): Let's Pretend

England's Dreaming UK CD 2004 (Trikont): Forming
N.Y. L.A. - The Voice Of America Australia LP (Picnic Rock): No God

Links
STRANGE NOTES: THE STORY OF DARBY CRASH AND THE GERMS
WHAT WE DO IS SECRET - Mind Games and Germs Burns with Los Angeles Punk Legend Darby Crash (1977-80)
PUNK CRASH TRIPOD - Brief Germs page