FORMED: Camberley, Surrey, England, UK
Hard though it may seem now, when they started, this group from Camberley (a satellite of London) was a furious proposition with vehement lyrics, at least if their track on 1977's Streets compilation is anything to go by. Already expanded to a quintet by the expulsion of Morley and Parker (replaced by Chris Payne and Adrian Lillywhite) and the addition of former bank clerk Jean-Marie Carroll on guitar, 'Fear On The Streets' was a raging rebuke of the National Front that reeks of anger and frustration, with screamed vocals by Nicky Tesco and some wild guitar playing. It's great.
The lineup at this time was:
Nicky Tesco - lead vocals
J.C. - guitar, vocals
Gary Baker - guitar, vocals
Chris Payne - bass, vocals (he had replaced Steve Morley)
Adrian Lillywhite - drums & percussion (he had replaced Clive Parker and was the brother of producer Steve)

Although The Members played the Roxy and, as evidenced above, had more than enough early fire to put them alongside forerunners like Chelsea and Generation X, by the time they released their debut single their approach had softened slightly, as they began incorporating pop and reggae influences into their repertoire. Maybe this, as well as an abundance of facetious, scatological and humorous lyrics, was what prevented them being taken as seriously as they should have been. After all, the big punk bands in 1978/1978 were groups like SLF and Gang Of Four, who sang about warzones and capitalism. "Bands who try and bring about changes in society are hypocrites and it's futile to try", JA told the NME in April 1979. "We're just trying to make people more aware of their situation, but we know we're not really important. Entertainment is the business we're in... "
The Members were social realists who didn't preach but observed. They wrote insanely catchy songs laced with a satirical sense of humour. They sang about people trapped in boring jobs who went through boring daily routines and who generally failed to make much of an impression, like the loser at the launderette in 'Killing Time', the wanking voyeur in 'Frustrated, Bagshot', and the model-turned-prostitute in 'Sally'. They were a superb band.
So, as stated, the time of their debut single for
Stiff
's One-Off imprint (
Solitary Confinement
) they had mellowed a bit, gained a sense of humour, and became truly original. Solitary Confinement was a hilarious and witty tale in which the protagonist lived in a bedsit, was lonely, ate TV dinners, traveled on the tube train and was a generally pathetic wet fart of a man. All wrapped up in a poptastic tune, and featuring a great/corny "on your own, by yourself, on your own, buy yourself this record" hook that was very memorable. It was a fine debut single, and a song they returned to later on.
Here's the words:
You are living in the suburbs,
And you have problems with your parents,
So you move on up to london town,
Where you think everything's happening, going down.
Living in a bedsit,
Traveling on a tube train,
Working all day long.
And you know no one,
So you don't go out,
And you eat out of tins,
And you watch television,
Solitary confinement.
I have got a good job,
And i am working in the city,
Get the tube train at 8 o'clock and 5,
And a really don't know if i'm dead or alive.
SPOKEN
Well I was living in Camberley, and, you know, I thought I'd move up to town, you know, so I got this bedsit on earls court, and like, not many people come to visit me, in fact no one comes at all, but there's this bird across the way who, I mean i know she fancies me and everything, but well, I got it sussed, she got a 40 inch bust, and she's just...just just!
You're so lonely,
Solitary confinement,
You're so lonely,
Solitary confinement.
SPOKEN
The members are going to tell you what it's like to be...
On your own / by yourself / On your own / by yourself / On your own / by yourself /
By yourself, by yourself, by yourself, by yourself, by yourself, by yourself, buy yourself this record
And it's lonely for you,
And it's lonely for me,
And it's lonely for all of us, can't you see?
Unfortunately, the "One Off" imprint was just that, and Stiff did not have much faith in the band, and consequently didn't really promote the single. Therefore, it was not a major success and the band was soon looking for a new label.
By the time they had secured their deal with Virgin they had a new bassist (Nigel Bennett) and had written their best song, the classic
The Sound Of The Suburbs
, a defining moment in UK punk/new wave if there ever was one and a massive UK hit, reaching Number 12 in the official charts.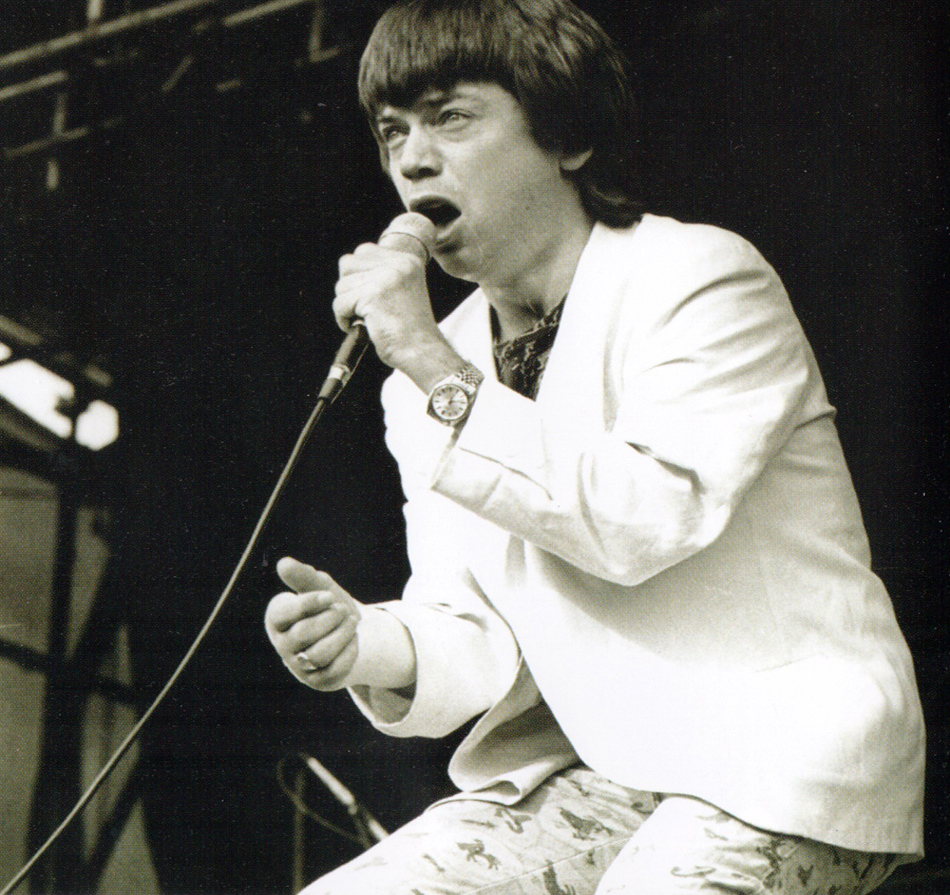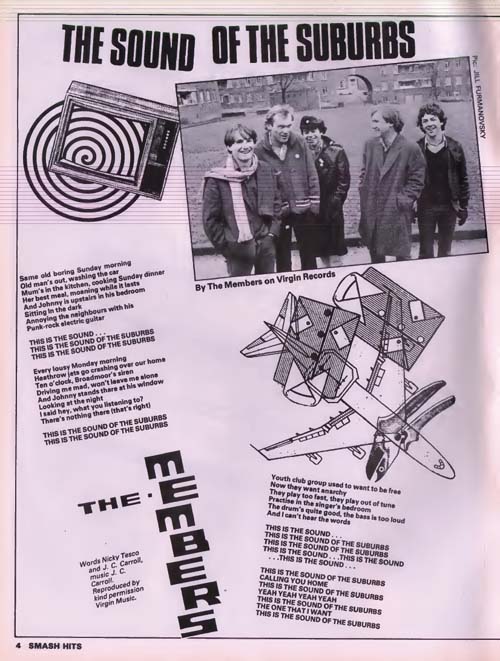 THE SOUND OF SUBURBS
Same old boring Sunday morning
Old man's out washing the car,
Mum's in the kitchen cooking Sunday dinner
Her best meal moaning while it lasts
Johnny's upstairs in his bedroom sitting in the dark,
Annoying the neighbours with his punk rock electric guitar,
This is the Sound,
This is the Sound of the Suburbs
This is the Sound,
This is the Sound of the Suburbs
Every Lousy Monday Morning
Heathrow jets goes crashing over my home,
Ten O'clock Broadmoor siren driving me mad
Won't leave me alone,
Johnny stands there at his window looking at the night,
I said, "Hey what you listening to?
There's nothing there" (that's right)
This is the Sound,
This is the Sound of the Suburbs
This is the Sound,
This is the Sound of the Suburbs
Youth club Group used to want to be free,
Now they want anarchy,
They play too fast, they play out of tune,
They practice in the singers bedroom,
The Drums quite good the bass is too loud,
And I can't hear the words.
This is the Sound,
This is the Sound of the Suburbs
This is the Sound,
This is the Sound of the Suburbs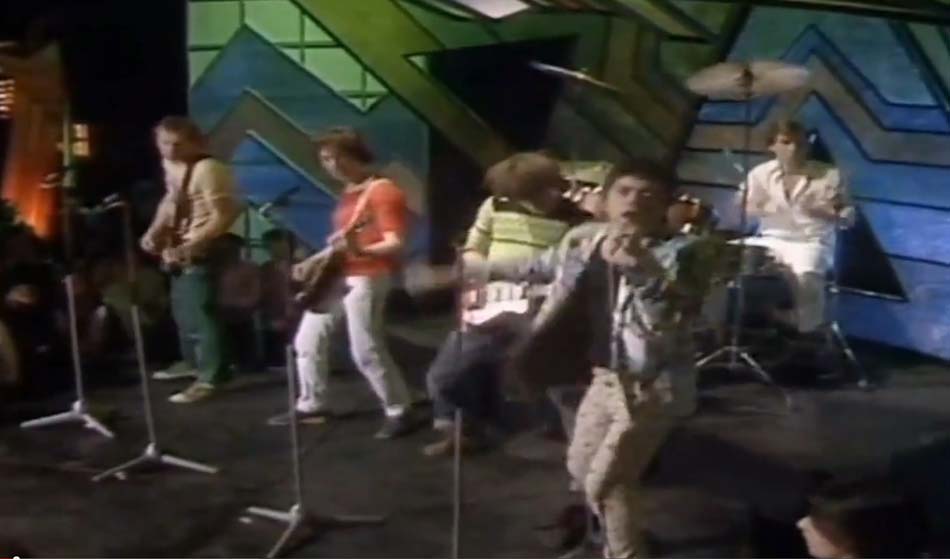 ABOVE: On Top Of The Pops performing The Sound Of The Suburbs
ABOVE: Smash Hits April 1979
At The Chelsea Nightclub
, contains a longer and sloppier version of 'The Sound Of The Suburbs', and a longer and much less sloppy version of 'Solitary Confinement' that runs to six glorious minutes and features an excellent sax solo from Steve 'Rudi' Thompson, fresh out of
X-Ray Spex
. He became a full time Member later on. The subject matter ranges from a tale of a model who has a car crash and becomes a prostitute ('Sally'), to crass DJs ('Phone-In Show'), to getting by on street smarts ('Soho A Go Go'). No loner content to thrash away, the highly talented band attempt more complicated structures, as on 'Frustrated, Bagshot', one of the more successful stabs at white reggae, and throughout there are intricate guitar bits and arresting arrangements. The rough edges have been sanded off by Steve Lillywhite's production, but catchy songs, funny lyrics, shouted harmonies and Tesco's wideboy vocals are major compensations.
The LP did OK, just scraping into the Top 50, but that was pretty much the pinnacle of the first phase of their career. From here on it's all downhill!
Offshore Baking Business
, a white reggae number that actually did come with a serious message, alienated many of their punkier followers and only just made into the top 40, but was in fact as good as anything
The Clash
did. It was banned in Bahrain, don't you know.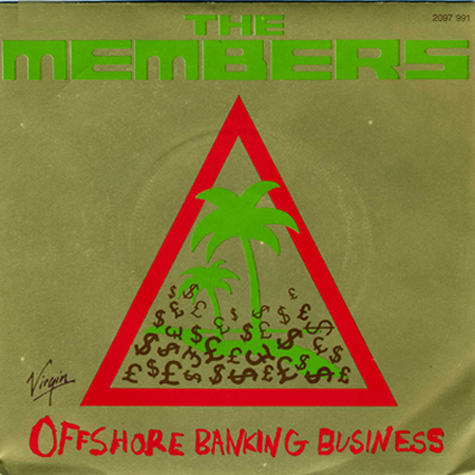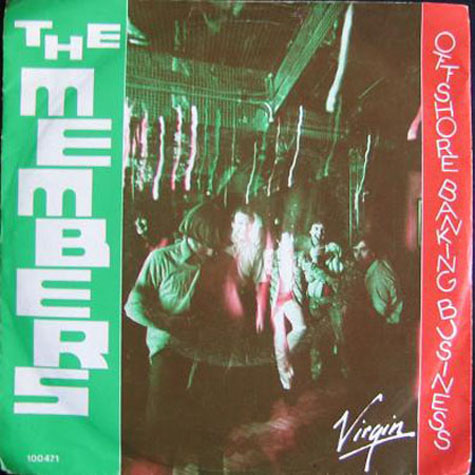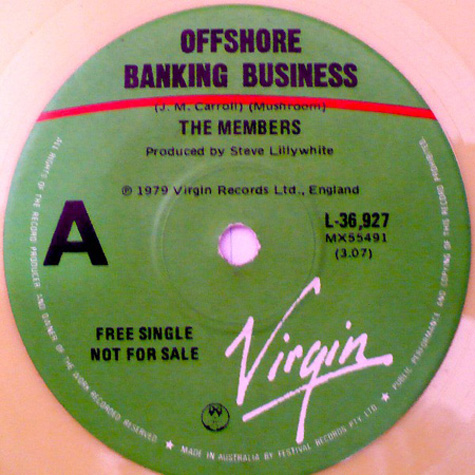 ABOVE: Picture sleeves from France, Germany and Holland. The fourth picture shows an Aussie version of the single.
The marvelous
Killing Time
would have been a better follow-up to
The Sound Of The Suburbs
, but it flopped miserably. How could it have? There's a great die-cut sleeve of a washing machine; the labels shows Angela Rippon (on the A-Side) and a shark (on the B-Side), The song is a sublime mix of pop, punk, ska and reggae, bemoaning the chore of having to go to the launderette, cramming enough hooks into three minutes to make it the punk equivalent of 'Bohemian Rhapsody' (ahem). The flipside 'G.L.C.' was a rousing all-out-punker that would have benefited from meatier production.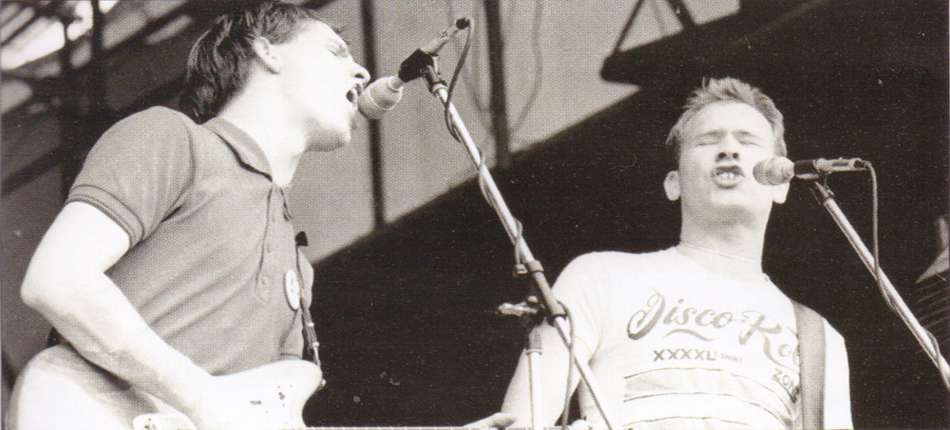 And it was weak production that partially scuppered 1980 – The Choice Is Yours. That it didn't reach the highs of the debut isn't really down to the songs - which are fine - but the sound, which is not. Steve Lillywhite was unavailable; as was Vic Coopersmith-Heaven (who'd done Killing Time). Pat Collier and reggae star Niney The Observer were suggested by J.C. and Tesco respectively, but both were rejected by Virgin. They ended up with Rupert Hine, who later admitted that if he'd actually seen The Members live he'd have made a completely different sounding record. The songs are in general faster, and harder hitting than the debut, with two more humorous should-have-been-hit singles (the ska'd 'Romance', 'Flying Again'), a wittily-titled instrumental ('The Ayatollah Harmony'), a credible version of Larry Wallis's 'Police Car', and a sensitive tale of work-related suicide ('Brian Was'). It also has one of their best numbers, 'Gang War' (their equivalent of The Clash's 'Last Gang In Town') and some beefy, shouty punk ditties. As an incentive to the public, it came with a limited edition skinny tie with the band's name embroidered onto it. Which did nothing to prevent it being a total flop.
After this the band was again without a home. They headed for Genetic/Island, under the wing of Martin Rushent, who gave them a glossy 80's makeover with the funky Working Girl. By the time of 1983's Going West (released in America as Uprhythm, Downbeat) the group had abandoned punk completely in favour of full-fledged uptempo funk, earning them a top ten single in America with anew version of Working Girl).
The group splintered soon after, with Tesco issuing a solo single of no interest whatsoever: in cahoots with American rapper J. Walter Negro, he released the 'Cost For Living' 12" single (Albion 12 ION 1044).
After the split J.C. released an independent single with a new band, J.C.'s Mainmen, acted as a session musician for Glen Matlock and Johnny Thunders (among others), and now runs a boutique in London. Tesco later spent some time as a member of Finland's Leningrad Cowboys.
They have since reformed, releasing an mp3-only track in 2009 (International Financial Crisis) and CD albums in 2012 (In_Grr_Land and 2016 (One Law). J.C. sang on the last two of these releases because Tesco had retired due to ill health.
DISCOGRAPHY
Singles / Albums

Solitary Confinement
(7", 1978)

The Sound Of The Suburbs (7", 1979)

Offshore Banking Business
(7"/12", 1979)

At The Chelsea Nightclub (LP, 1979)

Killing Time
(7", 1979)
Romance (7", 1980)

1980 – The Choice Is Yours (LP, 1980)

Flying Again
(7", 1980)

Working Girl
(7"/12", 1981)

Radio (7"/12", 1982)
Uprhythm Downbeat (LP, 1982)

Working Girl
(7"/12", 1983)

Going West (LP, UK version of Uprhythm Downbeat, 1983)

Going West
(7"/12", 1983)


Extraneous Releases

The Sound Of The Suburbs (12", 1983)
At The 1980 Chelsea Night Club - The Choice Is Yours
(CD, 1990)
The Sound Of The Suburbs - A Collection Of The Members' Finest Moments
(CD, 1995)
Res-Erected: The Very Best Of The Members (CD, 2005)
At The End of Term - The Lost Master Tape 4 Track EP (MP3, 2013)
Various Artists

Streets UK LP 1977 (Beggars Banquet): Fear On The Streets
Rock Against Racism - RAR's Greatest Hits Netherlands LP 1980 (Ariola Benelux): G.L.C.
The Main Event UK LP 1979 (K-Tel): Offshore Banking Business
New Rock Greece LP 1979 (Pop Olympic): The Sound Of The Suburbs

URGH! A Music War UK 2xLP 1981 (A&M): Offshore Banking Business [Live]
Fun, Filth And Fury! UK CD 1991 (Virgin): Sound Of The Suburbs
1-2-3-4 Punk & New Wave 1976-1979 UK 5xCD 1999 (Universal): Solitary Confinement
No Thanks! The '70s Punk Rebellion US 4xCD 2003 (Rhino): Sound Of The Suburbs
Links
THE ORIGINAL SOUND OF THE SUBURBS - Official bandsite

PUNK 77 - Members pages
MYSPACE - A page
WIKIPEDIA - Members page