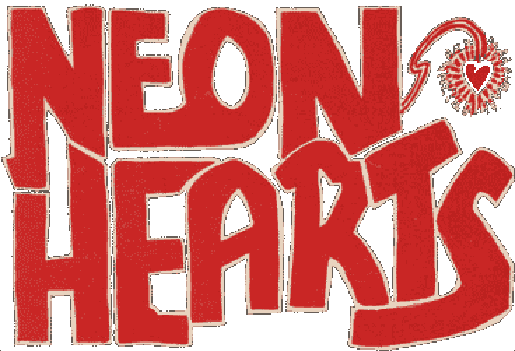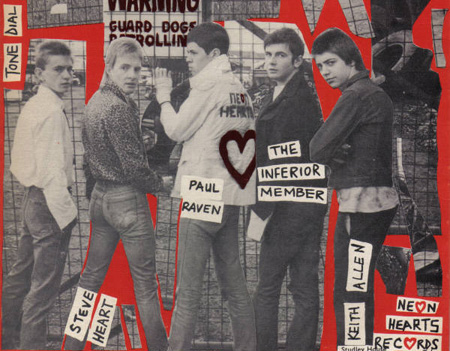 Formed: Wolverhampton, West Midlands, England, UK
Note: Photo by Jack Harrington.
Standard issue '77 punk, maybe, but responsible for the stunningly good
Venus Eccentric
(b/w 'Regulations') single, one of those infectious, energetic and powerful singles that is still a joy to listen to. What a great record! Unfortunately, after this the band began to flounder, allegedly because Satril, the square WEA-owned label to which they signed in 1978, didn't know what to do with them, battled with the band over what to record and release, and plainly did not have a plan of action. The third single,
Popular Music
, was supposed to be an attack on the music industry but the lyrics were watered down to achieve airplay (irony) which it didn't get anyway (double irony), and the album of the same name, when released shortly after, sank without trace.
Steve Heart, on saxophone, had quit the Suburban Studs because the rest of that band considered it to be a too-unpunky instrument. A few months later, X-Ray Spex were doing the rounds and attracting a lot of attention with Lora Logic's sax noises, which provides how wrong they were. So there you have it: the Studs were almost certainly the first punk band to feature a saxophonist.
Anyway, Steve formed Neon Hearts in summer '77 with his cousin Paul Raven. The original lineup was:
Steve Heart - saxophone
Paul Raven - bass
Keith Allen - drums
Martin Ratcliffe - guitar
Tone Dial (real name Tony Deary) - vocals
Tone Dial had been recruited after they had seen him performing Bowie covers at local clubs. They recorded their first demo in Autumn 1977, at Ginger Studios, and in December released 'Venus Eccentric' on their own label in an oversize sleeve that was both distinctive and irritating.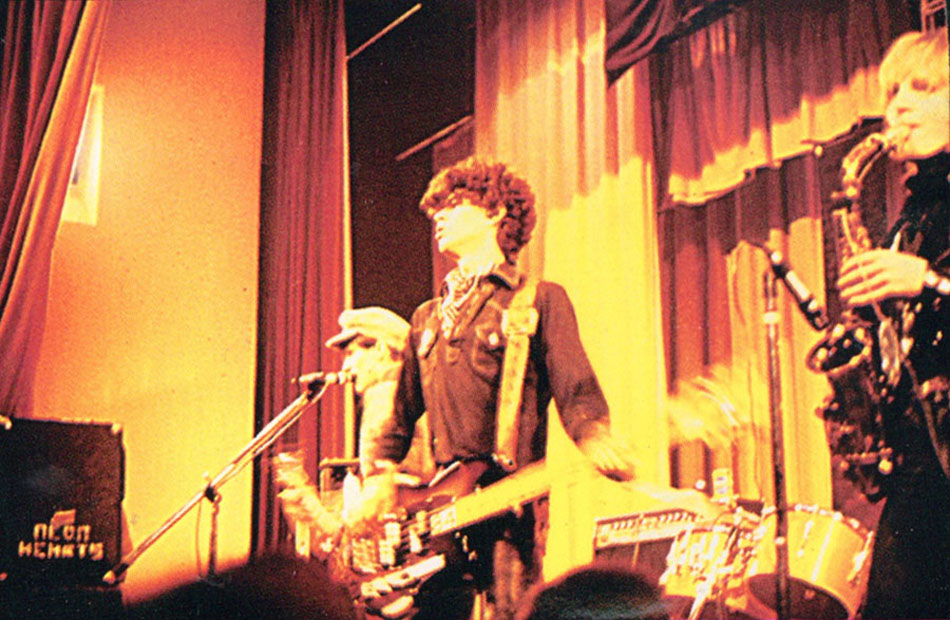 The band gigged throughout early '78, playing in London, Leeds, cambridge and Exeter, They secured a residency at The Lord Raglan pub in Wolverhampton, and also played at Barbarella's many times, supporting Generation X, Radiators From Space, The Clash and others.
The band's days at Satril, however, were miserable. The label wanted them to go 'funk', and even suggested they contribute material to the Eurovision song contest. Second single Answers was released in July against the band's wishes, and Satril made no effort to promote it. I've said what happened to the third single. As for the LP Popular Music, which was produced by Satril boss Henry Haddaway, the band were pressured into recording songs they felt they had outgrown, and had little opportunity to include new material. They were also not allowed to participate in the mixing. Little wonder the LP was a bit of a disaster. Satril didn't pay royalties either.
After the LP was recorded, but before it was released, there was a lineup shuffle. Allen and Ratcliffe both left to join the boring Mod band The Circles. Dial began playing guitar as well as singing and a new drummer, Mark Fuller, came into the picture.
The lineup, then, was:
Steve Heart - saxophone
Tone Dial - vocals, guitar
Paul Raven - bass
Mark Fuller - drums
This new lineup recorded another demo and, in March '79, a John Peel Session, featuring four songs.

Satril finally released the LP in April but it didn't do too much. The LP had been previewed with a storming appearance on the BBC TV show 'Look Hear, where the band performed impressive versions of 'Popular Music' and 'Synchronisation', but that had been filmed in late '78, months before the LP got released, so it didn't really help. Dial then decided he'd had enough, and the band folded. Bassist Paul Raven then joined Burned Out Stars but found greater fame fame in Killing Joke, Brilliant and Prong. Tone played in two bands, first Fashion and then Silhouette Theatre.
In 1980, Steve Heart however had another ideas...well, the same one really: let's reform Neon Hearts. And so he did, with this lineup:
Steve Heart - saxophone
Tone Dial - vocals, guitar, keyboards
Martin Ratcliffe - bass
Mark Spruce - drums
Live shows resumed and the new band recorded some demos between December 1980 and March 1981, but nothing came of all this new activity and the band split for good. Later that year Dial, Spruce and Heart formed a new band - 21C - which went nowhere.
Ratcliffe is now an Estate Agent in Wolverhampton, Keith plays in the now reformed Circles, Dial is now a mechanic in Wolverhampton, Steve Heart runs a city centre rehearsal studio called Beat Foundry and also manages The Planet rock venue. (Paul Raven sadly died in 2007.)
As of 2014, Dial (Deary), Ratcliffe and Allen have got the Neon Hearts back together and are about to tour Japan, where they have a cult following. (Check out the 2011 Neon Hearts tribute CD which was released on the Simply Thrilling label.)
__________________________________________________________________________
DISCOGRAPHY
Singles & Albums
Venus Eccentric (7", 1977)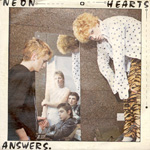 Answers (7", 1978)
Popular Music (7", 1979)
Popular Music (LP, 1979)
Extraneous Releases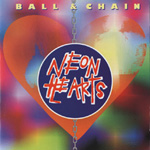 Ball & Chain (CD, 1997)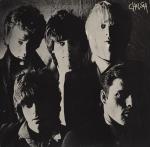 Box Set (5xCD, box set, split with The Adverts and Chelsea, 2008)
Various Artists
Short Sharp Shock UK CD 1996 (Overground): Regulations / Venus Eccentric
England Belongs To Me Japan LP 1996 (77 Records): Regulations
Action Time Vision (A Story Of Independent UK Punk 1976-1979) UK 4xCD 2016 (Cherry Red): Venus Eccentric
1977: The Year Punk Broke UK 3xCD 2019 (Cherry Red): Regulations
__________________________________________________________________________
Links
Punk 77 - Info
You Tube - Great footage of the band playing two songs for the BBC TV show 'Look Hear'