Formed: London, England, UK

"This band are going to kick shit in your eyes" - Sounds, live review, October 1977
"Boring young farts" - NME, 1977
"They're The Monkees" - Midge Ure, NME, 1978
"Reasonable punk pop" - Ian Birch, Melody Maker, 1978
"Tight, fast and gutsy. It's obvious that they have more talent and potential lurking within them than the bulk of their contemporaries" - Kelly Pike, Record Mirror, live review, May 1978
This band spat in the wind of 1977 by dressing in smart, bright clothes, writing catchy songs and generally refusing to accept that punk was about all the negatives (boredom, no future etc), accentuating the positives instead (i.e. having energy, being young, and being in love). Although there were typical punky issues addressed, they were far from nihilists. Partially, that's why they made little impact. But crucially, they were pretty bland and boring. And that's the real reason.
They signed to CBS within two months of forming, recorded a Peel Session that October, and in November released the outstanding
Just Another Teenage Anthem
45, a cynical look at punk (which they clearly felt was stagnating) wrapped up in a super catchy tune and rammed home in less than two minutes. It's a beezer disc that, although too smoothly produced to be true punk and swathed in moddy melody and a degree of blandness, appeals greatly to me.
"Trying to sound like the Rubettes, trying to sound like the Jam, sounds like pop when its really just crap." - Tony Parsons, reviewing first single, 1977
After a tour with The Jam and Jam-clones The Jolt, one more single for CBS, Plain Jane, crept out in mid-1978 to scathing reviews and vast public indifference. They were dropped by CBS and by the end of the year singer Ian Pain and guitarist Dave Cairns had formed a traditional neo-Mod band, Secret Affair.
__________________________________________________________________________
DISCOGRAPHY
Singles & Albums
Just Another Teenage Anthem (7", 1977)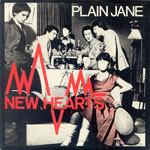 Plain Jane (7", 1978)
Extraneous Releases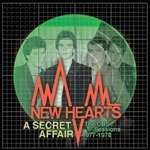 A Secret Affair - The CBS Sessions 1977-1978 (CD, 2009)
Bootlegs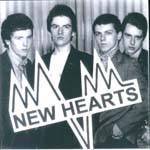 John Peel Session 14th October 1977 (7", 2003)
Various Artists
Permanent Wave US LP 1979 (Epic): Just Another Teenage Anthem
Shake Some Action Vol.3 - UK & Ireland - A Collection Of Powerpop, Mod & New Wave Rarities 1975-1986 US CD 2002 (Shake Some Action): Just Another Teenage Anthem
Millions Like Us (The Story Of The Mod Revival 1977-1989) UK 4xCD 2014 (Cherry Red): Just Another Teenage Anthem
Gary Crowley - Punk And New Wave UK 3xCD 2017 (Cherry Red): Just Another Teenage Anthem
Harmony In My Head: UK Power Pop & New Wave 1977-81 UK 3xCD Box Set 2018 (Cherry Red): Plain Jane
1977: The Year Punk Broke UK 3xCD 2019 (Cherry Red): Just Another Teenage Anthem
__________________________________________________________________________
Links
Secret Affair
- Superb New Hearts page with bio and photos
Punk 77 - More good stuff