Formed: New York, NY, USA
With the possible exception of the Sex Pistols and The Clash, more has been written these guys than any other punk band, and not without good cause. I shan't bother repeating the story of their lives because the band bio is featured on the CD scans pages of the records listed below (well, they will be shortly when I scan them in), except to say that they formed in New York in 1974 and with four chords set the precedent for most of what has happened, punk-wise, ever since. These boys managed to be incredibly stoopid and smart at the same time, not an easy feat to pull off (try asking The Lurkers). The only thing they got wrong was the long hair, and even long hair looked cool on these bastards.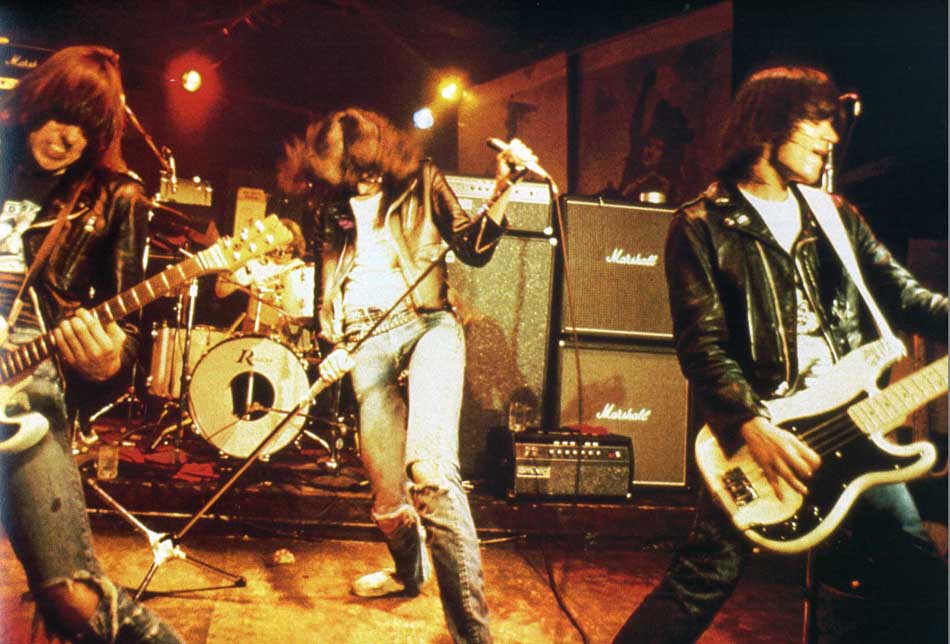 DISCOGRAPHY
Discography excludes non-UK/US releases of otherwise available singles/albums.
Singles / Albums
Subsequent studio albums: Halfway To Sanity (1987), Brain Drain (1989), Mondo Bizarro (1992), Acid Eaters (1993), ¡Adios Amigos! (1995).
Blitzkrieg Bop
(7", 1976)
Ramones
(LP, 1976)
I Wanna Be Your Boyfriend
(7", 1976)
Swallow My Pride
(7", 1977)
I Remember You
(7", 1977)
Leave Home
(LP, 1977)
Sheena Is A Punk Rocker
(7"/12", 1977)
Rockaway Beach
(7"/12", 1977)
Rocket To Russia
(LP, 1977)
Do You Wanna Dance
(7", 1978)
Don't Come Close
(7"/12", 1978)
Road To Ruin
(LP, 1978)
Come On Let's Go
(7", as The Paley Brothers & Ramones, 1978)

She's The One
(7", 1979)
Needles & Pins
(7", 1979)
Rock 'N' Roll High School (Music From The Original Motion Picture Soundtrack)
(LP, 1979)
It's Alive
(2xLP, 1979)
Rock 'N' Roll High School
(7", 1979)
Baby, I Love You
(7", 1980)
End Of The Century
(LP, 1980)
Do You Remember Rock 'N' Roll Radio?
(7", 1980)
We Want The Airwaves
(7", 1981)
Pleasant Dreams
(LP, 1981)
She's A Sensation
(7", 1981)
Subterranean Jungle
(LP, 1983)
Time Has Come Today
(7"/12", 1983)
Too Tough To Die
(LP, 1984)
Howling At The Moon (Sha-La-La)
(7"/12", 1984)
Chasing The Night / Howling At The Moon (Sha-La-La)
(2x7"/12", 1985)
Bonzo Goes To Bitburg
(7"/12", 1985)
Something To Believe In / Somebody Put Something In My Drink
(7"/12", 1986)
Animal Boy
(LP, 1986)
Crummy Stuff
(7"/12", 1986)

Extraneous Releases

Rock On!
(LP, split with Tom Petty & The Heartbreakers, 1977)
I Wanna Be Sedated
(7", 1980)
Meltdown With The Ramones
(7", 1980)
End Of The Decade
(6x12", 1987)
I Wanna Be Sedated
(7", 1988)
Ramones Mania
(2xLP/CD, 1988)
Sheena Is A Punk Rocker
(7", 1989)
All The Stuff (And More) - Volume One
(2xLP/CD, 1990)
All The Stuff (And More) - Volume Two
(CD, 1991)
Blitzkrieg Pop
(VCD + CD, 1995)
I Wanna Be Your Boyfriend
(7", 1997)
Leathers From New York
(CD, 1997)
Anthology: Hey Ho Let's Go!
(2xCD, 1999)
You Don't Come Close
(CD, 2000)
Judy Is A Punk / Human Being
(6"/7"/CDS, split with New York Dolls, 2001)

Loud, Fast Ramones: Their Toughest Hits
(2xCD, 2002)
NYC 1978
(CD, 2003)
Weird Tales Of The Ramones
(3xCD+DVD, box set, 2005)
Classic Airwaves: The Best Of The Ramones Broadcasting Live
(Enhanced CD, 2005)
Greatest Hits
(CD, 2006)

I Wanna Be Sedated / Beat On The Brat
(7", 2008)
Ramones / Rocket To Russia
(CD, twofer, 2008)
Three Classic Albums
(3xCD, 2009)
Live On Air
(CD, 2010)
The Musikladen Recordings 1978
(DVD+CD, 2011)
Havana Affair
(7", split with Red Hot Chili Peppers, 2011)
The Cretin Hop: Live Broadcast From The Second Chance Saloon February 1979
(2xLP, 2012)
Rockaway Beach
(CD, 2012)
The Sire Years 1976-1981
(6xCD, box set, 2013)
Morrissey Curates The Ramones
(LP, 2014)
Live To Air
(CD, 2014)
Live At German Television - The Musikladen Recordings
(LP+DVD, 2014)
Sheena Is A Punk Rocker (Live)
(7", split with Hüsker Dü, 2015)
Eaten Alive - The 4 Acres, Utica, New York, 14 November 1977
(2xLP/CD, 2015)
Live At The Roxy August 12, 1976
(LP, 2016)
Singles Box
(10x7", box set, 2017)
Sundragon Sessions
(LP, 2018)

Promos

Are Here...And There
(7", 1978)
Radio Sampler: Road To Ruin
(12", 1978)
Rock 'N Roll High School Radio Spots
(7", 1979)
Radio Sampler: Music From The Original Motion Picture Sound Track Of Rock 'N' Roll High School
(12", 1979)
She Is A Sensation / Message Of Love
(7", flexi, split with The Pretenders, 1981)
Anthology Radio Sampler
(CDS, 2001)
Blitzkrieg Bop
(CDS, 2004)

Some Of The Forty Billion Bootlegs Issued

At Your Birthday Party
(2xLP, 1979)
Ramones Au Go Go
(7", 1980)
Live At CBGB's, New York 15/5/76
(7", 1985)
The Cretin Hoppers
(7", 1985)
Blitzkrieg '76
(LP, 1989)
Shock Treatment
(2xLP, 1989)
Animal Men
(LP, 1990)
Birthday Bash
(CD, 1991)
No / Babysitter
(7", split with The Rezillos, 1992)
Live In LA, Roxy 76 / Boston, The Club 5-12-76
(LP, 1992)
The Ramones' Beat From The Street
(LP, split with Martha Velez)
Live At CBGB 15.09.1974
(7", 2015)

DVDs

Raw
(DVD, 2004)
End Of The Century: The Story Of The Ramones
(DVD, 2005)
Rock Milestones: The Ramones' Pleasant Dreams
(DVD, 2005)
Rock 'N' Roll High School
(Blu-Ray, 2005)
It's Alive 1974-1996
(2xDVD, 2007)

The True Story
(DVD, 2013)
Various Artists
New Wave UK LP 1977 (Vertigo): Judy Is A Punk / Suzy Is A Headbanger
New Wave Greece LP 1977 (Phillips): California Sun/I Don't Wanna Walk Around With You / Sheena Is A Punk Rocker
Punk Collection Italy LP 1977 (RCA Victor): Sheena Is A Punk Rocker
A Revista Pop Apresenta O Punk Rock Brazil LP 1977 (Philips): Loudmouth 2 / Now I Wanna Sniff Some Glue
The Sire Machine Turns You Up UK LP 1978 (Sire): Ramona
That Summer! UK LP 1979 (Arista): Rockaway Beach
Sharp Holland LP 1979 (WEA): I Wanna Be Sedated
New Wave O Rock Dos Anos 80 Brazil 7" 1980 (WEA): Rock N' Roll Highschool
New New Rock Holland 7" 1980 (WEA): Rock 'N' Roll Highschool / Baby I Love You
Get Crazy (Original Motion Picture Soundtrack) UK/US LP 1983 (Morocco): Chop Suey
Off Limits Germany LP/CD 1992 (Weird System): Rockaway Beach [Live] / Surfin´ Bird [Live]
1-2-3-4 Punk & New Wave 1976-1979 UK 5xCD 1999 (Universal): Blitzkrieg Bop
No Thanks! The '70s Punk Rebellion US 4xCD 2003 (Rhino): Blitzkrieg Bop / Sheena Is A Punk Rocker
Sniffin' Glue: The Essential Punk Accessory UK CD 2003 (Castle): Now I Wanna Sniff Some Glue
The Old Grey Whistle Test Live Europe 3xCD 2012 (BBC Worldwide/Rhino): Medley (Don't Come Close / She's The One / Go Mental) [Live]



Links
RAMONES - Official Website
RAMONES HEAVEN - The best Ramones site on the internet
RAMONES FOREVER - Fansite
RAMONES ON VINYL! - Excellent fansite
CRETIN FAMILY - Fansite
RAMONES MANIA - Fansite (not updated for a long time)
JOEY RAMONE - Official Website
JOHNNY RAMONE - Official Website
DEE DEE RAMONE - Official Website
MARKY RAMONE - Official Website
ROBERT CHRIUSTGAU - Ramones Albums Reviews
PUNK 77 - Biography, discography, photos and stuff
MARK PRINDLE - Hilarious, annoying and/or boring reviews galore