A.K.A. RIKKI AND THE LAST DAYS
Formed: Tamworth, Staffordshire, England, UK
Rikki Sylvan (real name Nicholas Condron) - vocals
Valac Van Der Veene - guitar
Andy Prince aka Andy Prinz - bass
Hugh Inge Innes Lillingstone - drums (Hugh replaced Nigel Bartle in May 1977)
Nik Weiss - keyboards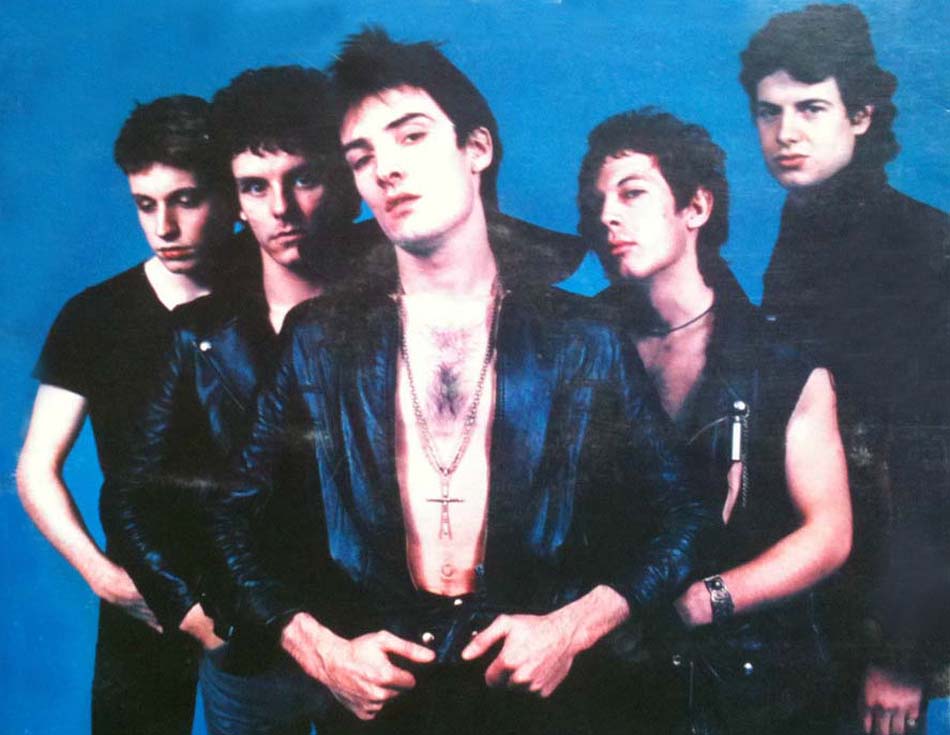 Led by arch poseur Rikki Sylvan, this appallingly named band got absolutely nowhere, despite being name-dropped by Caroline Coon in her excellent book 1988: The New Wave Punk Rock Explosion and tipped for great things by Sounds scribe Jane Suck. Suck came out and declared their album as worthy of five stars.
Then she listened to it.
They dressed like identi-kit punks in Kings Road type threads but - as Sounds gleefully pointed out in February 1978 - their drummer had a triple barrelled name and went to same school as David Cameron, singer Rikki Sylvan and keyboardist Nic Weiss both went to public school, and the other two were from Grammar School. The same article also pointed out that between them they had 32 O Levels and 6 A Levels.
So, their punk credentials were absolute zero.
For all that, however, they didn't play straight forward punk, more of a theatrical punky rock with irritatingly quavery vocals and overly clever would-be-smart (but really just embarrassing) lyrics, full of allusions to the Apocalypse and other bollocks. Punk rock kudos for self-promotion, however, when they kicked off with a self-pressed single, Oundle Rocsoc, featuring two abysmal-sounding studio efforts. This was released in May 1977, six months after they had formed, shortly after their original drummer Nigel Bartle left the band, and just prior to signing to the unhip DJM Records, currently home of Satan's Rats.
And so it was that the two bands went on tour together. The resolutely working class, ramalama punks from Worcester with the poncy middle class poseurs from Tamworth. As the Rats' guitarist Steve Earles told Alex Ogg, "They were a strange crew that, with their brand of what sounded like progressive rock, curiously, went down badly every gig".
Despite too much ambition, a laudable attention to style and a complete unwillingness to tow the line of punk orthodoxy, they were not a good band.
ABOVE: Photo from rear cover of the 'City Of The Damned' single, and an advert for one of Sylvan's solo atrocities
A few concessions, though:
City Of The Damned (b/w 'Victimized'), their first proper single, was alright: fast and punky, albeit over-dramatic and VERY reminiscent of early Ultravox! 'Victimized' was a good punker. Single No. 2 from January 1978, Loaded - a song about vulgar people with lots of money who constantly harp on about the fact - had a certain cocky swagger, and I could well imagine Harry Enfield based his Loadsamoney act on this. The B-Side was an okay version of 'Street Fighting Man'.
Neither made any impression on the charts, and they limped through early 1978 with their rubbish, critically slated LP 4 Minute Warning, memorably dismissed by Mick Farren in NME as "like one of those American colour televisions that come in Mock Tudor cabinets because some jerk in Minneapolis thinks it's got class". Their concerts were more devisive, with Sounds describing them first in August 1977 as "more heavy and menacing than any out-and-out punk band I've seen" and then, in November, as "....heavily marked by the jaded and uninspired". The LP was promoted by an interview in which Sylvan, who claimed to be into Black Magick, made statements such as "I'll do a ritual over our record to make it influential - not successful mind you, influential". He was right, I suppose. The LP did fuck all, but it probably had some influence on the subsequent New Romantic movement, with its extensive use of keyboards and ludicrous lyrics.
By the time of their next record, released six months or so after the LP, they had chopped off the "Of Earth" section of their name and moved even farther away from punk, into poppier territory. Although the second of these singles, Tokyo, got them some decent reviews, they ceased to exist soon after, without anybody shedding a tear. A final single, 'Twilight Jack'/'No Wave', was was never released and exists only as a super-rare acetate.
After the split, Sylvan returned to his pre-Last Days job as a studio engineer, working with Gary Numan and Lords of the New Church. (He had previously produced a single by Satan's Rats.) In 1981 he released a studio album, 'The Silent Years', which was met with no interest at all.
Bassist Andy Prince (aka Andy Prinz), who assisted Sylvan on his solo venture, went onto Jimmy Edwards and the Profile, Random Hold, Toyah, Classix Nouveau, and Sham 69 in time for their horrendous 1988 comeback album, Volunteer.
DISCOGRAPHY
Singles / Albums
Various Artists
Anarchy In The U.K. Volume One France CD 1990 (MPO): City Of The Damned
VARIO
Links
TAMWORTH BANDS - info about their posh drummer
ANDREW PRINCE - Soundcloud
PUNK 77- Includes band bio, discography and clippings
GOLDMINE - Last Days paved the way for '80s romantic acts