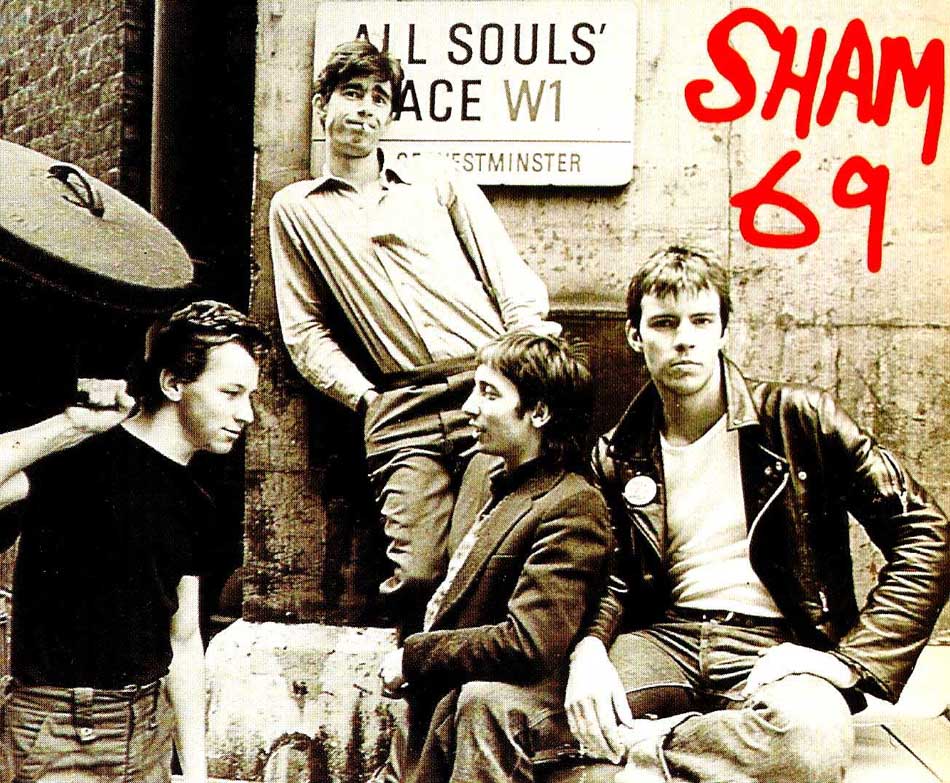 Part 1 (1986 - 2001)
Pursey and guitarist Dave Parsons reformed Sham in 1986, much to everyone's amusement, and in 1988 released a feeble comeback album, Volunteer. Bogged down in Americanisms with a keyboardist and a saxophonist augmenting the guitar/bass/drums configuration, the overall result is one of dilution. Sounding dangerously close to a Deacon Blue/Bon Jovi collaboration, with a contemporary drum sound and heavy metal licks, outside of Pursey's vocals and the odd catchy chorus this had very little in common with the Sham of old and should be destroyed on sight. Rip And Tear and Outside The Warehouse were extracted from the LP as singles, but neither did anything. Another single, Ban The Gun, was also issued in 1987, although this was mysteriously withdrawn.

ABOVE: Sham in 1992: Jimmy Pursey, Dave Parsons, Ian Whitewood (aka Ian Whitehead), Andy Prince
Four year after the debacle that was 'Volunteer', Sham released Information Libre, their first album to attain an American release since the debut. Although some way behind the Polydor years in terms of power or anthemic songs, it was a marked improvement, with a few strong tracks ('Caroline's Suitcase', 'Feel It', The Doors' 'Break On Through') battling it out with overly busy production.
So, after this tenable piece of progression, what could Pursey and Parsons do to reassert their punk credentials by re-recording old favourites like 'Tell Us The Truth' and 'They Don't Understand' even more primitively than Sham did originally! Kings And Queens is a risible experience, not helped by five-minutes of 'Reggae Giro' (a spoken word piece backed by reggae-lite), an updated 'Ulster' ('Bosnia') and a cover of ATV's 'Action Time Vision'. Fun, though.
At some point during this period - band information on their records during this time was minimal - Andy Prince left (he joined The Magic Mushroom Band) and Pursey's old mate Jimmy Edwards replaced him. This lineup recorded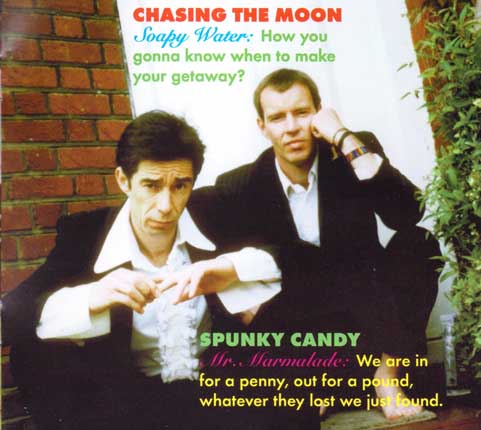 Soapy Water And Mr. Marmalade. Their second "concept" album, it was a slightly more abstruse affair than 'That's Life', albeit still linked by "slice of life" soundbites, this time backed by sitcom-style Muzak. The tale was of some wasters going out and getting drugs, and the material was poppy. Although I know I shouldn't like it, I do. A few of the numbers ('Girlfriend', 'Alice', and 'Spunky Candy') have perfectly adequate tunes and the guitar sound is unmistakably Parsons-esque. Unfortunately, the lyrics were also unmistakably Pursey-esque as well, unsurpassed in the banality stakes ("Otis Redding on the dock of the bay/I spent a tenner on a takeaway"). And although he still can't sing, at least he doesn't simply shout all the time.
With new bassist Mat Sargent, the band recorded The A Files, which was released just two years after 'Soapy Water'. It was a near return to form, with thirteen top songs - all hooks and choruses - and a lengthy instrumental coda. Kicking off with a tribute to the Holidays In The Sun Punk Festival of 1996 ('Blackpool') , the LP covers topics such as wrongful imprisonment, civil disobedience, and the trauma of being stuck in a car on a motorway dying for a piss. Pursey and Parsons employ basic four-chord punk structures and a plethora of memorable singalong choruses, hampered only the low budget, which stops those guitars from blazing quite as they should.
Another new album followed in 2001, Direct Action: Day 21, and then it went quiet again for several years, although they continued to gig here and there.
Part 2 (2001 - Present)
The Sham 69 story up to this point was fairly messy, but then it started to be come really messy.
The period between 2001 and 2005 was easy though, as no new material was released.
Then in 2005, Pursey was back on tele complaining that Tony Blair had come on stage at the Labour Party Conference to the tune of 'If The Kids Are United'. Sham then appeared on BBC TV's current affairs programme Newsnight, with Pursey barking new lyrics demanding the end to the war in Iraq and asking for British troops to be let back home.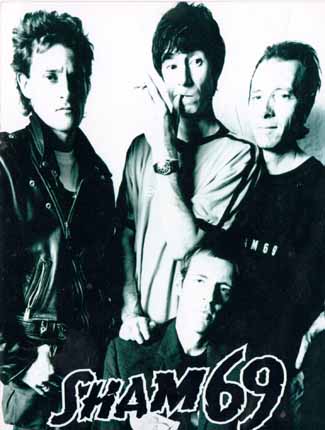 ABOVE: Sham 69 in 2004, and flyer for Hastings Pier Ballroom show on Friday 23rd July 2004.
In 2006 the band's profile was further increased when they released Hurry Up England. A reworking of 'Hurry Up Harry' issued as an Unofficial World Cup single (for charity), the single did not actually feature any member of Sham 69 except for Pursey, although it was marketed as Sham 69 & The Special Assembly. The single threatened to go Top Ten. Pursey, however, wanted the record to get to number one before appearing on Top Of The Pops, and this pissed off Parsons and co, who simply couldn't understand the logic behind this. I doubt anyone could. As a result it didn't perform as expected, and shortly after Pursey was expelled from his own band. There were other reasons, too.
Dave Parsons, as reported in NME, January 2007: Sham 69 have left Jimmy Pursey on the eve of their 30th anniversary. The band had become increasingly fed up with Jimmy's lack of interest in playing live and continually letting down both promoters and fans by pulling out of gigs at the last moment.
Parsons and Whitewood continued as Sham 69, with Tim V on vocals and Rob Jefferson on bass. This band played festivals, toured the US and China, and released three albums, Western Culture (aka Hollywood Hero) (2007), Seriously Ultimate! (2008) and Who Killed Joe Public (2010). The second of these contained no new songs, and was just re-recordings of classic material from the Step Forward/Polydor days, while the third was actually released on a label called...ta-da!... Step Forward.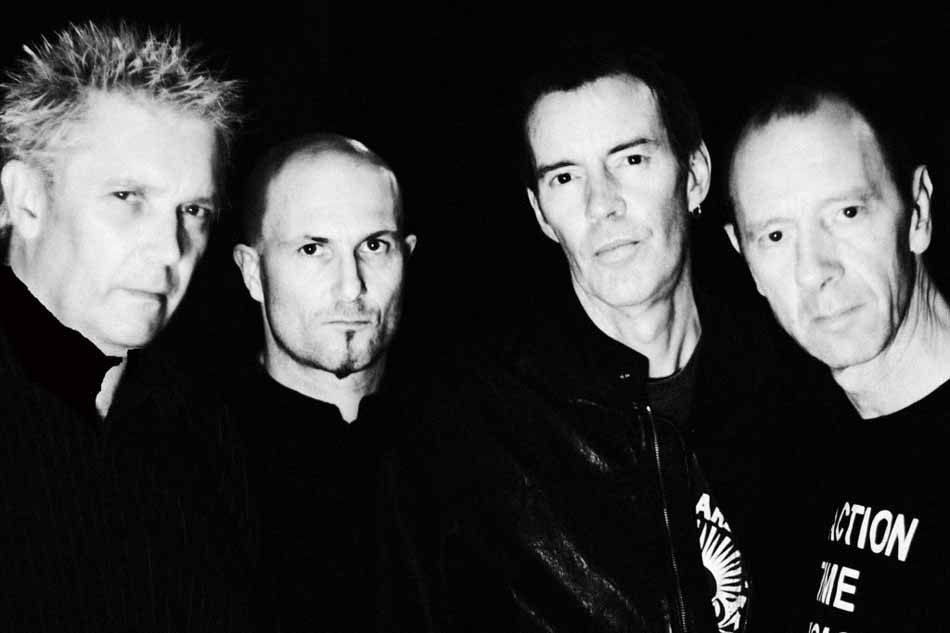 ABOVE Left to Right: Tim V, Rob Jefferson, Dave Parsons, Ian Whitewood. Photo from Punk Globe (see article here)
Pursey and Sargent, meanwhile, formed a new band which they called Day 21, after the last Sham LP. Day 21 never amounted to much, recording an album ('4:10am') which was never released, and a single ('Having It Rock And Roll) which was. An alternative version of 'Western Culture' or whatever it's fucking called, was also released, apparently by Pursey, as 'We Interrupt This Program'. It features Jimmy singing songs songs that had been sung by Tim V on 'Western Culture'.
Then things got even stranger.
Sometime after the release of 'Who Killed Joe Public', Parsons teamed up with former Sham bassist Dave Treganna to create a new version of Sham 69, initially with Jimmy Edwards on vocals and then with Jimmy Pursey. This meant that from here onwards there were two active bands using the same name. For the sake of avoiding further confusion, we'll call the Pursey/Parsons band "Sham 69" and Tim V band "Sham Sham". And to make things even odder, the Sham Sham lineup now features Neil Harris - Sham 69's founding member - on guitar!
Here is how the Sham Sham website describes this period:
In 2011 Dave Parsons had a change of heart and decided that he alone would dictate the bands future and despite his previous moral stand, he reneged and rejoined Jimmy Pursey. Though a major humiliation again for SHAM 69's reputation the remainder of the band, who of course had been 75% of the driving force of its new found success, decided to carry on defining its generic existance.

The band's passion for doing the right thing led them to replace Dave Parsons with guitar stalwart Tony Feedback formerly of ANGELIC UPSTARTS and founder of the Mod band LONG TALL SHORTY. For Ian Whitewood it see's him in his 30th year as the SHAM 69 drummer and it also sees a return to the 2 guitarist set up as it was from the beginning.

Its was the noticeable shock at what many fans saw as a sell out by Dave Parsons that the founder member of SHAM 69 and original Lead Guitarist Neil Harris got in contact with Tim V and a new page in SHAM 69s history was formed. Neil Harris who formed the band with Jimmy Pursey in 1975 has brought what was in essence the foundation of its existence to the table. The band went on to again perform around the world clocking up more shows and gaining more fans both young and old.

At last with a line up that has earned its right to perform both morally and what has become legally.
But enough of this, back to Sham 69. Dare To Win (credited to Sham 69 featuring Jimmy Edwards) was issued in late 2011, and was a remake of 'Unite & Win', but without much gumption. Following this, Parsons and Treganna reformed the 1978 lineup of Sham, which meant Edwards was out and Pursey was back in. Mark "Dodie" Cain was either not available or not invited, and so a bloke called Danny Fury was enlisted. The group then released Set List - The Anthology, which was neither alive set nor a compilation, but rather a load of old songs re-recorded! Fuck me, Parsons, that's the third time you've done that - write some new fucking songs!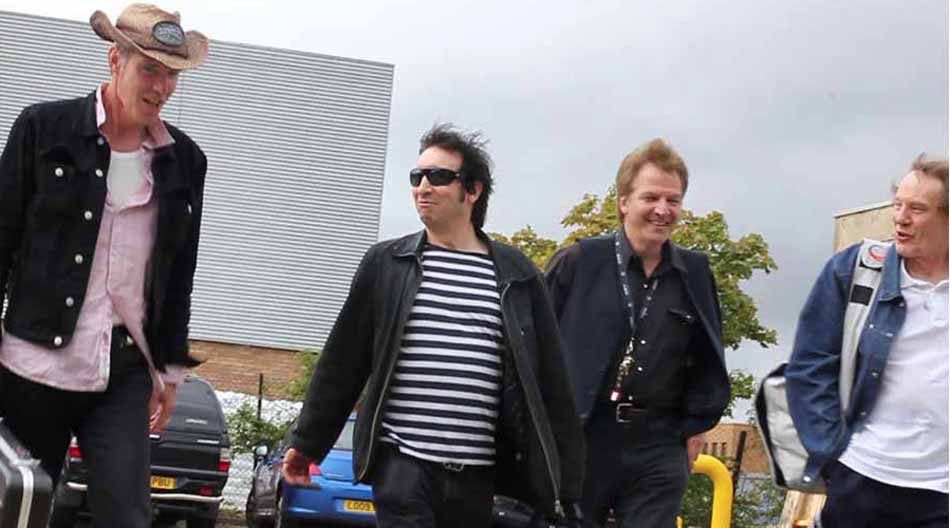 ABOVE: Sham 69 2010. L-R: Dave Parsons, Dave Treganna, Rick Rocket and Jimmy Edwards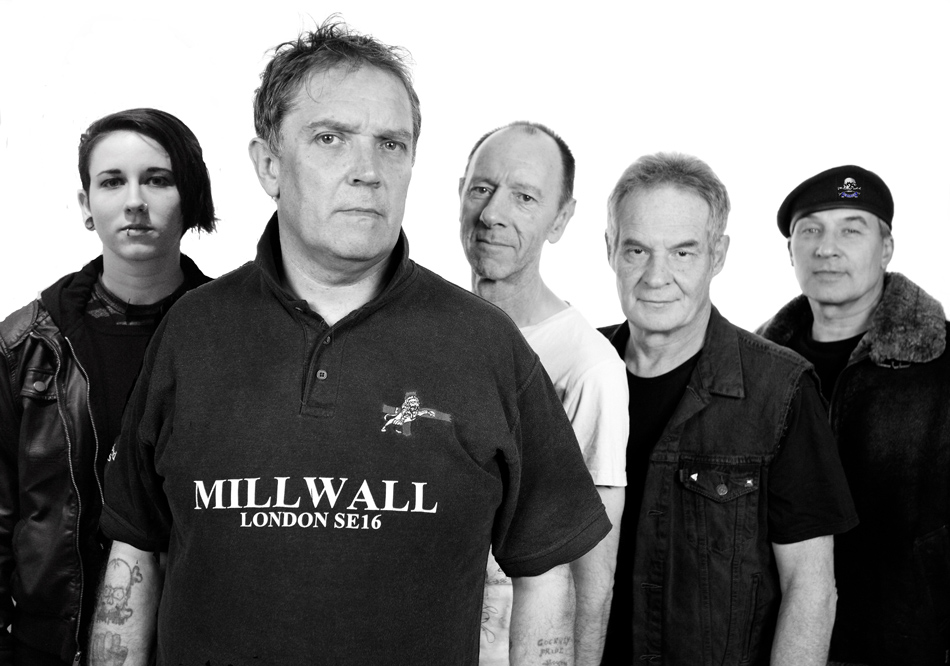 ABOVE: Sham Sham, 2014
DISCOGRAPHY
Singles / Albums

Rip And Tear
(7"/12", 1987)
Ban The Gun
(7", 1987)
Volunteer
(LP/CD, 1988)
Outside The Warehouse
(7"/12", 1988)
Information Libre (LP/CD, 1992)
Uptown
(12", 1992)
Action Time Vision (CDS, 1993)
Kings & Queens
(CD, 1993)
Girlfriend
(CDS, 1995)
Soapy Water And Mister Marmalade
(CD, 1995)
Listen Up
(7", 1996)
Swampy (Run To The Forest)
(CDS, 1997)
The A Files
(CD, 1997)
If The Kids Are United / Individual (7", split with Die Toten Hosen, 1998)
Direct Action: Day 21
(CD, 2001)
Hurry Up England (7"/CDS, as Sham 69 And The Special Assembly, 2006)
We Interrupt This Program
(CD, 2007)
Western Culture
(LP/CD, 2007)
Hollywood Hero
(CD, 2007)
Seriously Ultimate (7"/CDS, 2008)
Seriously Ultimate!
(CD, 2008)
Who Killed Joe Public
(CD, 2010)
Dare To Win
(CDS, 2011)
Set List - The Anthology
(LP/CD, 2013)
Their Finest Hour
(CD, 2013)

Extraneous Releases

Live At CBGB's 1988
(CD, 1991)
Live In Japan
(CD, 1993)
The Masters
(2xCD, 1998)
Live In Italy
(CD, 1999)
Dal Vivo In Italia
(LP, split with Klasse Kriminale, 2012)

Promos

As Black As Sheep
(7", 1988)
M25
(12", 1992)
Various Artists
None
Links
SHAM 69 - Website for the real Sham 69
FACEBOOK - For the real Sham 69
THE OFFICIAL SHAM 69 WEBSITE - Read about the false Sham 69 here
PUNK 77 - The story of Sham 69 and Jimmy Pursey - Punk Rock legends.