Formed: London, England, UK
Immediately after the initial demise of The Lurkers, guitarist Pete Stride and John Plain (currently in The Boys but only just recently a Lurker as well) embarked on this excellent but short-lived project. It was recorded with assistance from Plug (in actual fact The Lurkers' first vocalist, albeit only briefly) and The Boys' drummer Jack Black. Mick Talbot, in between Merton Parkas and Style Council, played keyboards. New Guitars In Town is a great record: punky but not really punk, this is well worth having, and not just for fans of the groups it is associated with. Howard Wall (The Lurkers) also guests on some tracks.
Following the end of this collaboration, Stride reformed The Lurkers (several times) and Plain carried on with The Boys.
__________________________________________________________________________
DISCOGRAPHY
Singles & Albums
Laugh At Me (7", 1980)
New Guitars In Town (LP, 1980)
Extraneous Items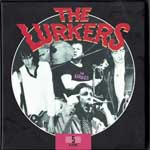 5 Albums (5xCD, box set, by The Lurkers, 2017)

Various Artists
Beggars Banquet - The Punk Singles Collection UK CD 1996 (Anagram): Laugh At Me
__________________________________________________________________________
Links