U.K. Subs - Endangered Species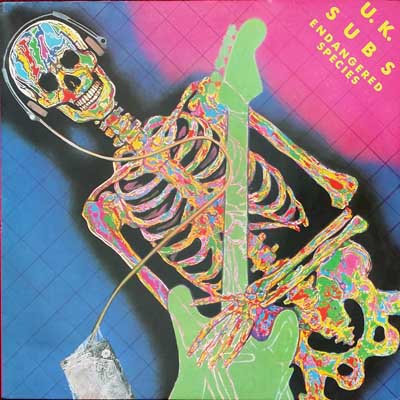 Original Release Date
1982
Release Information
UK LP 1982 (NEMS - NEL 6021)
A1 Endangered Species 3:25
A2 Living Dead 1:40
A3 Countdown 4:58
A4 Ambition 3:41
A5 Fear Of Girls 2:13
A6 Lie Down And Die 1:58
A7 Down On The Farm 3:18
B1 Sensitive Boys 4:10
B2 ÷8 ×4 2:50
B3 Ice Age 3:37
B4 I Robot 2:55
B5 Flesh Wound 2:53
___________________________________________________
UK CD 1998 (Captain Oi! - AHOY CD 97)
1 Endangered Species 3:25
2 Living Dead 1:40
3 Countdown 4:58
4 Ambition 3:41
5 Fear Of Girls 2:13
6 Lie Down And Die 1:58
7 Down On The Farm 3:18
8 Sensitive Boys 4:10
9 ÷8 ×4 2:50
10 Ice Age 3:37
11 I Robot 2:55
12 Flesh Wound 2:53
Bonus Tracks
13 Plan Of Action 2:39
14 I Don't Need Your Love 3:46
15 Keep On Running (Demo) 2:35
16 Limo Life (Demo) 3:40
13: B-Side of Countdown 7", released November 1981
14: LP outtake
15-16: Demos
Chart Placings
UK Indie Hit: 11, 8 wks
Credits
Charlie Harper - Vocals, Harmonica
Steve Roberts - Drums, Backing Vocals
Alvin Gibbs - Bass, Backing Vocals (Lead Vocals - 'Living Dead')
Nicky Garratt - Guitar, Keyboards, Backing Vocals

Produced by Nicky Garratt
Recorded (August '81/September '81) at Jacobs Studios, Farnham, Surrey
Engineers: Ken Thomas & Martin Haskell

Reviews & Opinions
PUNKY GIBBON: A definite improvement over Diminished Responsibility, with increased aggression, more variety and a darker tone. Harper complains about life on the road ('÷8x5''), the insanity of war ('Endangered Species'), women ('Fear Of Girls') and being forced to chill out away from his beloved city on the record's key number, 'Down On The Farm'. While the former records were filled with humour, this suggests the group are finding less to laugh about; a couple of the songs express self-doubt and neuroses, and with a number of very slow songs (mostly on side two) this may not have the immediate appeal of albums #1 and #2 but it has plenty to commend it. This was the last time they sounded like a genuinely great band.
RECORD COLLECTOR, 1990: Yet another UK Subs LP, originally unleashed on an unsuspecting public back in 1981, and seen by some (apparently) as their "last great album". This reissue is housed in its original sleeve, depicting a rather colourful skeleton on guitar. It looks as if Charlie Harper will become the Gary Glitter of the Nineties!
PAT GILBERT, RECORD COLLECTOR, 1992: Charlie Harper was already knocking on a bit when punk began, but this didn't affect his ability to co-write a wealth of incisive, angry, new wave anthems. And long after punk had rolled over and died, Harper was still hard at it: these two albums from 1982 and 1985, placed back to back on this CD, are evidence that he never lost his songwriting touch. Admittedly, 'Living Dead', ''Ice Age' and 'Miss Teenage U.S.A.' may not be the most imaginative numbers that punk spawned, but they're still competent rock'n'roll. - review of the ENDANGERED SPECIES/HUNINGTON BEACH TWOFER
Additional Notes
Reissued on red (and black) vinyl in 1990 by Link (CLINK 4) with two extra tracks, 'Plan Of Action' and 'I Don't Need Your Love', both of which are on the Captain Oi! CD reissue.
Images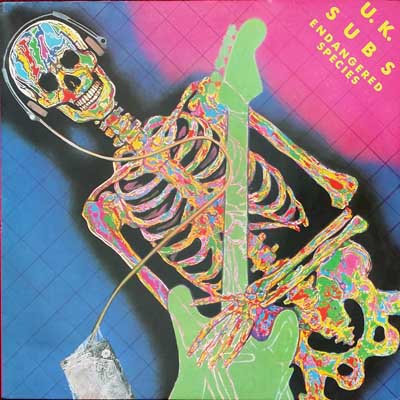 UK LP 1982 (NEMS - NEL 6021). Click here for more
UK CD 1998 (Captain Oi! - AHOY CD 97). Click here for more