Various - What Are You Doing About That Hole In Your Head?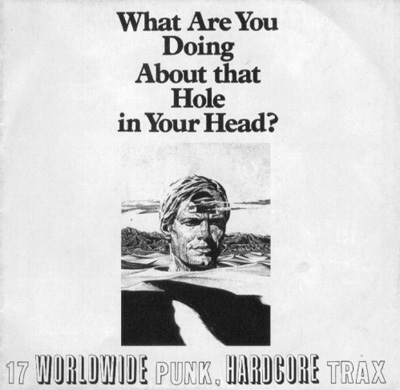 Original Release Date
1986
Release Information
UK LP 1986 (Rot - HOLE IN 1)
A1 Olho Seco - Nada
A2 Massacre - Holy War
A3 Red Scare - Last Request
A4 Varukers - Animals
A5 Anti Cimex - Game Of The Arseholes
A6 Capital Scum - Animal Aid
A7 Inferno - K.K.K.
A8 Oi Polloi - Stop The Vivisection Now
A9 Puke - Blood
B1 Circle One - Destroy Exxon
B2 Maniacs - Brave Men
B3 Picture Frame Seduction - We'll Survive
B4 Capital Scum - Michael Jackson
B5 Killroys - 99 Bottles
B6 Olho Seco - Botas, Fuzis, Capacetes
B7 Massacre - Blindness
B8 Puke - I Hoppet Pa Inget
Chart Placings
None
Credits
None
Reviews & Opinions
None yet
Additional Notes
'Michael Jackson' listed as 'Micheal Jackson' on back cover. Bootlegged on CD in 2006 by Decline Records (of Peru, apparently).
Images