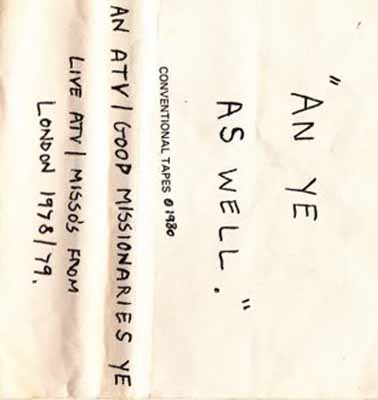 Original Release Date
1981
Release Information
UK Tape 1981 (Conventional Tapes - CON 14)
A1 ATV – Still Life
A2 ATV – Love Lies Limp
A3 The Good Missionaries - Strange Place This...
A4 ATV – Going Around In Circles
A5 The Good Missionaries - The Good Missionary
B1 ATV – Action Time Vision
B2 ATV – Viva La Rock And Roll
B3 The Good Missionaries - Leavin' With Jane Suck On My Mind
B4 The Good Missionaries - Lost In Room
B5 ATV – Nasty Little Lonely
B6 ATV – Splittin' In 2
Chart Placings
None
Credits
THE WORLD AT ONCE...
You have with you a tape presenting material from 3 very different venues. All have stages, all have maybe had Mark Perry...lost every time.
A1,A2,A4,B1,B2,B10,B11 - Queen's College, Notting Hill Gate. Early '78
A3,B3 - Y.M.C.A. 5/8/79
A5,B4 - Empire Ballroom, Leicester Square, April or May '79
The idiots/GODS involved: Mark Perry, Dennis Burns, Dave George, Chris Bennett, Mick Linehan, Henry Badowski, Gillian Hanna, Anno, Sam Dobson, Amanda de Grey, Genesis P-Orridge and many others I imagine, are gone home.
Reviews & Opinions
PUNKY GIBBON: The second split live tape (after
Scars On Sunday
). Who cares? well, some do, because Kill Your Pet Puppy has it for download
here
, along with a slew of information. The ATV material was recorded at Queens College, Notting Hill, London, in early 1978. The Good Missionaries tripe comes from two gigs in 1979 (May and August).
Additional Notes
Images from ATVMP Discograhy blogspot.
Images