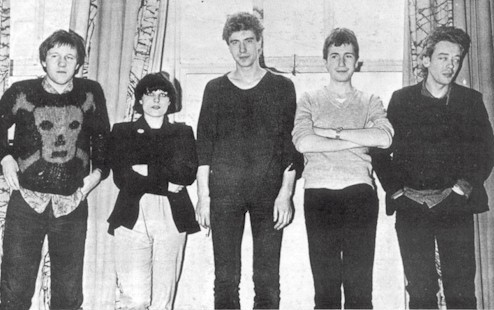 Photo from Mark P's homepage
L-R: Mark Perry, Gillian, Henry Badowski, Dennis Burns, Dave George.
Formed: Finchley, London, England, UK
Alternative TV - then Mark Perry, Dave George, Dennis Burns and Henry Badowski - stopped performing as such in 1979 and changed their name to The Good Missionaries. Unfortunately, this did not usher in a change of style, hence more wanky arty shite. Amongst the many guest musicians floating in and out of the band were Gillian Hanna (vocals, wind instruments, percussion), Kid Kif Le Mixer, and Anno (from Planet Gong). After this Perry formed The Door & The Window and The Reflections, before reactivating Alternative TV in 1981.
__________________________________________________________________________
DISCOGRAPHY
Singles & Albums
Fire From Heaven (LP, 1979)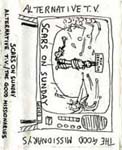 Scars On Sunday (Tape, split with Alternative TV, 1979)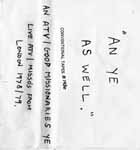 An Ye As Well (Tape, split with Alternative TV, 1980)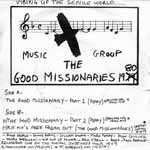 Vibing Up The Senile World... (7", 1980)
Spontaneous Emissions (Tape, 1980)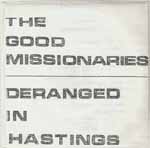 Deranged In Hastings (7", 1981)
Extraneous Releases
Pylons (LP, 2019)
Various Artists
This Is The Weird Sampler! UK Tape 1980 (Weird Noise Tapes): The Good Missionary Goes For A Piss (Extract)
Mother Of A Punk UK Tape 1980 (Conventional Tapes): Release The Natives / Another Coke
UK Wave Vol.1 (Ein England Sampler) Germany Tape 1981 (Taoe Trust/Meine Welle): Bugger The Cat
Healthy Feet/Murky Depths UK Taoe 1981 (Monochrome Underworld Recordings): Protect And Survive
A Bag Full Of Midgets UK Tape 1980s (Music For Midgets): Contacts
__________________________________________________________________________
Links
ATV page on Punk 77 - Very good article from one of the best punk sites on the net