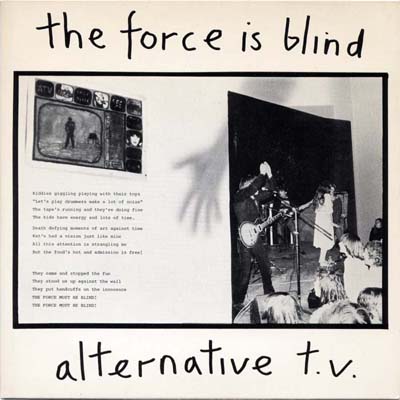 Original Release Date
1979
Release Information
UK 7" 1979 (Deptford Fun City - DFC 010)
A The Force Is Blind 3:47
B Lost In Room 4:56
Chart Placings
None
Credits
Mark Perry - voice, percussion, violin
Dennis Burns - bass, synthesizer
Dave George - guitar, chime bars
With:
Anno - voice on 'The Force Is Blind'
Wally Brill - organ on 'Lost In Room'

Recorded at Pathway 21/2/79
ATV memorial single
Produced by ATV/Wally Brill
Reviews & Opinions
PUNKY GIBBON: No doubt due to the panning their second LP released, ATV decided to call it a day in early 1979 (actually, Burns and Perry just chose to carry on as The Good Missionaries instead). As a parting shot they released this "memorial" single. The A-Side has a French lass, Anno, intoning an astonishingly pretentious poem over weird wobbly music, before general chaos breaks out at the end and Perry starts screaming. The B-Side is more familiar, almost melodic mid-speed rock/punk of considerable tension. A classic two-sided single.
MARK PERRY: What we did with that was I didn't tell the musicians at all what was gonna happen in the studio cos I used to play a lot of games, I used to play a hell of a lot of games with musicians in the band. I had the songs written. With 'Force Is Blind' I had a bass line written and just the lyrics, and then 'Lost In Room' I had the chords and the lyrics, like. This sounds really pretentious but I used to say "Look Dennis, you know when you play" - I used to get them into the vibe of it - "You're all light, this is a festival, there's lots of free food about, y'know, it's all cool, the kiddies are playing, it's a beautiful day and then, like, someone comes in to spoil it and smashes it up, yaknowhattimean, like the police" or whatever, or it could be some other thing. Apart from the bass line everything's improvised; they'd just do their thing. I was playing the drums on that, but I thought Anno did brilliantly on that, cos Anno had such a childlike voice and she did all these weird things, like she'd do a note and then she'd change it while she was singing it, she'd sort of bend it, yaknowhattimean?
Additional Notes
There is a third, uncredited, track, 'Vibing Up The Senile Man'. The two credited songs are on the reissue of The Image Has Cracked - The First Album By Alternative TV; 'Vibing' is on the reissue of Vibing Up The Senile Man (Part One).
Images