AKA: THE DP's
The Depressions:
Dave Barnard - vocals, bass
'Ammer' Frank Smith - guitar
Ozzy 'Crowbar' Garvey - drums
Eric 'Rico The Knife' - guitar

Armed with material so versed in working class thuggery and sexism that it made the early Stranglers look like sensitive new men, these four bleached-blond morons from Brighton somehow attracted the attention of Hendrix/Slade manager Chas Chandler. Maybe it was the singer's eye patch, who knows?
Anyway, Chandler became their manager and signed them to his own Barn label, where they performed about as well as Slade did at the time.
Playing standard 70's pub rock/punk, The Depressions began life in 1975 as Tonge, playing the usual Who and Small faces covers. After seeing the light in late '76, they changed their name and signed up with a management company called Pebble Beach. They attracted a fair amount of local publicity when they got nicked for spray-painting their name on walls (see newspaper clipping).
However, the publicity did not translate into sales, and their punk cause was probably not helped by their incredibly mild-mannered debut single, Living On Dreams, which Sounds described as "very Sixties influenced".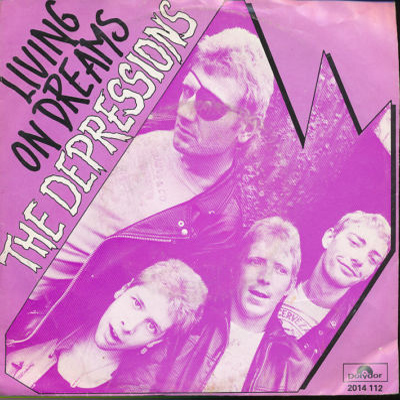 Dutch and German 7" Singles
Prefaced by a much punkier single (Messing With Your Heart), The Depressions is an entertaining effort that nearly sinks amid a morass of unpalatable sexist nonsense but remains listenable by virtue of the strong tunes. They may claim that 'High Rise Living' made them "this way", but there's no excuse for being as stupid as this:
"Hey mister, what's that hanging from your pocket?
It looks like a ten pound note
Let me save you the trouble of spending too much
I'll kick your teeth right down your throat
No squealing to the pigs or I'll break your back
And on your death bed I'll come and gloat"
'Handle With Care'
And don't get me started on the sexist bollocks running through 'Chains & Leather' and 'Career Girl'.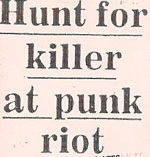 Other bands (Anti-Nowhere League for one) have mined the same mother-lode, but with the redeeming feature of humour; these do it with a seriousness that is quite unpleasant.
The weird thing, however, is it's all very enjoyable if you're in the mood for idiotic yob-punk, and I still play this stuff quite often. They are on my mobile phone and I never skip them when playing on shuffle, so make of that what you will.
Anyway, less than rapturous reviews for their debut album and the stigma of gig violence (a fan was battered to death in a riot during a show at the Preston Poly) forced the departure of guitarist Frank Smith and a change of name to The DP's.
The DP's:
Dave Barnard - vocals, bass
Tony Mayberry - guitar
Ozzy Garvey - drums
Eric Wright - guitar
Tony Mayberry was previously in Joe Cool & The Killers.
The softer, rockier sound on If You Know What I Mean proved even less popular than the debut, and they split in early '79.
Nevertheless....
The Depressions were fairly entertaining, good musicians who knew how to write a good tune.
DISCOGRAPHY
Singles / Albums
Living On Dreams
(7", 1977)
Messing With Your Heart
(7", 1978)
The Depressions
(LP, 1978)
Get Out Of This Town
(7", 1978)
If You Know What I Mean
(7", as The DP's, 1978)
Television Romeo
(7", as The DP's, 1978)
If You Know What I Mean
(LP, as The DP's, 1979)

Extraneous Releases

The Punk Rock Collection
(CD, 1997)
Various Arists
British Punk Rock 1977 UK CD 1998 (Anagram): Living On Dreams
Links