Formed: Stoke-on-Trent, Staffordshire, England, UK
Stoke-On-Trent's contribution to the war against war and aural serenity.
When Terence "Tezz" Roberts (vocals), Royston "Rainy" Wainwright (guitar) and Anthony "Bones" Roberts (lead guitar), Nigel Bamford (bass) and Anthony "Akko" Axon (drums) formed Discharge in 1977, they were a typical bog-standard punk band, all safety pins and dog collars, singing crappy songs like 'I Love Dead Babies' and 'No Future USA', as evidenced on their much-bootlegged 1978 demo.
It was when fiery Kelvin Morris aka Cal joined the group in 1979 that they ditched the mid-speed '77 punk style in favour of the pneumatic drill attack that won them acclaim.
Discharge took the minimalist ethic of the Ramones to its absolute extremes on a handful of multi-song singles and two blistering albums, Why and Hear Nothing See Nothing Say Nothing, spawning a new sub-grenre in the process: d-beat. The most ferocious of pacifists, Discharge's attack consisted of monstrous high speed guitar riffs and demented proto-thrash solos, submachine gun drumming and Cal's hugely embittered shout, which makes the almost-banally blunt lyrics virtually indecipherable. Not given over to verses and middle-eights as such, you could fit the words to the group's minute-long songs onto the backs of matchboxes.
The fact that all their songs sounded identical was part and parcel of their power, that and their undiminished commitment to anti-war and vegetarian causes.
Cal, Enigma/Short Sharp Shock fanzine, November 1980: We carry an anti-war, anti-religious anarchist message. Because of two gigs which were broken up by the police for no apparent reason we are unable to get gigs in Stoke on Trent. I would like to see a world of total equality. Religion is an instigator of hate and war.
ABOVE: Discharge in Punk Lives magazine from 1982. All these images are clickable.
Unfortunately, by the time of 1983's Warning EP the lineup had gone through serious changes - most importantly the departure of guitarist Bones - and Discharge began sliding towards more overtly metal arenas. The main issue was Bones' replacement, Pooch, who simply could not match Bones for sheer ferocity and played in a more heavy metal style, which Cal seemed only too keen to encourage, abandoning his testy growl for a yelp instead. Nonetheless, he was still master of the no-nonsense lyric.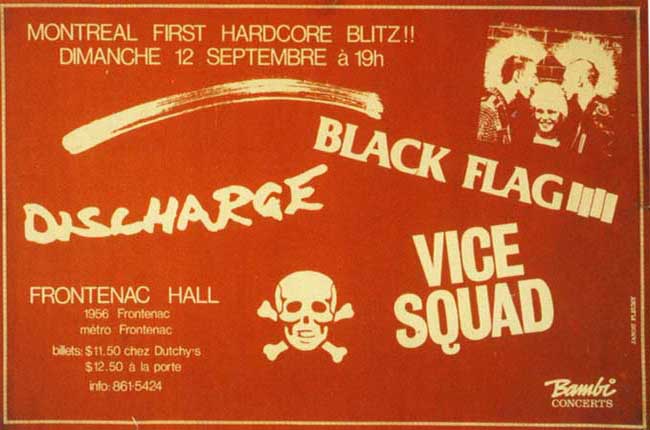 ABOVE: Advert for a single; and a flyer for a show in Salle Polonaise Frontenac, Montreal October 1983
1983 also saw another single, The Price Of Silence, creep out to strong sales, but it was their last decent effort. The More I See (1984) and Ignorance (1985) singles were also Top Ten Indie hits, but the band was in total disarray. In fact, Discharge on the latter release consisted solely of Cal and Rainey.
Their heavy metal direction bore rotten fruit on the atrocious Grave New World, a heavy metal record in every sense of the term. Reverting to his given name of Kelvin Morris, Cal's vocals go up two or three octaves and becoming an annoying Yank squeal, the songs become three or four times longer than usual (side two has a grand total of three tracks!), and the guitarist churns out those lead guitar bits that sound like a whinnying horse. Even the lyrics had changed. They weren't much longer, but now read like poxy pacifist poetry, all angsty and whiny.
They also now looked this this: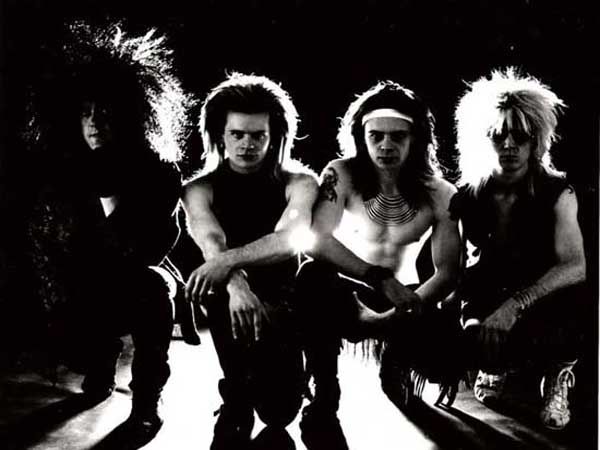 The band split in 1987, following a disastrous US tour and after Morris had been briefly replaced by ex-Wrathchild front man Rob "Rocky Shades" Berkeley. Ex-Wrathchild!? Fuck me!
Then Cal reformed the band in 1990 with an entirely new lineup, issuing two shit LPs. Massacre Divine (1991) repeated the folly of Grave New World to equally heinous effect, with sludgy grunge/metal/thrash of the lowest order, and along with Shootin' Up The World (1993) were more than enough to alienate their few remaining fans. The band then went awol for several years, returning with a new LP, the self-titled Discharge (2002), which marked a return to the style that made the group so amazing first time around, with very few concessions to heavy metal and Cal's voice back to his early style. Short and to the point, it is, and their best record in years. Unfortunately Cal left sometime after this and the band have continued with various lineups, initially with Rat from The Varukers on lead vocals.
__________________________________________________________________________
DISCOGRAPHY
Subsequent studio albums: Massacre Divine (1991), Shootin' Up The World (1993), Discharge (2002), Desensitise (2009), End Of Days (2016).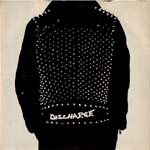 Realities Of War (7", 1980)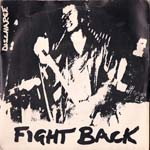 Fight Back (7", 1980)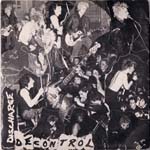 Decontrol (7", 1980)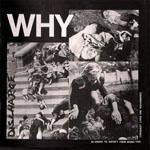 Why (12", 1981)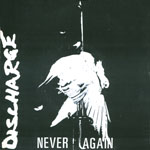 Never Again (7", 1981)
Hear Nothing See Nothing Say Nothing (LP, 1982)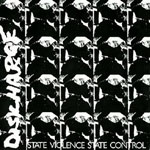 State Violence State Control (7", 1982)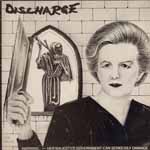 Warning: Her Majesty's Government Can Seriously Damage Your Health (12", 1983)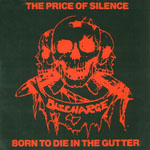 The Price Of Silence (7", 1983)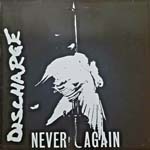 Never Again (LP, 1984)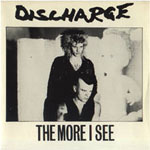 The More I See (7"/12", 1984)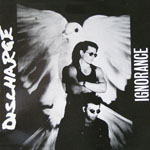 Ignorance (7"/12", 1985)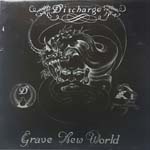 Grave New World (LP, 1986)
Extraneous Releases
Live At The Lyceum; 24th May 1981 (Tape, 1981)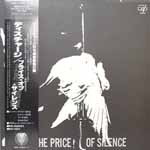 The Price Of Silence (LP, 1984)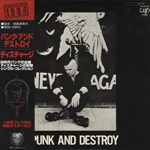 Punk And Destroy (LP, 1984)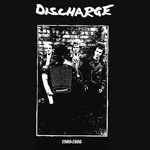 1980-1986 (LP, 1987)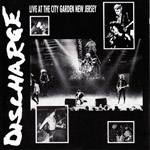 Live At The City Garden New Jersey (LP/CD, 1989)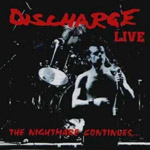 Live The Nightmare Continues... (LP/CD, 1990)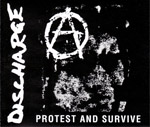 Protest And Survive 1980-1984 (2xCD, 1992)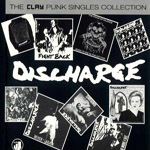 The Clay Punk Singles Collection (CD, 1995)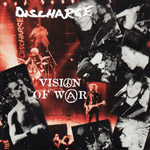 Vision Of War (2xCD, 1997)
Free Speech For The Dumb (2xCD, 1999)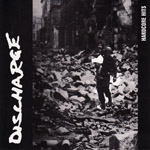 Hardcore Hits (CD, 1999)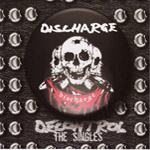 Decontrol: The Singles (2xCD, 2002)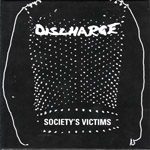 Society's Victims (3xCD, box set, 2004)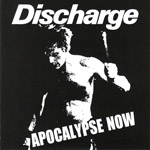 Apocalypse Now (2xCD, 2008)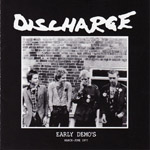 Early Demo's March - June 1977 (CD, 2008)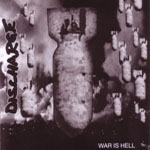 War Is Hell (LP/CD, 2008)
Toronto '83 In The Cold Night (LP, 2015)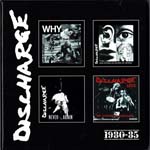 1980-85 (4xCD, box set, 2018)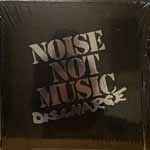 Noise Not Music (3xLP+7", 2019)
Bootlegs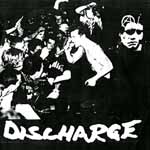 Live Nottingham Union 12/3/83 (7", 1987)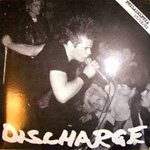 Philadelphia 15/10/82 (LP, 2002)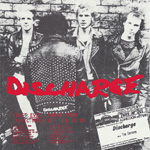 First Ever London Show 'Music Machine' 28/10/80 (LP, 2002)
Nightmare In Lepakko - 25/4/1983 (CDR, 2002)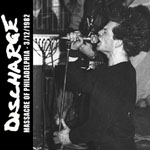 Massacre Of Philadelphia - 3/12/1982 (CDR, 2002)
Discharge (LP, 2003)
Discharge Demo 1978 (7", 2010)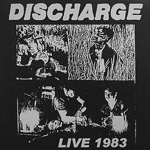 Live 1983 (LP, 2010)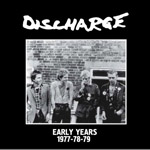 Early Years 1977-78-79 (CD, 2010)
Live In Preston (7")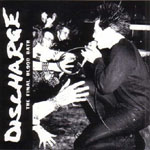 The Final Blood Bath (CD)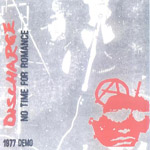 No Time For Romance - 1977 Demo (CDR)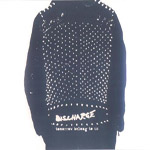 Tomorrow Belongs To Us (CDR)

Various Artists
Driven To Death UK LP 1990 (Clay): Decontrol / State Violence State Control / The Price Of Silence / Never Again / Ain't No Feeble Bastard
Apocalypse Punk Tour 1981 France CD 1992 (Link): Maimed And Slaughtered / Decontrol
Maggie, Maggie, Maggie; Out! Out! Out! UK LP 1987 (Anagram): Warning
Links