Formed: Los Angeles, California, USA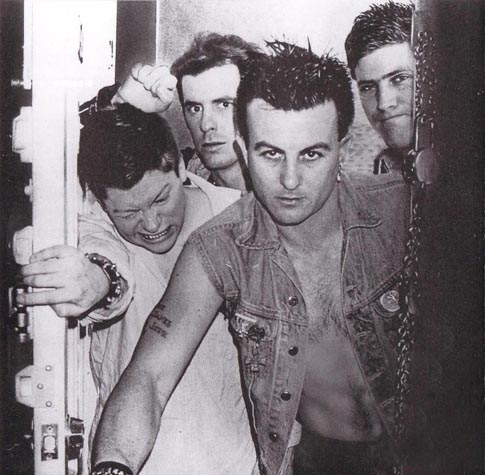 Lee Ving (vocals) and Derf Scratch (bass) formed Fear in the Bay Area, 1977, promptly out-punking everybody else with their ultra violent shows in Los Angeles and releasing the classic I Love Livin In The City single. Ving was a genuine original, singing tirades against homosexuals and women in a style more akin to bar blues than punk, like some old scuzzy drunken slob. He was the ultimate obnoxious punk arsehole who just liked offending everybody. However, he was a better singer than most and his band was extremely dextrous and talented, which meant that when they went for straight-out hardcore they were just about the best.
In 1980 they became a national sensation when they stole the show from the Germs and Circle Jerks in Penelope Spheeris's Decline Of The Western Civilization movie. Around the same time Def Scratch was famously hospitalised after being pummeled by a jock during a gig, and his face, complete with drainage cup, was plastered over the cover of Rolling Stone. In 1981 they appeared on Saturday Night Live - by request of John Belushi - and caused mayhem.
The Record is an essential release, a deliberately annoying disc that includes their finest moments: the demented 'I Don't Care About You', the unbelievably nihilistic 'Let's Have A War' and the just plain nasty 'New York's Alright (If You Like Saxophone)'.
After a long lay off, More Beer appeared with a nifty Swastika band logo emblazoned all over the sleeve and a new set of shock-songs. Ving and company go out of their way to offend but end up with a rather feeble, directionless punk-metal album. Disarmingly irrelevant.
Live For The Record is the result of a concert specially recorded for the KLOS radio station, on which Ving's struggled attempts at not swearing provide most of the fun. Ving returned with a new line-up for Have Another Beer With Fear, their most consistently hardcore sounding album, which mixes his obsession with beer with the usual leftie-baiting sentiments about women ('Honor & Obey'). Best title: 'Fuck You, Let's Rodeo'.
More releases have come down the pike since (apologies for the Americanism, y'all).
__________________________________________________________________________
DISCOGRAPHY
Subsequent studio albums: Have Another Beer With Fear (1995), American Beer (2000), The Fear Record (2012).
I Love Livin In The City (7", 1978)
The Record (LP, 1982)
*uck Christmas (7", 1982)
More Beer (LP, 1985)
Extraneous Releases
Live... For The Record (LP/CD, 1991)
Paradise Studios Sessions Vol.1 (7", 2014)
Paradise Studios Sessions Vol.2 (7", 2015)
Neighbors (7", 2016)
Paradise Studios Sessions Vol.3 (7", 2016)
Bootlegs
Live From New York It's Saturday Night Fear (7", 1989)
The Beginning And The End (7", 1990)
Living With Fear (LP, 1991)
Fresh Flesh (7", 1991)
Budweiser (7", 1993)
Let's Have A War (CD, 2001)
Now Your Dead / I Love Livin In The City (7", 2002)
Paradise Studio 1978 Demo (LP, 2009)
Various Artists
The Decline Of Western Civilization US LP 1980 (Slash): I Don't Care About You / I Love Livin' In The City / Fear Anthem
Get Crazy - Original Motion Picture Soundtrack US LP 1983 (Morocco): Hoochie Coochie Man
Repo Man US LP 1984 (San Andreas): Let's Have A War
Spin Radio Underground US 2xLP 1986 (Spin): Sides 3 and 4 by Fear
Safety-Pin Stuck In My Heart - Punk Rock Love Songs Tape 1992 (Hick-Up Tapes): Three Blind Mice
Punk Anderson's Favourites Germany 2xCD 1995 (Starving Missile): Let's Have A War
No Thanks! The '70s Punk Rebellion US 4xCD 2003 (Rhino): I Love Livin' In The City
__________________________________________________________________________

Links