AKA: HAMMERSMITH GORILLAS
Formed: London, England, UK
Gen-oo-ine R&B stars of the pre-punk period, The Gorillas were - in my humble opinion anyway - scads better than Dr Feelgood or the Count Bishops. I wasn't there at the time, so I'm basing this on records and the handful of live recordings I've heard. Anyway, some onlookers have argued that vocalist Jesse Hector was a better guitarist and showman than Wilko Johnson. He probably was, but his style was so different to Wilko's that it doesn't really warrant comparisons. Wilko's style was his famous jerky duck walk and his geography teacher outfit, and very funny it was, too. Jesse Hector on the other hand simply went fucking mad. rolling around on the floor and play guitar with his legs in the air, dressed like Noddy Holder. Depending on circumstances Hector's voice could be a melodic quaver or a demented Cockney bark, but like so many he and his band never made it beyond relative obscurity, an altogether undeserved fate.
They had enough spunk to appeal to the punk crowd, and with a proper deal and less sideburns they might have been big, but another fine band was consigned to the bin. They just didn't have the right image, and having been in bands since the early '60s, Hector was considered too old. The Gorillas, in fact, were six years old by the time punk pogoed along.
Their rough version of
You Really Got Me,
released as a single in 1974, anticipated punk noise by a good two years and, surprisingly, it still sounds contemporary. The single was released not only in the UK but also abroad.
ABOVE: French and German pressings of the debut single from 1974 .
ABOVE: A later pressing from Spain, which doesn't actually have a date on it. Packaging definitely suggests 1977, though! On the right is Jesse.
They played the first Mont De Marsan French Punk Festival (with The Damned et al), supported The Flamin' Groovies and in mid-1976 signed to Chiswick. They released two terrific singles for the label, She's My Gal and Gatecrasher. Both owe something to The (early) Who and compare favourably with Eddie & The Hot Rods' early offerings: they are unpretentious, simply produced and very catchy indeed, and if not as fast as the punk music coming out at the time, certainly just as lively.
Philippe Korpar-Migrenne, June 1998: "Sporting hugely disproportionate sideburns, Jesse Hector, with a bottle-green Stratocaster in hand and his amp cranked up to 11, was rolling and bouncing in all directions, blasting his way through the most violently liberating renditions of "Wild Thing" or "Foxy Lady." The other two were pounding away a monumental beat in front of an awe-struck, petrified audience. There was definitely a palpable element of genuine fear in the crowd, combined with sheer jubilation as the stupendous energy of the band was not only for real, it also appeared to be dangerously uncontrollable".
Mark Perry, Sniffin' Glue #12, August/September 1977: "It was still going in the right direction and Jesse Hector flipped and they broke up. I mean, it was a pity 'cause this band were one of the best. What it was all about was a fucking great star - Jesse. This guy was amazing, turning head-over-heels on stage while still playing his guitar! He would have murdered them at the Rainbow. Yeah, if only he could have got that far. The story ends with them doin' 'Gorilla Got Me'. It seems ages ago, it was so recent".
In 1978 they switched to Raw, which had reissued the debut single, and recorded the slightly disappointing It's My Life. Their one album, also, for Raw, Message To The World came in one of the most diabolical sleeves ever foisted upon an unsuspecting public and made the mistake of opening with a pear-shaped, non-representative rendition of 'Foxy Lady' before salvaging things with nine smoking, less ambitious cuts, updating the Small Faces (Hector sounds like a ringer on 'Waiting For You') by adding abrasion to quality melodies and sharp lyrics, usually about being stuck in unsatisfying relationships.
They went quiet for a short while but came back in 1981 with one last single, Move It, which was recorded with a new bassist following the untimely death of Alan Butler.
All three of their
Chiswick
singles are compiled on
Gorilla Got Me
, which along with 18 other tracks and a handful of live oddments proves that as far as R&B went, these were just about the best.
The Hammersmith Gorillas never quite made it into the rock 'n' roll hall of fame but they did leave an unforgettable mark as one of the most extreme and phenomenal live bands in history. If your travels take you anywhere near the back rooms of some of North London's pubs, you are advised to check who is due to be playing that night. Chances are that Jesse Hector might be around, ready to liquefy your last brain cells with the loudest and most spectacular rock and roll show you could ever dream to witness. Take cover! Gorilla got me, forever! PHILIPPE KORPAR-MIGRENNE, June 1998

Footnote: Hector resurfaced ten years after that with The Sound. Matt McIntrye, who drummed with Gorillas for a short while, helped form mod/punk/pop band New Hearts.
__________________________________________________________________________
Lineup 1 (c.1974-1976)
Vocals, guitar - Jesse Hector
Bass - Alan Butler
Drums - Gary Anderson
Hector had previously played with Jesse Hector & The Rock'n'Roll Trio (1959-61), The Cravattes (1962-64), The Clique (1964-68), Crushed Butler (1969-71) and Helter Skelter (1971-74), and a few other bands even more obscure than these! Butler had also played in Crushed Butler.
Lineup 2 (1976)
Vocals, guitar - Jesse Hector
Bass - Alan Butler
Drums - Chris Townson (ex-John's Children)
Lineup 3 (1976 - 1978)
Vocals, guitar - Jesse Hector
Bass -Jimmy Knight
Drums - Matt McIntyre
Lineup 4 (1981)
Vocals, guitar - Jesse Hector
Bass - Jimmy Knight
Drums - Gary Anderson
__________________________________________________________________________
DISCOGRAPHY
Singles & Albums
You Really Got Me (7", as The Hammersmith Gorillas, 1974)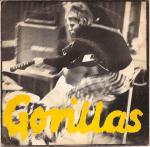 She's My Gal (7", 1976)
Gatecrasher (7", 1977)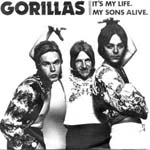 It's My Life (7", 1978)
Message To The World (7", 1978)
Message To The World (LP, 1978)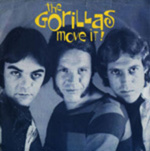 Move It! (7", 1981)
Extraneous Releases
Gorilla Got Me (CD, as The Hammersmith Gorillas, 1999)
Gorilla Garage (CD, credited to Jesse Hector, 2005)
Various Artists
Submarine Tracks & Fool's Gold (Chiswick Chartbusters Volume One) UK LP 1977 (Chiswick): She's My Gal / Gorilla Got Me / Gatecrasher
Oh No It's More From Raw UK LP 1978 (Raw): You Really Got Me / It's My Life / Leavin' 'Ome
We Do 'Em Our Way UK LP 1980 (Music For Pleasure): You Really Got Me
The Chiswick Story UK 2xCD 1992 (Chiswick): She's My Gal / Gorilla Got Me
Raw Records Punk Collection UK CD 1993 (Anagram): It's My Life / My Son's Alive
Good Clean Fun UK CD 1995 (Chiswick): Gatecrasher
Sniffin' Glue: The Essential Punk Accessory UK CD 2003 (Castle): She's My Gal
Glamstains Across Europe Vol. 1: Teenage Rampage LP 2014 (Two Sevens Clash): Shame Shame Shame [as Hammersmith Gorillas]

__________________________________________________________________________
Links
Damaged Goods - a detailed band history

Punk 77 - a page on the Gorillas