Formed: New York, NY, USA
Tom Verlaine - vocals, guitar
Richard Hell - vocals, bass
Billy Ficca - drums
The Neon Boys comprised future punk/new wave stars Tom Verlaine, Richard Hell, and Billy Ficca. Ficca had been playing in a blues band in Delaware when he was invited by his old friend Verlaine to join the new band. The group lasted a very short time, from Autumn 1972 to April 1973, but thankfully had managed to record a six song demo before they split. Three songs from this recording were later released on a 1980 EP, Richard Hell & The Voidoids / Neon Boys: 'That's All I Know', 'Love Comes In Spurts' , and 'High Heeled Wheels'' were all written and sung by Hell, and offered some impressively punky blasts of garage noise. The other three songs were all Verlaine efforts - 'Tramp', 'Hot Dog', 'Poor Circulation' - and all remain unissued.

Looking for a second guitarist in 1973, auditions were held. Chris Stein was up first, but he turned down the job. As Verlaine told Clinton Heylin: "He came and heard a few songs and played guitar and said, 'This stuff's too fast. I don't like this stuff. This stuff's not commercial'. He could play it, though". He later formed Blondie and did all right for himself.
The next to audition - Douglas Colvin - was not so lucky, and he was rejected. Hell: "Tom would say, 'We'll play a C; and [Colvin] went from fret to fret, he would look up with these questioning eyes. He'd look up and we'd shake our heads". Colvin later changed his name to Dee Dee Ramone and changed the course of rock n roll history in the Ramones.
In 1973 the band recruited Richard Lloyd as a second guitarist and changed its name to Television in 1973. Hell of course went on to to form The Heartbreakers (with Johnny Thunders) and then Richard Hell and the Voidoids. 'Love Comes In Spurts' was radically re-worked for each of these bands.

DISCOGRAPHY
Extraneous Releases
Richard Hell & The Voidoids / Neon Boys (7", 1980)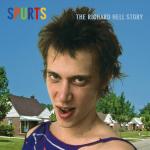 Spurts: The Richard Hell Story (CD, as Richard Hell, 2005)
Various Artists
Shake To Date UK LP 1981 (Albion/Shake): That's All I Know / Love Comes In Spurts
__________________________________________________________________________
Links