Formed: Los Angeles, California, USA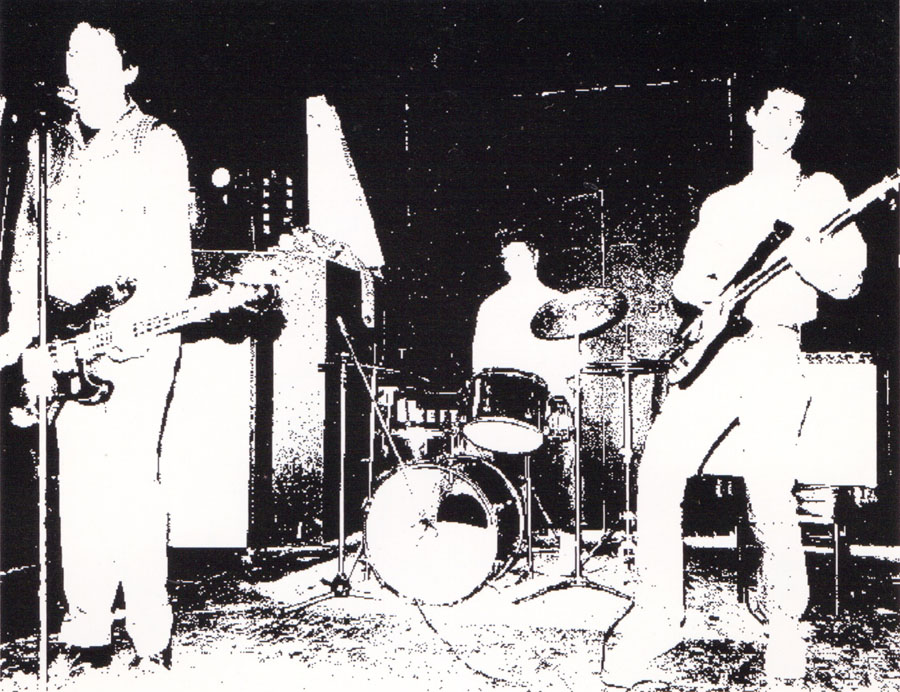 Kjehl Johansen - guitar, vocals 1977-1982, 1996-1998
John Talley-Jones - bass, vocals
Kevin Barrett - drums, vocals
Noisy artpunk trio which began life in 1978 as a punk parody quintet with Delia Frankel (vocals), Steve Willard (guitar), Kevin Barrett (toy drums), Kjehl Johansen (toy organ) and John Jones (later Talley-Jones, bass). Played only one show with the lineup, where they did four songs, two of which - 'This Is The Modern World' and the Jetsons theme - were covers. As a trimmed down trio they performed at all the usual dives - the Masque in L.A., Raul's in Austin, Texas - and recorded three amazing EPs, all of which were released on their own Happy Squid label, and all of which were produced by Virus Matare from The Last.
In 1980 they became 100 Flowers, taken from the Maoist Cultural Revolution quotation, "Let 100 flowers bloom and 100 schools of thought contend". One 7" single was released in 1982, but the band broke up after recording 100 Flowers, which was released posthumously, with another EP following a year after that.
Barrett subsequently joined God And The State and, later, Radwaste. Johansen and Matare formed the prolific Trotsky Icepick and now runs a record label, Avebury Records.
The band reformed (as The Urinals) in 1996 and have been playing on-and-off ever since, albeit without Johansen, who left the fold in 1998. The reformed Urinals have a new LP, What Is Real And What Is Not, in 2008.
LINEUP 1 (1977, as The Urinals):
Delia Frankel - vocals
Steve Willard - guitar
Kevin Barrett - toy drums
Kjehl Johansen - toy organ
John Jones (later Talley-Jones) - bass
LINEUP 2 (1978-1980 as The Urinals, 1980-1982 as 100 Flowers, 1996-1998 as The Urinals)
Kjehl Johansen - guitar, vocals
John Talley-Jones - bass, vocals
Kevin Barrett - drums, vocals
DISCOGRAPHY
Singles / Albums
The Urinals
(7", as The Urinals, 1979)
Another EP
(7", as The Urinals, 1979)
Sex
(7", as Urinals, 1980)
Presence Of Mind
(7", as 100 Flowers, 1982)
100 Flowers
(LP, as 100 Flowers, 1983)
Drawing Fire
(12", as 100 Flowers, 1984)

Extraneous Releases

100 Years Of Pulchritude
(CD, as 100 Flowers, 1990)
Negative Capability... Check It Out!
(CD, as Urinals, 1996)

Bootlegs

Volume One
(7", as Urinals, 1988)
Volume Two
(7", as Urinals, 1988)
Volumes 1 & 2
(2x7", as Urinals)
Various Artists
The Happy Squid Sampler US 7" 1980 (Happy Squid/The Centipede Foundation): U [Urinals]
Keats Rides A Harley US LP 1981 (Happy Squid): Salmonella [100 Flowers]
Hell Comes To Your House US LP 1981 (Bemisbrain): Reject Yourself [100 Flowers]
Life Is Ugly So Why Not Kill Yourself US LP 1982 (New Underground): Sensible Virgin [100 Flowers] / he's A Drone [Urinals]
WarfRat Tales US LP 1983 (WarfRat Grammophon): 100 Flowers / From The Fire [100 Flowers]
The Radio Tokyo Tapes US LP 1983 (Ear Movie): The Long Arm Of The Social Sciences [100 Flowers]

Killed By Dentistry Vol 1 US LP 2000 (Killed By Dentistry): Dyslexia [100 Flowers]
Links