Formed: Newcastle, Tyne and Wear, England, UK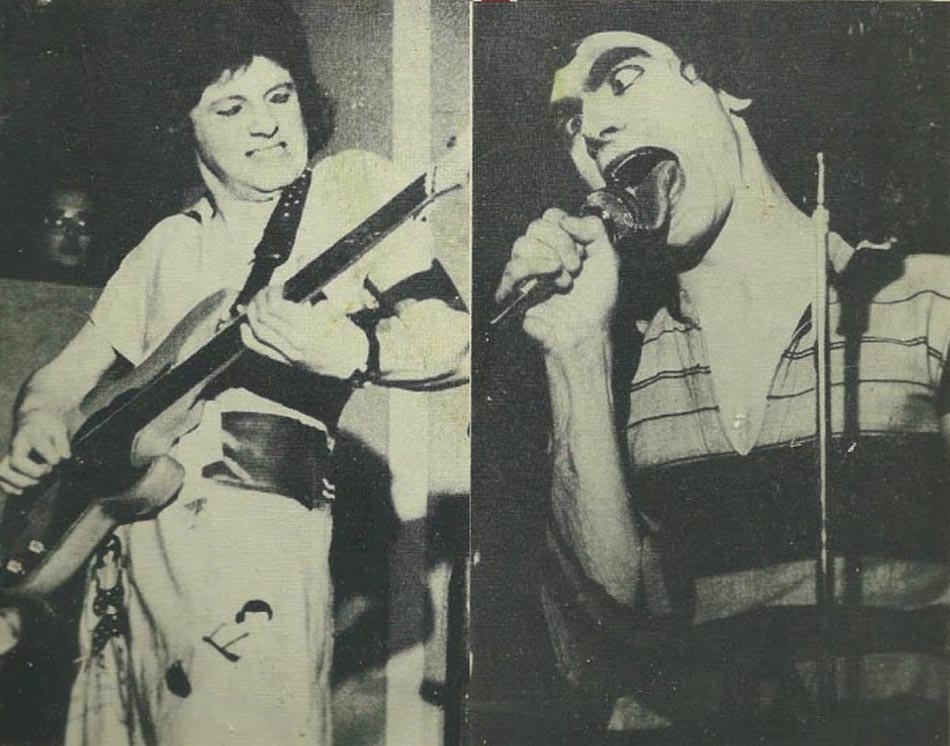 It may have seemed like a good idea at the time, merging punk with prog-rock, but it wasn't of course. It was a shit idea. Nonetheless, these brainy Geordies - who named their band after a painting by Italian artist Giovanni Segantini (1858-1899) - forged ahead anyway, and made some interesting noises along the way.

Securing a one-off deal with Small Wonder and releasing the fairly hilarious Puppet Life, an aggressive pop song with extremely bizarre lyrics, ferocious angular guitars, and jerky rhythms. It practically defines the adjective "quirky".
PUPPET LIFE
Wires stick through my soul, my actions are controlled
Turning me from free man to puppet life suspended,
in puppet life
Your demands are my role, lost in space and time
I crawl for you
Once I had my own mind but in your sewer I was blinded
Wallowing around like an albino crocodile, in puppet life
I used to laugh an make the sun shine
But then you come and made me freeze
I haven't had a friend for such a long time
Cut the strings, fee me please, oh please, I beg you
Once my world was wild but clear
No-one over me to watch an overhear
Now I have only dreams to sell
I'm going cheap at the gates of hell, at the gates Of hell, hell
Our bodies can take no more
The fascist always ends up on the floor
Our day will come we pray, I'll be OK when I've
Been mended, mended
But until then I will be swinging on your rope, with no hope
All I have, all I know are puppets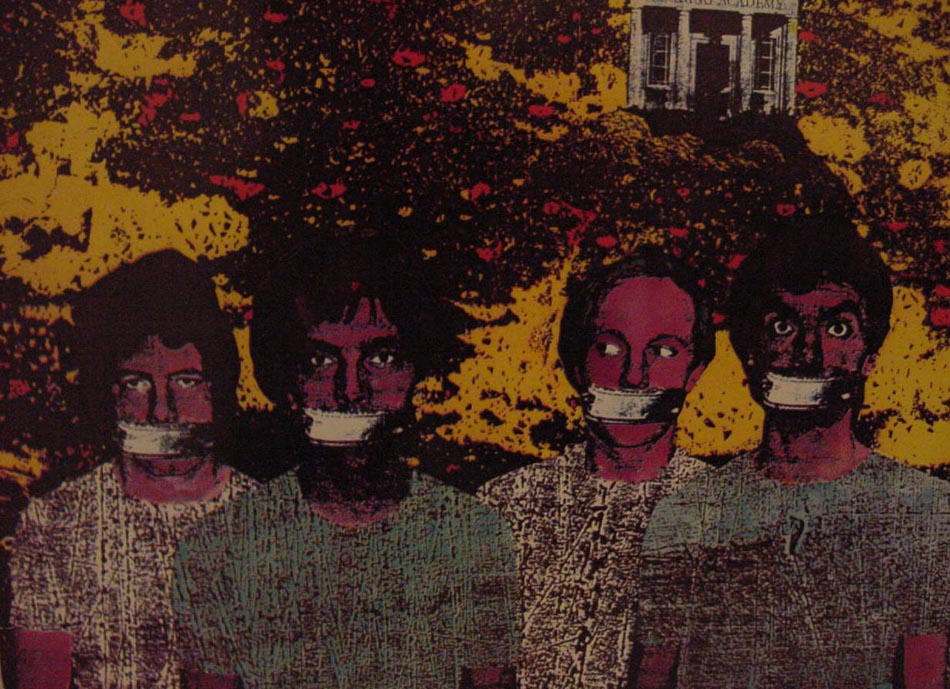 Signed to UA, Engine of Excess was almost equally as good as the debut, with pinpoint production and a brilliant accelerating guitar riff. A third single, Secrets, was a heavy-handed piece of music stuck between hard rock and a weird place; its zippy B-Side 'Brain Bomb' should have been the main song. (It was later covered by Chaos U.K. for the Punk's Not Dread compilation.)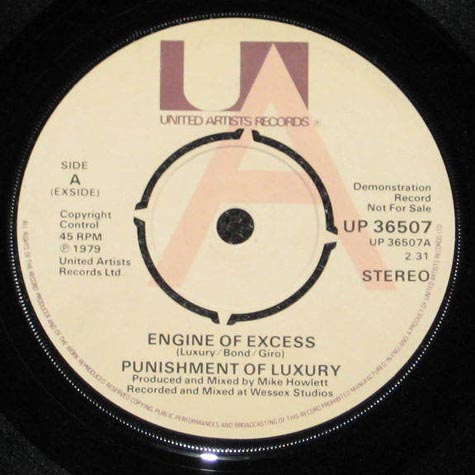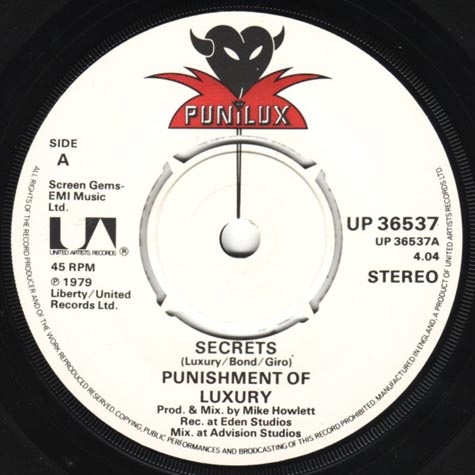 'Puppet Life' was re-recorded (in an inferior version) for Laughing Academy, which must surely rank as one of the strangest albums of the immediate post-punk years. Fiercely intelligent and obtusely political, it sounds like an album into which a lot of work has gone, but much of it is intolerably self-indulgent, with many of the ten songs coming off like mini-operas, constantly veering off in unexpected and not especially agreeable directions. When they actually become a "straightforward" rock band, as on 'Babalon' (an explicit attack on the church) and 'Excess Bleeding Heart', they can be genuinely entertaining.
LAUGHING ACADEMY
Maxwall move along - Einstein, glad you could find time
Galileo's getting off the bus
Leonardo's in the rest room, there's a meal soon
Chorus:
Haaaas to be laughing Acaaaademy, Laughing
Acaaaademy etc.
(I want to be there, blind people see there)
The stocks in the market-place (with a snigger,
they chuckle you away
The Inquisition
The witchfinder watching on the old lady on her
Own (They like to get you on your own)
Talking to yourself (talking to yourself)
Talking to the animals, talking to the plants
It's a loony with a polygraph (what a giggle)
The press-gang's seeking out your weak points
But you're in good company, ha-ha-harmony
Chorus:
We want your, we want you'll find it funny too
Here's what your learn to do
Laugh when they laugh at you ah-ah-ah
The punishment of mockery is when you're dead
They put you down in history, crown on your head
If God writes all the jokes, Death is the punchline
Is it all a waste of time, state of mind? No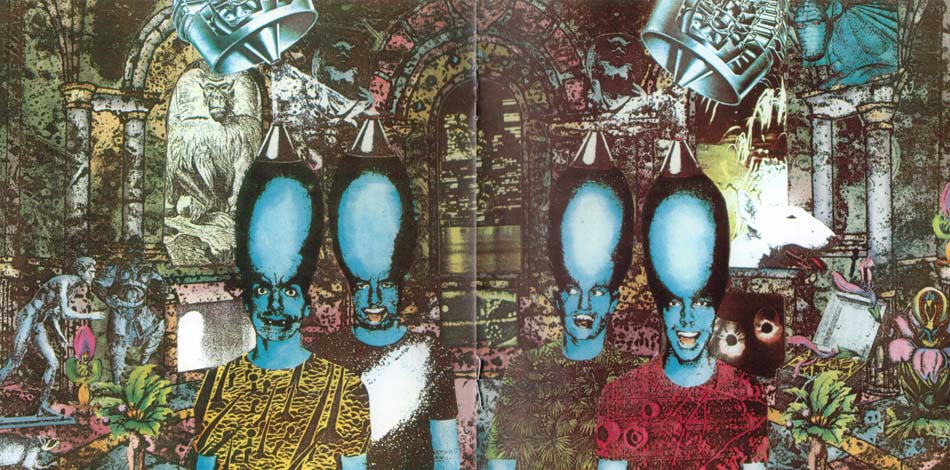 In 1981 the band recorded a second studio album - Revolution By Numbers - but were kicked off the UA roster following the disastrous sales of 'Laughing Academy'. 1983's Gigantic Days (a concept album) was also unreleased. These two finally saw the light of day when Overground dug them up in the late 90s, complimenting the latter with six extra tracks from Neville Luxury's Feels Like Dancing Wartime LP. Both LPs continue the first album's eclectic mix of dead seriousness and avant-garde silliness. A fourth album, 7, actually did make it to the shops, and narrowly missed the Indie Top Ten.
The band have reformed one or two times since.
DISCOGRAPHY
Singles / Albums
Puppet Life (7", 1978)
Engine of Excess
(7", 1979)
Secrets (7", 1979)
Laughing Academy
(LP, 1979)
Laughing Academy
(7", 1979)
Hold Me (Never Mould Me) (7", as Punilux, 1983)
7 (LP, 1983)

Extraneous Releases

Revolution By Numbers (CD, 1997)
Gigantic Days
(CD, 1998)
Various Artists
What's All This, John? Germany LP 1980 (EMI): All White Jack
Small Wonder: The Punk Singles Collection UK CD 1994 (Anagram): Puppet Life
Small Wonder: The Punk Singles Collection Volume Two UK CD 1996 (Anagram): The Demon
1-2-3-4 Punk & New Wave 1976-1979 UK 5xCD 1999 (Universal): Puppet Life
Links