Photos by: Chris Autlieri
Formed: Los Angeles, California, USA
This band play fast, blurry, badly produced, none-too-brainy hardcore on Fall In, an eight-song mini-album full of tirades against communists ('Revolutionary Worker'), women ('Vampire Lady'), greed ('Fuck Money') and war heroes ('Viet Viets', sympathetically described as "Screwed up, fucked up losers/They just won't forget"). A good romp, although Felix Alanis sounds like he's either got a bad cold or half of his brain cells are frozen, a problem that more or less sinks Weight Of The World. Again, some good material ('Jesus Loves You', the Dead Boys-esque 'Chainsaw Love Affair') is undone by weak production and the band's inability to pull off the really fast numbers.

Photo by: Chris Autlieri
All You Can Eat rounds up the first two albums and their debut single, which is chiefly memorable for a great version of Creedence Clearwater Revival's 'Fortunate Son', and a handful of slower, rockier outtakes/demos that play to RF7's strengths. All You Can Eat Vol 2 compiles all of Traditional Values, two songs apiece from later LPs Satan Vs. The Working Man and God Forbid, live stuff from 1985, a demo from 1980 and studio bits from as early as 1979.
ABOVE: Outtake from the 'Fall In' photo session with photographer Ed Colver, 1992. L-R: Walter, Nick, Felix and Robert.
__________________________________________________________________________
DISCOGRAPHY
Subsequent studio albums: Traditional Values (tape, 1991), Satan Vs. The Workingman (1996), God Forbid (1999), Addictions & Heartache (2004), Hatred On The Rise (2009), 101 (2014).
Singles & Albums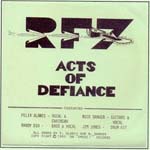 Acts of Defiance (7", 1980)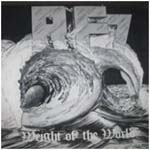 Weight Of The World (LP, 1981)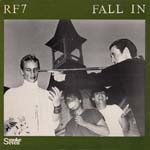 Fall In (12", 1982)
Submit To Them Freely (7", 1983)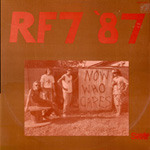 RF7 '87 (LP, 1987)
Extraneous Releases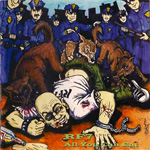 All You Can Eat (CD, 1995)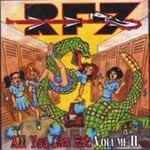 All You Can Eat Volume II (CD, 2002)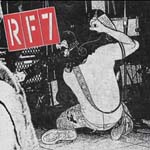 RF7 (7", 2011)
Various Artists
Public Service US LP 1981 (Smoke Seven): World Of Hate / Scientific Race / Long Live Their Queen / Perfect World
American Youth Report US LP 1982 (Invasion):
Buried Alive: The Best From Smoke 7 Records 1981-1983 US LP 1983 (Smoke Seven): Fortunate Son / Fuck Money / Scientific Race - Perfect World
Lung Cookies - A National Collection US LP 1983 (Smoke Seven/Your Flesh): Not Now Generation / Submit to Them Freely
Buried Alive: The Best From Smoke 7 Records 1981-1983 US CD 1995 (Bomp!): Long Way To Go / Scientific Race - Perfect World / Fortunate Son / Fuck Money
All For One...One For All US CD 1995 (Grand Theft Audio): 57 Million People Dead
Travelling With George US CD 2013 (Scare America): Apathy Is Freedom / Penang Road / I Left My Arm In Fallujah
Links