Formed: London, England, UK


Band Bio Part 1 (1972-1978)
There is little to add to what has already been said about the Pistols as a social phenomenon, so I'll concentrate on the records (and a little history) instead.
In 1972, layabout/burglar Steve Jones (vocals), electrician Paul Cook (drums) and weird fellow Wally Nightingale (guitar) formed a living-room band named (after the Roxy Music song) The Strand. Two years later, after having failed to do much, they approached Malcolm McLaren at his Let It Rock shop in the Kings Road. After much cajoling, McLaren agreed to become their manager. Nightingale was swiftly jettisoned, and McLaren suggested one of his shop-workers, Glen Matlock, join on bass. Vocalist Johnny Rotten was recruited soon after. (Rotten was far from first choice: Richard Hell, Sylvain Sylvain, Midge Ure, Count Bishop Mike Spenser and even Chrissie Hynde were all considered.)
Steve summed up the early days like this: "We never even did a gig. It was me and two other guys, like a school thing. We were at school still, and—were we at school? It might've been just after. But, anyway, it was two other guys from school. One guy, Jimmy Mackin, who's dead now, he bought a Farfisa organ, and this other guy, Steven Hayes, who went on bass and never learned to play. So it was basically me and Paul Cook, and this other guy, Wally Nightingale. And we did one gig. It was me, Glen Matlock, Paul and Wally down the King's Road at somebody's café. I was singing, and I think we were called The Strand. Or the Swankers. Something like that. But it was horrible. And I was terrified, being the front guy. That was the end of that. But we kept on rehearsing, and that's when Malcolm got involved, and he said, "You should audition for a singer, and you should play guitar." And that's when we got rid of Wally and auditioned. And then John showed up, and that was it". - As told to AV Club.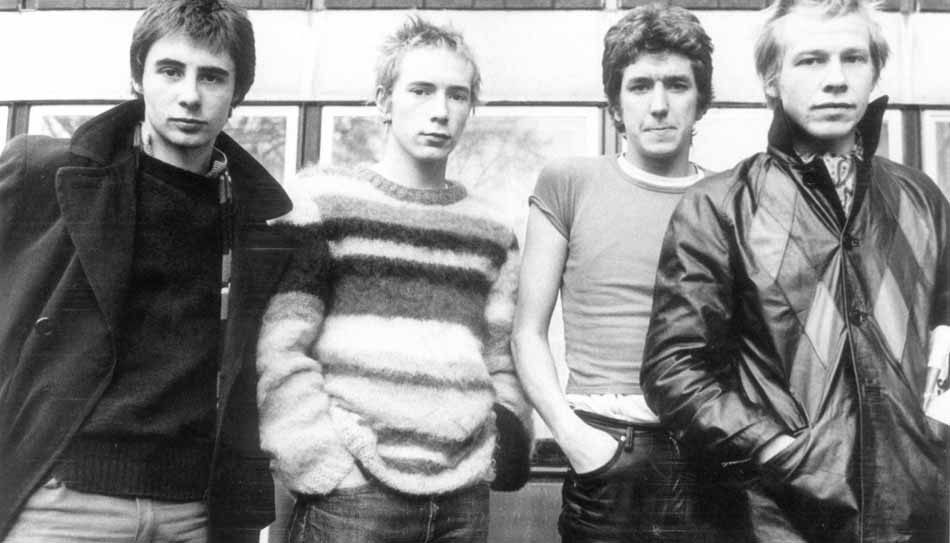 ABOVE LEFT TO RIGHT: Glen, John, Steve and Paul. Photo from What's Up What's On
They debuted as the Sex Pistols in November 1975, and built up a cult following over the next year, generating headlines in the music press and kick starting the UK punk movement. The Bill Grundy interview and debut single Anarchy In The UK broke them nationally in November 1976, but made them a trifle unpopular with authority types. As a consequence, most of the the 'Anarchy In The UK' punk package tour was cancelled, the single was withdrawn (it eventually scraped into the Top 40), and in January EMI sacked the Pistols. As the label's press release stated: "The termination of this contract. with the Sex Pistols does in in any way affect EMI's intention to remaining active in all areas of the music business". Well, thank God for that! (Side note: EMI weren't total wimps: they didn't sack The Saints, they gave Matlock's Rich Kids a chance, and signed the very controversial Tom Robinson Band.)
Matlock was ejected in February 1977 in favour of Rotten's non-musical mate Sid Vicious, with Matlock going power pop with the disappointing Rich Kids. In March they signed they signed to A&M Records, where they remained for less than a week, with copies of their second single God Save The Queen being consigned to the bin. (I have it on good authority that these A&M pressings may have some economic value attached to them.)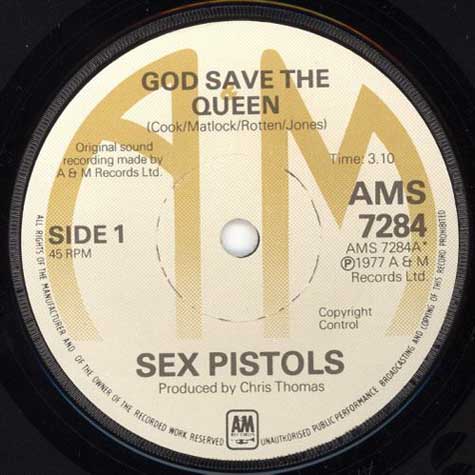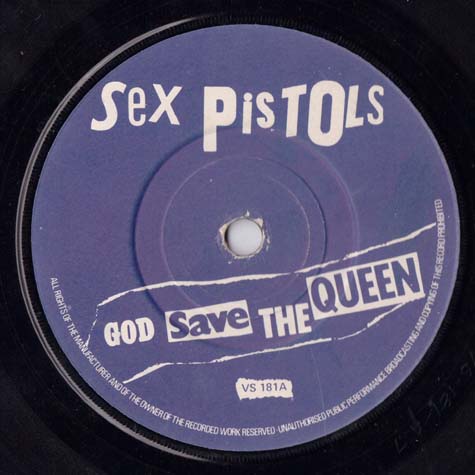 ABOVE: The A&M and the Virgin 'God Save The Queen'
With Sid on bass (although not in the studio), the Pistols signed to Virgin in May, and 'God Save The Queen' was finally released, where it was cheated out of the Number One spot. Virgin, however, was the band's fourth label: in April McLaren - presumably worried that no label would ever sign the band - "inked" (as they say in America) a deal with the French company Barclay, and that label promptly began repressing 'Anarchy'.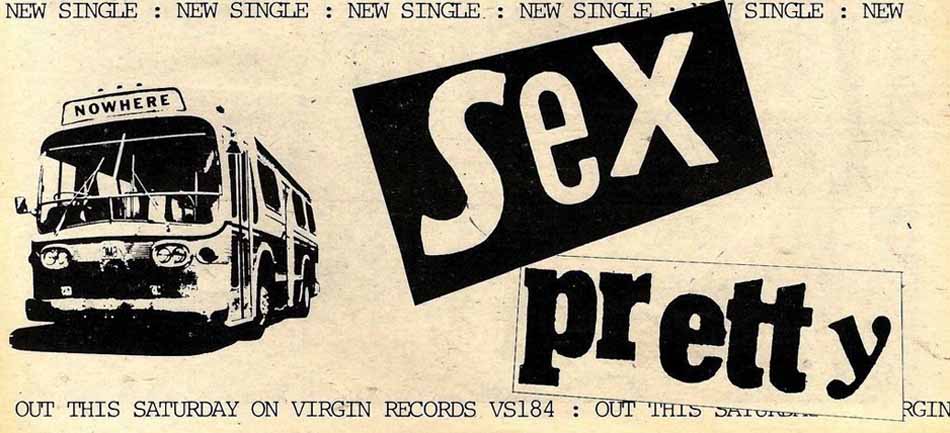 Another hit single, Pretty Vacant followed in July, while the band was working on its debut, provisionally entitled God Save The Sex Pistols. 'Pretty Vacant' was one of their few singles not to get banned, and even earned them a Top Of The Pops appearance.
From mid-1976 onwards it seemed the band generated publicity, often sensational, usually bad, always entertaining. However, this was largely confined to the music press and merely enhanced their cult reputation as the number one punk band. Following the Grundy incident, however, their antics attracted the attention of the tabloids and even the international media, and within a very short space of time they became whipping boys of the nation. Many councils refused to allow them permits to preform, and physical attacks upon various group members made it dangerous for them to even venture out:
When 'God Save The Queen' was released, the band promoted and celebrated it by hiring a boat on the Thames as an alternative Jubilee event. The police broke it up, a brawl ensued, and McLaren and others were arrested. Rotten's face and arm was slashed by a knife-wielding gang outside Islington's Pegasus pub. Jamie Reid and Paul Cook were beaten up in other incidents. As Rotten said at the time: "I don't understand it. All we're trying to do is destroy everything."
This took it's toll on the band, and it definitely want through a stagnation period around this time. Things weren't helped of course by the fact that their main tunesmith had been replaced by an increasingly wild and out-of-control total musical incompetent. Indeed, the band's set list had barely changed in a year. The only new songs were 'Bodies', 'Holidays In The Sun' and 'Belsen Was A Gas'. The latter was one of Sid's very poor taste jokes and even that wasn't new: he had written it back in 1976 when he was in The Flowers Of Romance. Sid also become a heroin user by this time, and Rotten had become disenchanted.
In August they did a short tour of Scandinavia, and then came back home for another run of shows: "SPOTS—Sex Pistols On Tour Secretly". This was a surreptitious UK tour with the band playing under pseudonyms to avoid cancellation, and was allegedly one of the few enjoyable moments for the band during this period.
As Cook told red & Judy Vermorel: "Well, we decided to do these gigs, like, just for one, 'cause we want to play anyway, and we hadn't played in England for such a long time. And we couldn't publicise them, 'cause if we did, some councilor might just come and say, 'Right, you're not playing here,' what they have done and they can do, for any stupid reason. So we decided to go to each individual promoter ourselves, who owned their private clubs and who could put us on without having to ask someone else, and told them to keep it secret. But we knew enough word would get out that people would know we were playing – which they did. So it weren't totally unfair on the fans anyway, 'cause most of them who wanted to see us come to see us. And all the places were packed out, so enough word got 'round for people to know we were playing."
From the Rhino Website: "There was a minor freak-out when the plans for the secret gigs somehow made their way onto the front page of Melody Maker, but it turned out to be a tempest in a teacup, thankfully, as the magazine hadn't actually managed to get any of the dates or venues right. The Sex Pistols ultimately did six dates on the so-called S.P.O.T.S. tour, being billed differently in each of the half-dozen locations: Lafayette Club, Wolverhampton (S.P.O.T.S.); Outlook Club, Doncaster (Tax Exiles); Penthouse, Scarborough (Special Guest); Rock Garden, Middlesborough (Acne Rabble); Woods Centre, Plymouth (The Hamsters), and Winter Gardens, Penzance (A Mystery Band of International Repute). If nothing else, the brief jaunt helped get Sid Vicious out and about as the band's bassist, even if his limited playing ability proved evident."
Come October, the LP was finished and scheduled for release. Then came the Spunk bootleg, which contained demos the band recorded with Goodman in July and October '76, and January '77. This collection of raw recordings was of such good quality that some believe McLaren himself leaked the tapes in order to wind up Virgin. The same month Barclay released a single coupling two previously unheard Pistols songs, Submission b/w 'New York'. Both songs were a taster for the long-awaited debut LP Never Mind The Bollocks Here's The Sex Pistols, which had been recorded in a piecemeal fashion between March and June and was due for a UK release in November. Barclay, however, was aiming to release it in October, which caused all kinds of consternation in the Virgin camp, forcing Virgin to release it a few weeks early, with single number four Holidays In The Sun released to coincide.
'Never Mind The Bollocks' is still the British Punk Album. It was originally considered a disappointment, as the Spunk "bootleg" covered much the same ground and there was a lack of new material: the first four A-sides are present along with 'Problems', 'Seventeen', 'Liar', 'No Feelings' and 'New York', which had been in the band's set almost from the beginning. The only two new songs were also the most acerbic, 'Bodies' and 'Holidays In The Sun', both co-written by Sid. It is, of course, an essential record, if a little over-produced. Best known as a 12-track affair, it originally contained 11-songs, with 'Submission' offered as a free single, along with a tasty poster. It was also issued on picture disc in 1978.
In January 1978 they went and toured America, and split up a couple of weeks later amid much acrimony. After this, Rotten formed Public Image Ltd. This left it up to Cook, Jones and McLaren to soldier on for a few months, recording songs and filming for a projected Sex Pistols movie, which eventually came out in 1980.
Band Bio Part 2 (1978-Onwards)
From mid-1978 to early 1980 the Rotten-less Pistols enjoyed major chart success with a series of great singles taken from an yet-to-be-released feature film. Some featured Sid on vocals, one had Steve's dulcet tones, and some benefited from the loopy vocals of Edward Tudor-Pole aka Tenpole Tudor.
The first of these singles was June 1978's No One Is Innocent / My Way. The A-Side was recorded in Rio in early '78 with Great Trainer Robber and Brazilian exile Ronnie Biggs on lead vocals, while 'My Way' contained the definitive Sid vocal and was recorded with a bunch of session musicians in Paris in April. More larks: it was issued as a 12" single as The Biggest Blow: A Punk Prayer By Ronnie Biggs, the title being a reference to the coshing a luckless train driver received during the actual train robbery itself in 1963. Although the single was a big hit, Virgin were still not amused: McLaren had suggested the single be called "Cosh The Driver".

Though historically of less importance than the debut album, The Great Rock N Roll Swindle - which came out in February 1979 - is a great album. A double set, it was released in two formats a year before the film of the same name. The CD issue sticks with the better known configuration, omitting 'I Wanna Be Me', replacing the (superior) demo version of 'Anarchy' with the single version, and including 'Watcha Gonna Do About It'. With the band no longer a going concern, this is McLaren's vision rather than Rotten's, and actually features bands other than the Pistols themselves. It is also a fabulous artifact, containing such gems as a wonderful disco medley of Pistols songs ('Black Arabs'), a French version of 'L'Anarchie Pour Le UK', orchestral renditions of 'EMI' and 'God Save The Queen', two songs with Ronnie Biggs on vocals ('No One Is Innocent', 'Belsen Was A Gas'), McLaren attacking a Max Bygraves standard with a xylophone, the rudest sea shanty ever written ('Friggin' In The Riggin''), Sid taking on three R&R classics, two tracks sung by Edward Tudorpole, and some excellent straight-forward punk numbers. Rotten is present only on some rough-sounding (but remixed) Goodman demos from October 1976 and a live version of 'Belsen Was A Gas' from the band's last blow-out in January '78. In 1980, Virgin released a condensed version of the above album, and shoved a huge (and now extremely rare) movie poster inside the cover. Less daunting and equally goofy-sounding, but the double is better.
The same month saw the Something Else single rocket to Number 3 in the UK charts. It featured another great Sid vocal and was backed by the amazingly offensive and amusing sea shanty 'Friggin' In The Riggin'. Sid had shuffled off this mortal coil in February 1979, so this release served as a timely (and lucrative) reminder: it was in fact the best selling Pistols' single, shifting over 250,000 copies within two months. Silly Thing from March '79 and C'mon Everybody (from July) were also big hits. 'Silly Thing', a straight ahead rocker with no controversial material, was backed with the hilarious 'Who Killed Bambi', an orchestral effort with Eddie Tudor-Pole offering a tour de force in untrained vocal gymnastics and completely uninhibited bowel-bending.
ABOVE: Advert for Silly Thing, Article from Smash Hits April 1979, and song lyrics from Smash Hits 1980.
Time for another LP, then.
Reeking of barrel-scraping but very amusing, Some Product. Carri On Sex Pistols came out in July, collecting interviews filled with outrageous Cook and Jones radio spots "Elvis Costello's a cunt"), Sid philosophising about life, a brief chat with Rotten's mum, a truncated version of the Billy Grundy fiasco, and lots of mostly uproarious adverts for Pistols products. It came in another splendid Jamie Reid sleeve, offering such goodies as Gob Ale, Piss Lemonade, Anarkee-Ora and a Sid Vicious Action Man Doll. Best title: 'Big Tits Across America'.
The gravy train, however, started dying off a bit in September when yet another single from the double LP, The Great Rock N Roll Swindle narrowly missed the Top Twenty, although its chart success was scuppered by a lawsuit from American Express over the cover art. The band's final single, from JUne 1980, was yet another song from the LP, this time (I'm Not Your) Stepping Stone, which featured Johnny Rotten on vocals and was actually recorded in 1976.
ABOVE: Pistols' obit, from Smash Hits, December 27th 1979. Images from here
Flogging A Dead Horse compiles both sides of the band's first three singles, 'Holidays In The Sun' (but no 'Satellite'), and seven A-Sides, ending with '(I'm Not Your) Stepping Stone', and presents them in a truly tasteless sleeve that parodies those 'Top Of The Pops' albums. Unfortunately it uses the LP cut of 'Silly Thing' rather than the (better) single version. Otherwise, it passes muster as a decent best of.
By this time Cook and Jones had formed The Professionals with bassist Andy Allen (who had played on two songs released as the Pistols, 'Silly Thing' and 'Lonely Boy') and Edward Tudor-Pole had formed the briefly excellent Tenpole Tudor. McLaren went on to work with Adam & The Ants and Bow Wow Wow, before embarking on a brief solo career.
The original Pistols lineup reformed in 1996 and released Filthy Lucre Live which isn't very good, and continue to play shows here and there without bothering to make new records.
ABOVE: The Pistols in 2002. Image from the Official Sex Pistols Website
The Discography - In A Nutshell
The mid 80s saw a flux of semi-official and downright illegal archival recordings, taking advantage of a legal loophole caused by the courtroom fighting of McLaren and the remaining living Pistols. The majority of these recycle gigs recorded at Burton Upon Trent (September 1976, previously bootlegged as Indecent Exposure), Trondheim (July 1977), Newport, Wales, (December 1977), Stockholm, and various American dates, most famously their last ever, at the San Francisco Winterland (January 1978). Important demos recorded by Chris Spedding (May 1976) and Dave Goodman at Denmark Street (July 1976), Wessex Studios (October 1976) and Gooseberry Studios (January 1977) also crop up regularly. It is worthwhile noting the best ways of hearing these sets in full: the Trondheim set can be heard in its entirety as the second disc of the Kiss This set, the October demos were recycled and re-dubbed for 'The Great Rock N Roll Swindle'; and virtually everything can be heard by buying two releases: Spunk and Sexbox.
Here's a guide so you can avoid the crud:
Studio Recordings
There is a multitude of unofficial and just-plain-illegal studio recordings. To get everything the band recorded in a studio, buy the records below. It's that simple!
| | | |
| --- | --- | --- |
| Date | Studio/Producer | Heard On |
| 15th May 1976 | Majestic Studios, London. Chris Spedding | Sexbox |
| 13th-30th July 1976 | Denmark Street Rehearsal Rooms. Dave Goodman (Nine songs) | Spunk and Sexbox |
| October 1976 | Lansdowne & Wessex Studios. Dave Goodman. First 'Anarchy In The UK' single session | Spunk and Sexbox. Remixed versions issued on The Great Rock N Roll Swindle |
| November 1976 | Wessex Studios. Chris Thomas. Second 'Anarchy In The UK' single session | Sexbox |
| December 1976 | Manchester Square Studios. Mike Thorne | Sexbox |
| January 1977 | Gooseberry Studios. Dave Goodman | Sexbox |
| April - August 1977 | Wessex Studios. Chris Thomas & Bill Price. Never Mind The Bollocks sessions | Sexbox, This Is Crap and Never Mind The Bollocks |
Live Recordings
There is a multitude of unofficial and just-plain-illegal live recordings, a real minefield of utter crap replicating the same material endlessly. Below is a ready reckoner of where to best hear something if you want complete (or near complete) live shows in sound quality veering from pretty good to atrocious.
| | | |
| --- | --- | --- |
| Date | Venue | Best Heard On |
| 3rd April 1976 | Nashville Rooms, London | Savage Young Pistols (The Nashville Tapes) (Bootleg CD) |
| 23rd April 1976 | Nashville Rooms, London | Nashville Fight Night (Bootleg LP) |
| 4th June 1976 | Lesser Free Trade Hall, Manchester | I Swear I Was There (Bootleg LP/CD) |
| 29th August 1976 | Screen on the Green, Islington | Midnight Special At Screen On The Green (2xCD Bootleg) |
| 31st August 1976 | 100 Club, London | 100 Club Sex Pistols Party (Bootleg LP) |
| 17th September 1976 | Chelmsford Maximum Security Prison | Live At Chelmsford Prison (CD) |
| 20th September 1976 | 100 Club, London | 100 Club Punk Rock Festival (Bootleg LP) |
| 24th September 1976 | The 76 Club, Burton on Trent | The 76 Club (The Complete Burton-On-Trent-Recordings) (CD) |
| 6th December 1976 | Leeds Polytechnic | Never Mind The Bans (Bootleg CD) |
| 9th December 1976 | Electric Circus, Manchester | Never Mind The Bans (Bootleg CD) |
| 3rd April 1977 | Screen on the Green, Islington | Sid's Debut (Bootleg LP) |
| 15th July 1977 | Beach Disco, Halmstad, Sweden | Power Of The Pistols (semi-legal LP) |
| 16th July 1977 | Mogambo Disco, Helsingborg, Sweden | Scandinavian Tour 77 (Bootleg LP) |
| 21st July 1977 | Studenter Samfundet, Trondheim, Norway | Kiss This (2xLP/CD) |
| 28th July 1977 | Happy House, Student Karen, Stockholm, Sweden | Stockholm 1977 (Bootleg LP/CD) |
| 17th December 1977 | Mr. George's, Coventry | Never Mind The Bands Tour 77 (Bootleg LP) |
| 23rd December 1977 | Stowaway Club, Newport, Shropshire | Where Were You In '77? (semi-legal LP) |
| 25th December 1977 | Ivanhoe's, Huddersfield | The Queen's Speech (Bootleg CD) |
| 5th January 1978 | Great Southeast Music Hall, Atlanta, GA | Kill The Hippies (Bootleg CD) |
| 8th January 1978 | Randy's Rodeo, San Antonio, TX | Randys Rodeo 1978 (Bootleg LP) |
| 9th January 1978 | Kingfish Club, Baton Rouge, LA | Spirit of '76 (Bootleg CD) |
| 10th January 1978 | Longhorn Ballroom, Dallas, TX | Welcome To The Rodeo (Bootleg LP) |
| 14th January 1978 | Winterland Ballroom, San Francisco, USA | Winterland Concert (CD) |
The two US albums, We Have Cum For Your Children: Wanted: The Goodman Tapes and Pirates Of Destiny each claim to have previously unreleased Pistols songs. Alas, 'Revolution In The Classroom' and 'Schools Are Prisons' are actually the work of anonymous session musicians and were recorded in the late 80's. Otherwise, they consist of interview snippets, demos, and live recordings. They were both reissued in the UK by Dojo in 1993 and 1996 respectively. The man behind these two is none other than Dave Goodman. In 1986 he and more session musicians issued 'Land Of Hope And Glory' on 7" and 12" single, as The Ex-Pistols, which was packaged to fool people into thinking a couple of unreleased Pistols recordings had been unearthed. The results were quite passable, but naughty. Not content with these atrocities, Goodman further sullied his reputation with the Restless CD Live At Chelmsford Top Security Prison, which tries altering history by editing in dialogue by Rotten to suggest he is trying to incite a riot. (The Dojo album of a similar name is more kosher.)