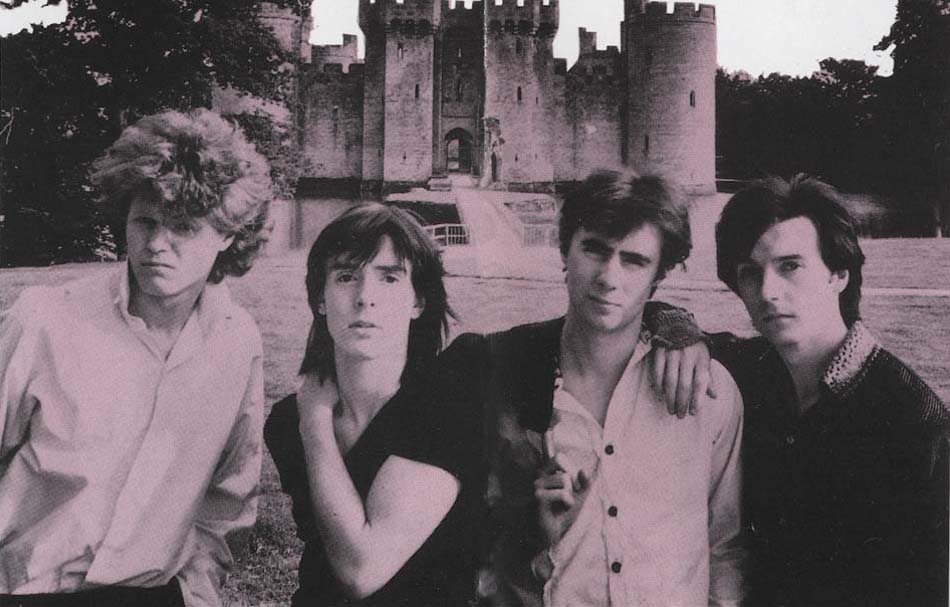 Formed: London, England, UK
Midge Ure - guitar, vocals
Glen Matlock - bass
Steve New - guitar R.I.P. 2010
Rusty Egan - drums

EMI might have demonstrated just how completely staid they were when they chickened out of their deal with the Sex Pistols, but they had enough business sense to figure out that the "talented" one, Glen Matlock, was worth keeping on their books. As the Pistols' principal tunesmith, an alleged Beatles fan and the only one who didn't vomit at airports, it was presumably felt that the label could claw back some of their credibility while not having to put up with a bunch of antagonistic, press-baiting sociopaths.
Although the Rich Kids turned out to be something of a damp squib, lacking any of the bite of the Pistols, they were nonetheless an entertaining and inquisitive band, capable of churning out both glorious pop-punk nuggets whilst also appealing to the punk/post-punk cognoscenti with their occasionally pretentious lyrics, intriguing arrangements, hard-to-pin-down sound, and explorative (albeit abortive) use of synthesizers.
Matlock formed the Rich Kids in early '77, not long after leaving the Pistols. Matlock, 17-year old Londoner Steve New (guitar, pre-Visage) and former delivery boy Rusty Egan (drums, pre-Skids) formed the nucleus of the band, which rehearsed for a short period as a trio with Matlock on lead vocals. This proved unsatisfactory for one reason or another, so the search was on for a singer. A bloke called Jeff Deaf was enlisted but he wasn't up to the job. Paul Weller, then enduring writer's block during the recording of the second Jam LP, allegedly toyed with the idea. Mick Jones jammed with the band briefly, but was never a contender, what with being in The Clash. Even Howard Devoto, in between Buzzcocks and Magazine, had been approached.
The trio gigged throughout the summer of 77, with Mick Jones guesting on second guitar for a few shows in August. Matlock was still singing all the songs, but by September that had changed. When Kevin Rowland (then in the Kiilljoys) travelled down from Birmingham for an audition, he found a note on the door saying they had found a singer. The long search for a suitable Rich Kid had ended with the recruitment of Midge Ure, who also played guitar. Ure had been invited by Matlock to see the Rich Kids, and despite later stating that "Jesus Christ, they were a shambles", he saw the potential and joined.
Ure had been in major label mega-flops Slik and minor-label no-hopers PVC2. The latter had recorded a great single for a tiny Scottish independent label, the title track of which (Put You In The Picture) was easily absorbed into the Rich Kids' set. Come October, the Rich Kids were to seen playing live as a quartet.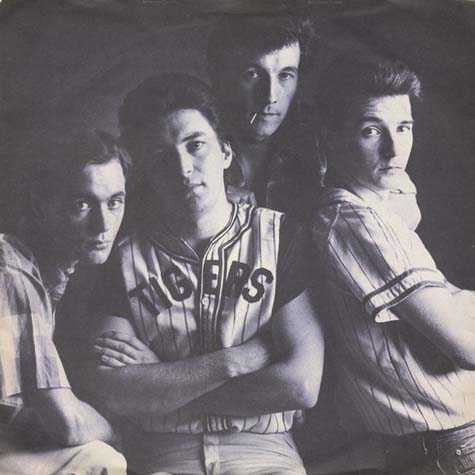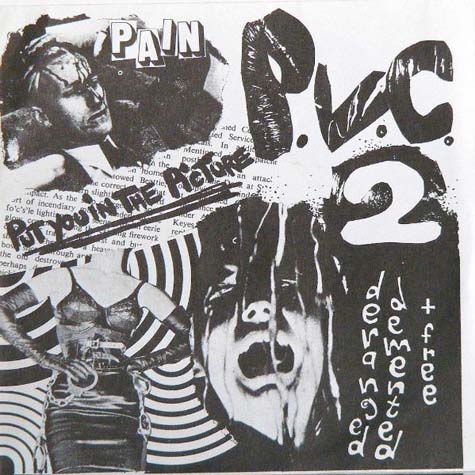 ABOVE: 7" picture sleeve for Slik's Forever and Ever (Ure is on the right), and the PVC2 single.
The group eventually signed a deal with EMI in November 1977, and entered the studio with producer Mike Thorn to cut some demos. Some of these were eventually released on the very rare Burning Sounds CD. By now the band were moving further away from pure punk and were developing into a hard-hitting 60's influenced power pop/rock band, mixing their own songs with highly indicative cover versions like 'Here Comes The Nice', 'No Lip' (previously played with the Pistols) and a pair of Pistols songs, 'Anarchy In The UK' and 'Pretty Vacant'.
January saw the release of their debut single, the moddish Rich Kids, a (very) slightly lacklustre affair with none of the Pistols' revolutionary zeal but loads of great hooks and meaty (over-)production from Mick Ronson. Pressed on either black or red vinyl (take yer pick), it only managed to climb to number 24 in the hit parade and spent just five weeks in the chart.
RICH KIDS
I'll tell you something I think that you should know
There ain't much that I care for, but even so
The guys around me, they astound me
To make things very clear
Some of those who stand in line have no fear
I'm talking about rich kids
Guys too much for you
They got so much feeling
And something special to do
Because they're rich kids, you have better beware
The things with rich kids you see is they're all there
So when you say you're a rich kid
And I ain't kidding you
Oh, it's so much; It's double rich, so true
It stands to reason you don't make it
You just got no idea
And though you lie, and tried, and tried to lie
You realize to comes from here
From the heart
I'm talking about rich kids
Guys too much for you
They got so much feeling
And something special to do
Because they're rich kids
You have better beware
The things about rich kids
They're all there
Rich kids
Rich kids
Beware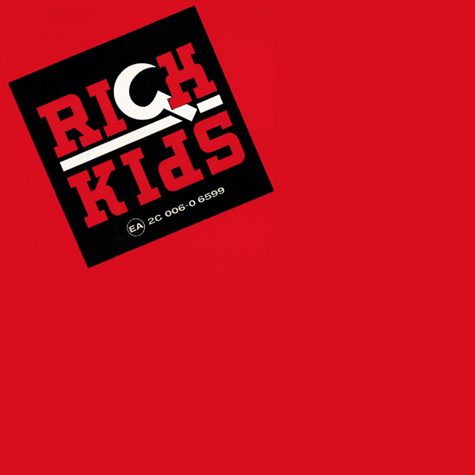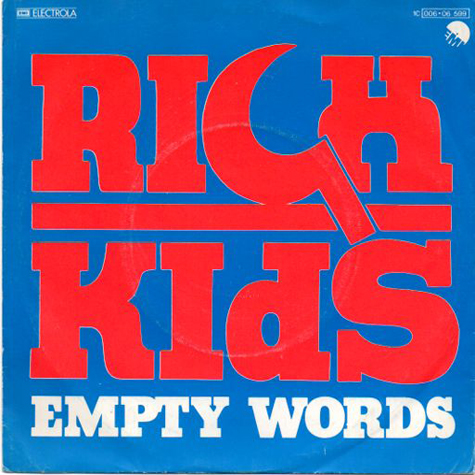 Above: Foreign picture sleeves for the Rich Kids: the French one on the left, the German one on the right.
The debut single was a major success, however, compared with the plodding, chart-avoiding Marching Men 7", which came out to scathing reviews that June. The song was interpreted by some as an anti-military diatribe, but was actually an attack on racism and, in particular, the increasingly popular National Front.
MARCHING MEN
Marching from the backstreet echoes off the walls
Marching from the jackboots ringing down the halls
Never again, never again, do I want to hear the sound
The sound of marching men
The sound of marching men
Feel a sense of danger see the panic in their eyes
People getting restless 'cos there's evil on the rise
Never again, never again, do I want to hear the sound
The sound of marching men
The sound of marching men
Ignoring things won't make them go away
Acting now will be the only way
So make yourself heard, don't turn your back
Or soon you'll the be one under attack
Slogans and obscenities painted every place
Written by the small man by the stupid human race
Never again, never again, do I want to hear the sound
The sound of marching men
In August, New and Matlock surprised everybody by performing as the Vicious White Kids at the Electric Ballroom in Camden Town. Sid Vicious, his replacement in the Pistols, and Nancy Spungeon were moving to New York, so a benefit concert was organised, with Matlock and New joined by Rat Scabies on drums and Sid himself on vocals. The show was recorded and eventually released in all of its warty glory as 'The Vicious White Kids Featuring Sid Vicious'.
But back at the day job, the band was just about to release their first album, Ghosts Of Princes In Towers, produced like the preceding singles by Mick Ronson. Ronson, sadly, submerged its terrific songs in a weird sonic mudbath that muffled the guitars and rendered the rhythm section almost inaudible, when it should have had the same ringing qualities as, say, the second Boys LP Alternative Chartbusters. Yet, rotten production notwithstanding, the LP was a good mix of loud punk and catchy 60's pop, with intriguing lyrics and no slavish adherence to rules, hence the glorious, jaded and oblique romanticism of the title track, which was issued as a single at the same time.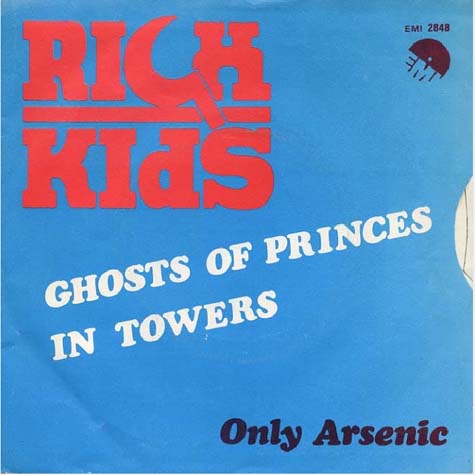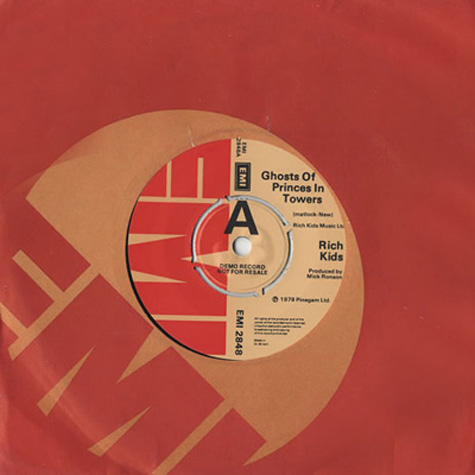 ABOVE: The Belgian picture sleeve for the 'Ghosts Of Princes In Towers' 7" (on the left) was crap, but still better than the UK one (on the right), because at least it had one!
GHOSTS OF PRINCES IN TOWERS
Ain't it fascinating the difference between those who have?
You know there's those who make it and those who never may
And it's fascinating 'cos it's really, very clear
You've either got it, honey, or you ain't
Well you'll go and you tell me all your ambitions
But then you'll say Rome wasn't built in a day
Well, Thomas the Impostor he lived a lie
But it mattered not 'cos that was his way
Just like ghosts of princes in towers
They're the soft boys, and how
Ghosts of princes in towers
They're the sharp ones
They're now
So these ghosts, these princes in towers
It seems to me they've got it made
'Cos they sulk, and they strut for no reason
Well maybe they ain't afraid
Ghosts of princes in towers
They're the soft boys, and how
They're ghosts of princes in towers
They're the sharp ones
They're now
And it's
One, remember number one
Two, and it's true that
Three, it's free and easy that
Before too long, you come back to this
Just singing about ghosts of princes in towers
They're the soft boys, and how
They're ghosts of princes in towers
They're the sharp ones
They're now
They're the sharp ones
They're now
ABOVE: Poster for the The Great British Music Festival from December '78, and US magazine on the right
With the LP stalling at one place outside the Top 50 and remaining in the charts for just one week, and the single failing to chart at all, it was the beginning of the end of the band. In early 1979 they reconvened in the studio, supposedly to record a second LP. By this time Ure was showing more interest in keyboards than guitar, and the sessions amounted to nothing. They were later released on Burning Sounds and Best of The Rich Kids. These fairly poor new songs suggest the split in June 1979 was timely.
What happened next, then?
Ure found the greatest fame in the second configuration of Ultravox and his involvement with Live Aid. He also formed a shortlived band, with Egan, called The Misfits. Egan, after short spells with Skids and Thin Lizzy, respectively, reunited with Ure in Visage. Egan was also a DJ at the New Romantic club Blitz, and in the 80's produced such bands as Spear of Destiny, Shock, and The Senate.
Matlock and New went on to tour with Iggy Pop, after which Matlock formed The Spectres. Throughout the 80's he played in low key bands to scant reward, and still continues to plug away without making many musical sparks.
New was subsequently linked with Public Image Limited. Sometime in the 2000s New, a longtime transvestite, changed his name to Stella Nova and formed Beastellabeast. He sadly succumbed to cancer in 2010.
DISCOGRAPHY
Singles / Albums

Rich Kids (7", 1978)
Marching Men
(7", 1978)
Ghosts Of Princes In Towers (LP, 1978)
Ghosts Of Princes In Towers (7", 1978)

Extraneous Releases

Burning Sounds
(CD, 1998)
Best of The Rich Kids (CD, 2003)

Bootlegs

Twelve Inches High (LP)
Marching Men In Club (CD, 2002)
Various Artists

Meet The New (Punk) Wave Holland LP 1978 (EMI): Rich Kids
After The Anarchy UK CD 1993 (Connoisseur Collection): Rich Kids / Marching Men / Ghosts Of Princes In Towers
1-2-3-4 Punk & New Wave 1976-1979 UK 5xCD 1999 (Universal): Rich Kids
No Thanks! The '70s Punk Rebellion US 4xCD 2003 (Rhino): Ghosts Of Princes In Towers

Links
HEAD HERITAGE - Great review of the Rich Kids LP
GOD SAVE THE SEX PISTOLS - Rich Kids and Glen Matlock discography
INDEPENDENT - Steve New: Troubled guitarist with Rich Kids, Glen Matlock's post-Sex Pistols band
CLASH MUSIC - Rich Kids Reform