Formed: New York, USA
This incredible - though many would say incredibly awful - No Wave band were angry arty types who were attracted to punk's rebelliousness and apparent iconoclastic attitude but decided pretty early on that, musically speaking, the genre was way too conservative: essentially sped-up blues-based rock music that was intellectually embarrassing and structurally moribund. Teenage Jesus & The Jerks went for the most radical sound imaginable at the time: shrieked tuneless one-note vocals from Lydia Lunch and very short, super-intense, ultra-harsh "songs" that discarded the traditional verse/chorus structure, and more often that not were over in less than a minute. As Simon reynolds described it in Rip It Up And Start Again: Postpunk 1978-1984, the group's archetypal sound was "...[the] hammer-blow snare and Lunch's harrowed shriek [merging] into a tolling death-knell rhythm midway between spasm and dirge. Teutonic s-words: stark, severe, strict".
Typical of the no wave movement, musicians in the band were encouraged to play instruments they were not familiar with: Lydia Lunch, the raven-haired minx who led the band, used a slide guitar with one finger and never bothered learning to play, while drummer Bradley Field made do with a snare drum and a cymbal.
Lydia Lunch: I always knew I would do something... horrible. The driving vision behind Teenage Jesus was to castrate the tradition of melody and composition and simply vent in the most primal way possible the horrible din of my own torture.
The band's origins were in The Scabs, which featured Lunch, her Milwaukee-born flatmate James Chance (on sax/vocals), Jody Harris (on guitar) and Japanese drummer Reck (who was naturally instructed to play bass), but by early '77 the group had petered out because they couldn't find a drummer.
ABOVE RIGHT: First lineup (image from here)
Teenage Jesus was formed shortly after the The Scabs had split, with Lunch, Chance and Reck being joined by Bradley Field, who dispensed with a full drum kit in favour of just a snare drum and a cymbal. This lineup proved volatile, with Chance leaving after a few months during which they played just six gigs, all in New York, at CBGB, Max's Kansas City and The Village Gate. While Chance and Lunch seemed made for each other, they had completely different ideas of how they should present themselves live. Chance was prone to dive into the audience and physically attack members of it, and basically do anything to get a reaction. Lunch meanwhile refused to even maintain eye contact with the audience, preferring to simply attack them with noise. The group with Chance was however immortalised by a studio session where they recorded three songs, 'The Closet', 'Less Of Me' and 'My Eyes'. These tracks can heard on the posthumous Pre-Teenage Jesus EP.
The Jerks soldiered on without Chance until November, but then Reck left as well, initially joining Chance in the Contortions but then being forced to return to Japan because his tourist visa had expired. He eventually formed the Japanese punk band Friction. Reck's replacement was Gordon Stevenson. That December the group made a trip to the UK where they played three London shows (one at the Roxy, one at The Vortex supporting Wayne County & The Electric Chairs, one elsewhere supporting Generation X). They were undoubtedly the most extreme-sounding band to play in London at the time, with the possible exception of Throbbing Gristle.
Teenage Jesus finally made it to vinyl in May '78 with the astonishing Orphans 7", released on the aptly-named Migraine Records. They also repaired to Big Apple Studios the same month with producer Brian Eno to record their portion of what become the famous No New York compilation album, alongside the Contortions, DNA and Mars. After this session Stevenson left, his position filled by Jim Sclavunos. It was another five months before 'No New York' was finally released, to much critical acclaim.
Sclavunos made his vinyl debut in March '79 on Baby Doll, released like the first single on Migraine Records, but he and Lunch also issued a single the same month as part of their even more uneasy listening side-project, Beirut Slump. Following a short but very chaotic European tour in June, earmarked by cancellations, violence and hospitalisations, Lunch decided to end the band. Teenage Jesus & The Jerks played its final show at S.O.36 in Berlin as part of a New York film festival. She and Sclavunos went on to form 8-Eyed Spy.
__________________________________________________________________________
Lineup 1 (Spring - August 1977):
Guitar & Vocals: Lydia Lunch
Drum & Cymbal: Bradley Field
Bass: Reck (ex-3/3)
Saxophone & Vocals: James Chance (real name James Siegfried)

Lineup 2 (September - November 1977):
Guitar & Vocals: Lydia Lunch
Drum & Cymbal: Bradley Field
Bass: Reck
Reck went on to play with ◯△▢, Friction and Optical 8.
Lineup 3 (November 1977 - June 1978):

Guitar & Vocals: Lydia Lunch
Drum & Cymbal: Bradley Field
Bass: Gordon Stevenson (ex-DNA)

Lineup 4 (June 1978 - June 1979):
Guitar & Vocals: Lydia Lunch
Drum: Bradley Field
Bass: Jim Sclavunos
Lineup 5 (June 1979):
Guitar & Vocals: Lydia Lunch
Drum: Johnny O'Kane
Bass: Jim Sclavunos
Sclavunos went on to join The Cramps, Gunga Din, Nick Cave & The Bad Seeds, Sonic Youth, Grinderman and other notable indie types. There were TJ & The jerks reunion lineups in 2008, 2009 and 2013-2015, all with Lunch, some featuring Sclavunos, and some with Thurston Moore.
__________________________________________________________________________
DISCOGRAPHY
Singles & Albums
Orphans (7", 1978)
Baby Doll (7", 1979)
Extraneous Releases
Teenage Jesus And The Jerks (12", 1979)
Pre-Teenage Jesus (12", 1979)
Hysterie (2xLP/CD, as Lydia Lunch, 1986)
Everything (CD, 1995)
Live At Max's Kansas City, 1977 (CDR, 2006)
Shut Up And Bleed (CD, split with Beirut Slump, 2008)
Shut Up And Bleed (LP, 2010)
Live 1977-1979 (LP/CD, 2015)
Bootlegs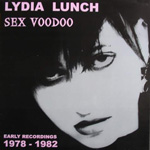 Sex Voodoo (Early Recordings 1978-1982) (LP, as Lydia Lunch, 1990s?)
Various Artists
No New York US LP 1978 (Antilles): Burning Rubber / Closet / Red Alert / I Woke Up Dreaming
Zetrospective Germany 2xLP 1989 (Island/ZE Records): The Closet
Zetrospective: Dancing In The Face Of Adversity / Hope Springs Eternal UK 2xCD 1989 (Island): The Closet
Zetrospective: Dancing In The Face Of Adversity US CD 1989 (ZE): The Closet
Out Of Their Mouths US 2xCD 1996 (Atavistic): Red Alert
N.Y No Wave France/Italy 2xLP/CD 2003 (ZE): The Closet / Empty Eyes / Less Of Me
N.Y. L.A. - The Voice Of America Australia LP ???? (Picnic Rock): The Closet [bootleg]
__________________________________________________________________________
Links
From The Archives - Superb fansite from which much of the information on this page has been sourced.
Time Out - Lydia Lunch interview
L.A. Record - Lydia Lunch interview