Formed: Lowestoft, Suffolk, England, UK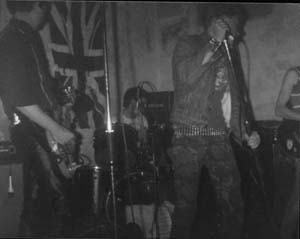 LINEUP:
Pete Chilvers - vocals
Steve Curtis - guitar
Nigel Boulton - bass
Tony Cullingford - drums
This middling Oi! band began life as Stretcher Case, playing punk covers. They changed their name to A.B.H. (Actual Bodily Harm - does this make them a wussier version of G.B.H.?) and adopted a standard Oi! pose that eventually morphed into a Nationalist stance. This eventually saw them sharing vinyl-space with Skrewdriver, allegedly because nobody else would release their records (the band members have always denied they were fascists). Two tracks from their first demo ended up on A Country Fit For Heroes Volume 2 (1983),
Their second release was on the well-dodgy This Is White Noise (1983), which they shared with Skrewdriver, Brutal Attack and The Diehards. Again, the music is nothing special, although in direct comparison to Skrewdriver's odious 'When The Boat Comes In', A.B.H.'s 'Nerves Of Steel' is pretty innocuous nationalism. Regardless, the band's inability to gig nationwide and the reputation of this EP signaled the band's demise in early 1984.
One more song from their first demo, 'Don't Mess With The SAS', was issued posthumously on The Oi! Of Sex compilation.
The Oi! Collection couples a side of Subculture with the entire contents of the band's two demos, from July 1982 and January 1983. 'Nerves Of Steel' is conspicuously absent.
Chilvers and Boulton were formerly of The Silly Vicars.
__________________________________________________________________________
DISCOGRAPHY 1st Demo (Tape, 1982) 2nd Demo (Tape, 1983)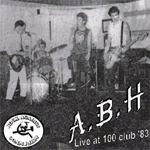 Live At The 100 Club 1983 (Tape, 1983)
Extraneous Releases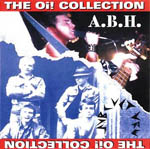 The Oi! Collection (CD, split with Subculture, 1998)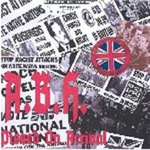 Pissed On Arrival (7", 2008)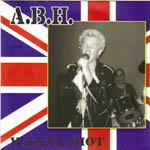 Wanna Riot (7", 2011)
The Oi! Collection (LP, 2017)
Don't Mess With The SAS (7", 2017)
Various Artists
A Country Fit For Heroes Volume 2 UK 12" 1983 (No Future): Country Boy Rocker / Wanna Riot
This Is White Noise! UK 7" 1983 (White Noise): Nerves Of Steel
The Oi! Of Sex UK LP 1984 (Syndicate): Don't Mess with the SAS
No Future: The Singles Collection UK CD 1993 (Anagram): Wanna Riot
A Country Fit For Heroes - Volumes 1 & 2 UK CD 1994 (Captain Oi!): Country Boy Rocker / Wanna Riot
Oi! The Demos UK CD 1997 (Captain Oi!): 999 / Teenage Oppression
__________________________________________________________________________
Links