Formed: New York, NY, USA


I've shamelessly nicked this bio from their myspace page:
"When the term "NYHC" is being used, many bands come to mind but no definition is complete without The Abused, The creators of the NYHC logo. One of the early aggressive and original NYHC bands that were there during the formation of the city's solid unique and now historic hardcore scene. "Furious amongst the other bands, the vocalist seems to be beating up somebody while singing, and it makes you feel like the one beaten deserves it".
The Abused were a New York Hardcore Band formed in 1981. Pure NY Hardcore.
Their fist gigs were at the infamous A7 club. All members of The Abused were teens 15,16 and 17 when they recorded and released one EP in 1983. The highly collectible Loud And Clear EP. Which the band of course put out themselves in the standard DIY manner of the era. The band folded and taped each and every single EP. Some lucky disk owners may even notice graffiti on the inside of the covers done by the band (mostly Raf). They also recorded a demo tape. Both of which have been bootlegged and released on various compilations, picture disks and cd's released in multiple countries.
The band typified the angry and powerful sound that represented the rebellion and unrest of the youth that made up the New York Hardcore scene of the early eighties. The founding members Raf Astor and Dave Colon as well as Kevin Crowley and Brian Dundon were attendees of NYC City-as-School. The EP Loud And Clear was recorded with this final line up. Kevin's talent for artwork is well known in the Hardcore community and is clearly evidenced in The Abused gig flyers. Kevin is also the creator of the NYHC logo used by many of today's NY Hardcore bands. The Abused played some of the first all age CBGB's matinees although Hilly Crystal would make them pay a deposit against damages before letting them play.
The Abused reunited for the A7 Reunion One Big Crowd tribute event at the Knitting Factory on Dec 6th 2008. The band has continued to remain friends over the years and have agreed to re-issue the Loud And Clear EP - it will have an updated rear cover to protect the collectors of the original disk and also some live gigs from the early eighties. Look for them in 2009".
__________________________________________________________________________
Classic Lineup:
Kevin Crowley - vocals
Raf Astor - guitar
Dave Colo'n - bass
Brian Dundon - drums
__________________________________________________________________________
DISCOGRAPHY
Loud And Clear (7", 1983)
Extraneous Releases
Loud And Clear (LP/CD, 1991)
Demo Watchout (Tape, 1982)
Bootleg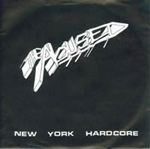 New York Hardcore (7", 1992)
Various Artists
New-York Hardcore Teil 1 Switzerland Tape 1988 (Speed Air Play): Loud And Clear
Prince Hardcore And The Knights Of Straight Edge Germany Tape 1980s (no label): We Need A War
The Way It Was US CD 1989 (no label). Bootleg. Contains the 1983 EP
Hold Your Ground Germany CD 1994 (Lost & Found): No End In Sight
A Time We'll Remember Germany CD 1998 (Lost & Found). Contains all of the 1991 LP
__________________________________________________________________________
Links
Blogged And Quartered - The downloads are dead but there's some info at least