RIKK AGNEW
Born: Richard Francis Agnew, Jr, 1958

Rikk Agnew: There was a lot of kids in Europe as well as here in America that would always ask me 'Well, what do you consider yourself? Heavy Metal, Hardcore, rock and roll, what? Are you hardcore, grindcore, speedcore?' I'd tell them I'm "Mycore". They go 'mycore?' Or 'Meincore' like in Germany. Hey, It's my own core. I describe my current music as my current music. I'm not into labels. I'd say I play Baskin-Robbins rock, okay?" - Antocularis issue #1. August, 1992
Undeniably a talented musician and songwriter, Rikk Agnew's patchy albums veer between pop, punk, metal and weirdness with no attention to coherency whatsoever, making them very frustrating affairs indeed. The exception is 1982's aptly-titled All By Myself (he plays all the instruments, writes and co-produces), using material originally intended for the second Adolescents LP.
Since then he has recorded two more LPs: Emotional Vomit (1990) was recorded with help from brothers Frankie and Alfie, and has everything, from the usual rockers to metal ballads to Nomeansno-ish art-punk, and a Depeche Mode cover as well. Turtle (1992), described by Allmusicguide as "a more traditional set of hardcore-based, but not stylistically hidebound songs. These range from the mile-a-minute wallop of the deceptively catchy "Allright!" to the tongue-in-cheek piano-based pub singalong "The Grass Is Always Greener on the Other Side," and a surprising but incredibly effective punked-up version of the Kinks' too-polite 1981 single "Give the People What They Want."
__________________________________________________________________________
DISCOGRAPHY
Album
Subsequent studio albums: Emotional Vomit (as Rikk Agnew's Yardsale, 1990), Turtle (1992).
All By Myself (LP, 1982)
Extraneous Releases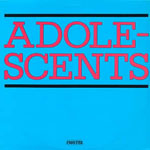 Adolescents (CD, includes All By Myself, 1997)
__________________________________________________________________________
Links