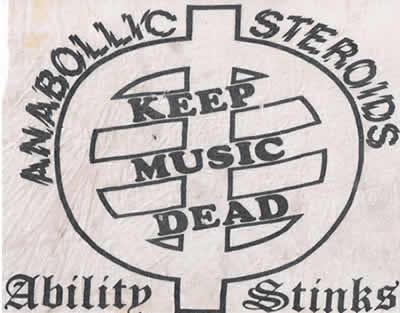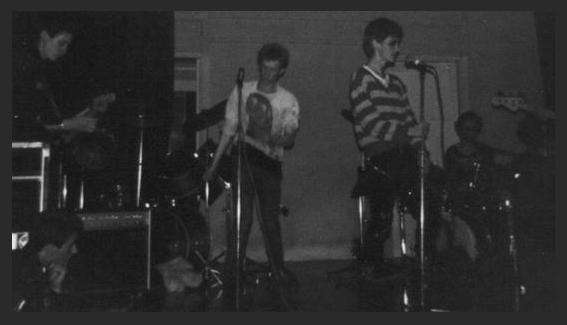 Formed: London, England, UK
A kind of conceptual punk band, Anabollic Steroids - chiefly Gerard "James Bondage" and Kappa - were lumbered with a name nobody (themselves included!) could spell and a wilful scarcity of musical smarts. Indeed, when they formed in 1978 they had no intention of making music at all, and merely hawked around a tape of bands recorded off the John Peel Show, claiming they were the band(s) on the tape. By 1980 they had hit on the idea of being a "real" band, and they played their first gig in 1981, an Animal aid Benefit show at St Paul's Church in Orpington with The Chapters and The Subverts. Spectators at subsequent shows were witnesses to the bizarre sight of the band members swapping instruments during songs, or bassist Steve Steroid flailing away at the only string on his instrument. They played two farewell gigs, one in late 1982 and one in mid-83.
Lineup:

Gerard "James Bondage" (pre-Flowers In The Dustbin) - Vocals, bass
Steve Steroid (ex-Local Resistance, pre-Union Of Fear) - Bass, vocals
999 Si Manilow (pre-Flowers In The Dustbin) - Guitar, vocals
Kappa (pre-Flowers In The Dustbin) - Drums, vocals
Jason Glen (pre-Union Of Fear) - Guitar

Guest or brief appearances:

Albert Tatlock - Guitar
Bryan - Guitar (1st gig only)
Mike Squires - Guitar
Ricardo - Guitar
Bill Bogie - Bass
Paul Manky - Bass
Bertie Bum Bandit - 2nd vocals
Melanie - 2nd Vocals
Christine - 2nd Vocals

Steroids members were also involved in bands such as:
Cringer, First Of May, Hooligann, Hyperactive, Law Of The West, Mind The Gap, Noize, Seventh Wave, While Angels Watch, Zero Beat.
Gerard was the brains behind the Ability Stinks fanzine, and is the author of The Story of Crass.
Thanks to Dev for pointing out that Si was never a member of Union Of Fear: "I was close to the band, I am mates with Steve Nash (the singer with Anabollic Steroids and Union of Fear) since 1981. I think the confusion comes from the Anabollic Steroids association. Si was the guitarist with them. Jason Glen was never really in the Anabollic Steroids either – he just stood in on guitar once. When the Steroids split Steve Nash started Union of Fear and Jason Glen was the guitarist with them until they split."
__________________________________________________________________________
DISCOGRAPHY
Subsequent studio albums: Carry On Stinking! (2018). Fake Demo (Tape, c.1981) 1st Demo (Tape, c.1981) 2nd Demo (Tape, 1982)
LIVE! (Tape, 1982) Farewell Gig '2' 25/4/83 (Tape, 1983)
Various Artists
Hundreds And Thousands UK LP 1982 (Native): I Always Cry At Funerals
Cordial 1 UK Tape c.1982 (Pax Products): Moss Bauer [as Anebolic Steroids]
__________________________________________________________________________
Links