Original Release Date
1982
Release Information
US LP 1982 (Go! Records - GO 005)
US LP 1983 (C.D. Presents - CD007)
1 We Are The One 2:42
2 Car Crash 4:21
3 I Believe In Me 2:55
4 Open Your Eyes 2:41
5 No Martyr 3:05
6 Desperation 2:33
7 Thin White Line 3:10
8 Paint It Black 3:17
9 The American In Me 2:09
10 White Nigger 3:37
11 Uh-Oh 3:07
12 Second To None 2:30
13 Corpus Christi 3:27
14 Fuck You 2:45
________________________________________________
US 2xCD 2012 (Water - WATER240)
Disc One The Original Pink Album
1 We Are The One 2:42
2 Car Crash 4:21
3 I Believe In Me 2:55
4 Open Your Eyes 2:41
5 No Martyr 3:05
6 Desperation 2:33
7 Thin White Line 3:10
8 Paint It Black 3:17
9 The American In Me 2:09
10 White Nigger 3:37
11 Uh-Oh 3:07
12 Second To None 2:30
13 Corpus Christi 3:27
14 Fuck You 2:45
Disc Two Bonus Material
1 Teenage Rebel 1:55
2 Friends Of Mine 2:14
3 White Nigger 3:26
4 Cheap Tragedies 3:04
5 The Good, The Bad, And The Kowalskis 5:04
6 Crazy Homicide 2:32
7 Summer Of Hate 2:24
8 I Believe In Me 2:51
9 Your Parents Sins 3:04
10 Something's Wrong 2:42
11 Money Money 2:22
12 Misery 2:58
13 Time To Die 5:12
14 Release Me 4:44
15 Zero Hour 3:23
16 American In Me 2:10
17 Uh-Oh 3:07
Chart Placings
None
Credits
CD Presents LP:
1-3: (10.23.77)
4, 7, 8: (3.28.78)
5-6: (2.9.78)
9-12: (10.12.78)
13: (5.13.79)
14: (10.7.77)
Greg Ingraham - guitar, vocals
Penelope Houston - vocals
James Wilsey - bass, vocals
Danny Furious - drums, vocals
Brad Kent - guitar on Corpus Christie
Produced by The Avengers and David Ferguson
[B2-B5] Produced by Steve Jones and The Avengers
Engineered by Chris Michie
Re-Recorded at Secret Studios, San Francisco, CA
Assembly & Copying by Gary Hobish
Mastering by George Horn, Fantasy Studios, Berkeley, CA

________________________________________________
Water CD:
Penelope Houston - vocals
Greg Ingraham - guitar, vocals except *
James Wilsey - bass, vocals
Danny Furious - drums, vocals
* Guitar - Brad Kent [on 'Corpus Christie', 'Cheap Tragedies', 'Misery', 'Time To Die' and 'Release Me']
All tracks recorded in San Francisco except as noted.
Disc One:
1-3 recorded October 23, 1977 at Kitchen Sync in Los Angeles.
4, 7, 8 recorded March 28, 1978 at the Record Plant in Sausalito.
5,6 recorded February 9, 1978 at Wally Heider Studios.
9-12 recorded October 12, 1978 at Different Fur.
13 recorded May 13, 1979 at Peter Miller Studios.
14 recorded live October 18, 1977 at the Mabuhay Gardens
Produced by The Avengers and David Ferguson.
Tracks 9-12 produced by Steve Jones, engineered by Chris Michie.

Disc Two:
1, 2, 5 and 2-11 were recorded in 1977 at Iguana rehearsal studios.
3 early version demoed at Wally Heider Studios in 1978.
4 recorded on May 13, 1979 at Peter Miller Studios.
6-8 recorded live January 14, 1978 at the Winterland Ballroom.
9 recorded live January 20, 1978 at the Mabuhay Gardens (the Miner's Benefit).
10 recorded live August 12, 1978 at the Steamship in Santa Cruz.
12-15 recorded live June 13, 1979 at the Old Waldorf.
16-17 recorded in October 12, 1978 at Different Fur, with additional recording in Los Angeles. Originally released in 1979 on White Noise.
Reviews & Opinions
PUNKY GIBBON: A fitting tribute to the fire and commitment of singer Penelope Houston, and the astonishing firepower of her male bandmates. Well, if would have been fitting if anybody involved with the band actually received any royalties or authorised the release. It is, essentially, a bootleg. At least two-thirds of the material (encompassing both singles - the second in an inferior remix - and demos between 1977 and 1979) is incredible, most of the rest are just great (I've always found 'Desperation' to be fairly awful). 'Thin Red Line' is one of the ultimate positive/angry teenage anthems, and while 'Corpus Christie' suggests a Patti Smith influence, the likes of 'Fuck You' and 'White Nigger' pull no punches.
TIM YOHANNAN, MAXIMUM ROCKNROLL #8, SEPTEMBER 1983: From 1977-79, the AVENGERS were the quintessential S.F. punk band. Fronted by the electrifying Penelope Houston and powered by Greg Ingraham's amazing guitar playing, they were far ahead of their time and, like many others in that situation, unable to stay together. Finally, this 14-song memento has been released for those poor unfortunates who never saw them live in their heyday, never got their first 7" EP (included here), and/or never got their 12" EP (alternative versions included here). Other tracks include unreleased studio outtakes and an incredible live version of "Fuck You" that totally destroys. A must.
JIM GREEN/IRA ROBBINS, THE TROUSER PRESS RECORD GUIDE, 1991: [This] posthumous album reprises the entire contents of [the Avengers EP], adding a stack of ace punk tunes recorded (with one subsequent exception) in 1977 and 1978. Houston clearly prefigures Chrissie Hynde as the archetypal indomitable rock'n'roll woman - her strength and aggression are what elevates these tracks from energetic but typical punk to remarkable personal statements. Whether anyone outside of San Francisco realized it at the time, the Avengers were a major national musical asset.
Additional Notes
The Go! Records version is easily the rarest, and came in a blue sleeve, totally different to the "pink" sleeve. The "pink" sleeve version came in a multitude of colours.
Images

US LP 1982 (Go! Records - GO 005). Blue vinyl.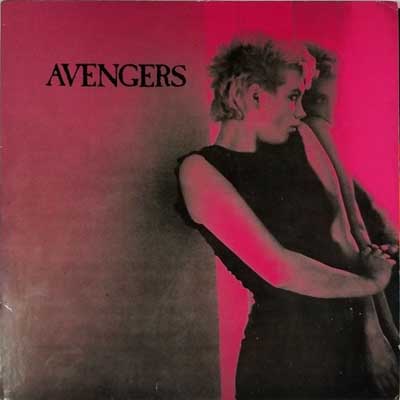 US LP 1983 (C.D. Presents - CD007). Click here for more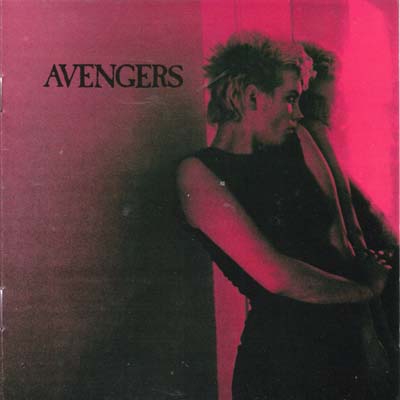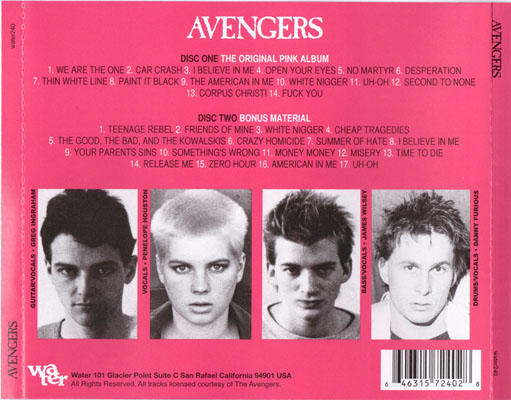 US 2xCD 2012 (Water - WATER240). Click here for more