Original Release Date
1983
Release Information
US LP 1983 (Epitaph - EPI-BRLP2)
UK LP 1985 (Epitaph - EPI-BRLP2)
US CDR 2004 (Epitaph - EPI-BRCD). Bootleg
1 It's Only Over When 3:33
2 Chasing The Wild Goose 2:48
3 Billy Gnosis 3:30
4 Time And Disregard 6:50
5 The Dichotomy 4:48
6 Million Days 3:48
7 Losing Generation 3:37
8 ...You Give Up 3:37
Chart Placings
None
Credits
Paul Dedona - bass guitar
Davy Goldman - drums
Greg Graffin - lead vocals, keyboards, piano, acoustic guitar, synthesizer
Mr. Brett - electric guitar, acoustic guitar

Recorded at Perspective Sound, Sun Valley, California
Produced by Greg Graffin and Brett Gurewitz
Mastered at Goldstar Studios, Hollywood
Engineered by Jim Mankey
Arranged by Bad Religion

Reviews & Opinions
TIM YOHANNAN, MAXIMUM ROCKNROLL #9, OCTOBER/NOVEMBER 1983: This is the obligatory slag review. Basically, this new BAD RELIGION album totally sucks, unless you like slickly-produced early 70's wimp rock. After playing it, I hurled it out the window, into the unknown.
IRA ROBBINS/JACK RABID, THE TROUSER PRESS RECORD GUIDE, 1991: A swirling blizzard of noisy, catchy psychedelia and paisley rock, with real songs and a sound that resembles Nazz tunes played by early Deep Purple. A masterpiece.
Additional Notes
This has never been officially reissued on CD, but it has on vinyl, as part of the Bad Religion 15xLP box set. It has also been bootlegged on CD several times; I have listed the most recent version. Bill Gnosis comes with the pretentious dedication "to Kurt Vonnegut and all those who are afraid of kissing nothingness on the lips "
Images
US LP 1983 (Epitaph - EPI-BRLP2). Click here for more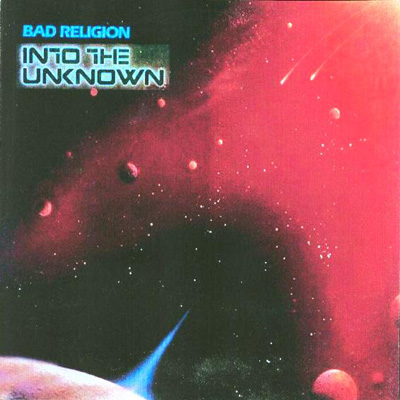 US CDR 2004 (Epitaph - EPI-BRCD)