Blitzkrieg - Animals In Lipstick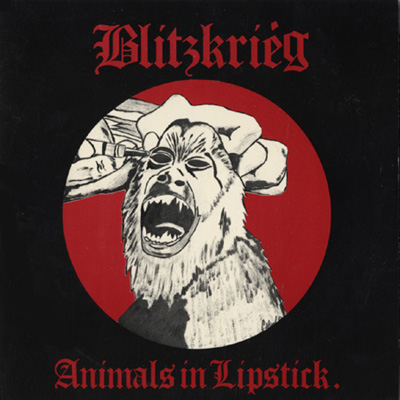 Original Release Date
1983
Release Information
UK 7" 1983 (Sexual Phonography - SPH 2)
1 Conscience Prayer
2 Land Of Failure
3 No Compromise
Chart Placings
UK Indie Hit: 30, 4 wks
Credits
Dave Ellesmere - drums, vocals
Gaz Sumner - guitar, vocals
Chris Hind - bass, vocals
Mick Riffone - vocals, lyrics

All songs written + produced by Blitzkrieg
Engineer: Dave Coulton
Recorded at Stix, Peterborough.
Mixed at Elephant, London, Jan 1983.
Reviews & Opinions
STEVE SPINALI, MAXIMUM ROCKNROLL #6, MAY/JUNE 1983: While I enjoyed the workmanlike "
Lest We Forget
" EP, BLITZKRIEG's mid-tempo, hard-edged punk approach wears thin on this record. Their anti-vivisection stand on "Conscience Prayer" is well-taken, but the tirade against Britain's economic woes, "Land of Failure," seems to be the only moderately exciting cut here. All in all, fairly generic.
Additional Notes
SPH 2 is the cat no on the cover' the label says its SPH 3.
Images