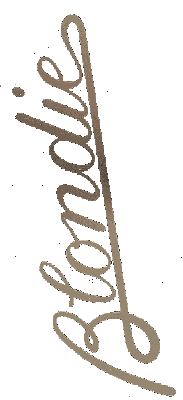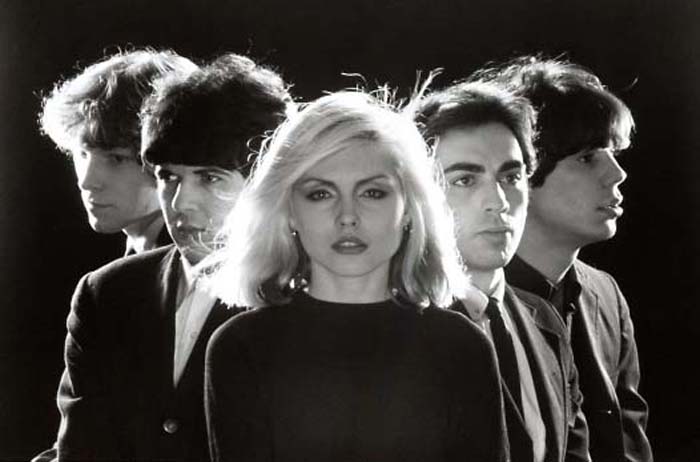 Formed: New York, USA

Arguably the most commercially viable and successful of all the punk/new wave bands, Blondie surprised all of their more radical mates – Television, Talking Heads, Ramones etc – by proving that punk, albeit in a vastly watered down form, could sell just as many records as the Bee Gees. This had a lot to do with Debbie Harry. An ex-folkie whose first record was a 1969 album with a terrible band called Wind In The Willows, she was marketing director's dream-come-true. Indeed, she was the wank fantasy of the late '70s: a peroxide blonde with a terrific figure and high cheekbones, she merged cheesecake with intelligence, classy with slutty, and art with pop. She was also a superb singer, the band wrote superb songs, the songs were superbly produced and superbly marketed. Despite being rated low on the US punk/art-rock totem pole, they were the ones that made the crossover.
Although they claimed "Blondie Is A Group", the group's face was Debbie, and for everybody else the musicians seemed like a bunch of comparatively faceless session musicians, but exceptionally talented. The core of the band was Debbie, Chris Stein, Clem Burke and Jimmy Destri. Debbie's squeeze Stein, was a great guitarist and songwriter, as well as the mastermind behind much of the band's subsequent pioneering in the realms of "black music". Burke was a phenomenal keith Moon-type Anglophile drummer with a penchant for union jack coats and extravagant showmanship. Destri was their cool-looking keyboard player, and his Farfisa work injected a lot of helium into their sound.
The Story - Part 1 (1974-1980)
In between their formation in July 1974 and November 1975 they underwent many lineup (and even a few name) changes, with local luminaries Ivan Kral and Fred Smith playing with them at various point. Kral and Smith, of course, left to join the Patti Smith Group and Television, respectively.
But it was in November '75 their lineup had became stable:
Debbie Harry - vocals
Chris Stein - guitar (and occasional bass)
Gary Valentine - bass (and occasional guitar)
Clem Burke - drums
Jimmy Destri - keyboards
This is the lineup that recorded their first faltering demo in 1975, as well as the classic Blondie in 1976, for the uncool Private Stock label.

Valentine left in July 1977, following a successful UK tour supporting their po-faced New York counterparts Television, to pursue a solo career. Soon after Blondie signed to Chrysalis and scored a major UK hit with Denis, a cover of an old sixties song. Plastic Letters was therefore recorded as a quartet, and boasted a second UK hit single, (I'm Always Touched By Your) Presence, Dear, which had been left to them by Valentine as a leaving present. Frank Infante, who looked like the Frankenstein Monster, joined the band for live shows soon after, and bassist Nigel Harrison, joined that October i.e. just in time for world domination.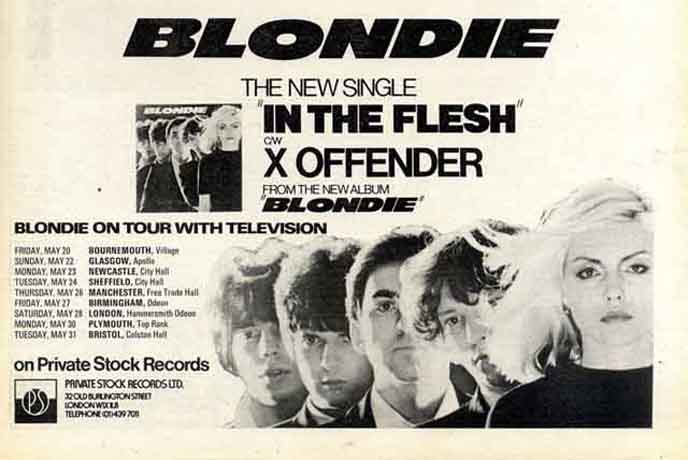 'Blondie' and 'Plastic Letters' were their two 'punk' albums, although their breezy pop sounds nothing like the Ramones or Sex Pistols and they aren't afraid of venturing into the artier side of things either. They don't really need introducing to anyone, suffice to say that 'Blondie' is smashing, with many of their best numbers, the likes of 'Kung Fu Girls' and 'Invasion Of The Giant Ants' displaying a love of junk/pop culture. Elsewhere they rip through seductive ballads ('In The Flesh'), torrid lesbian fantasies ('Rifle Range') and catty put-downs ('Rip Her To Shreds').
While 'Plastic Letters' faltered ever-so slightly' – the nostalgic 'Kidnapper' I could safely live without - there is still plenty of worthwhile material, namely an exuberant cover of '60s US hit 'Denis', the gorgeous '(I'm Always Touched By Your) Presence Dear', a kitschy spy number ('Contact In Red Square'), another lesbian love song ('Love At The Pier') and 'Detroit 442', which comes as close to a gritty snarl as we'd ever get from this band.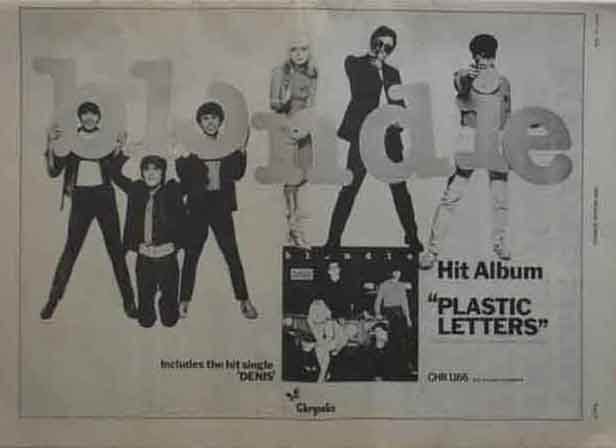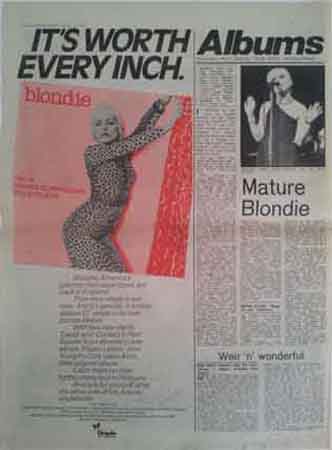 Parallel Lines propelled them to superstar status, aided and abetted by pop producer Mike Chapman, who decided to mould the band into his vision of a pop (as opposed to a punk) group.In fact, the guy even described the word "punk" as "evil". Included is their first foray into disco, Heart Of Glass, and three equally monstrous UK singles - Sunday Girl, Hanging On The Telephone and Picture This – that made them the biggest thing on the planet. The tougher sounding 'One Way Or Another' earned them a Top 30 US hit. Filled to the rafters with superb, sparkling pop gems, it is easily one of the best LPs of the decade. (Strangely, Blondie objected to Chrysalis issuing 'Picture This' as a single, according to Smash Hits in November '78.)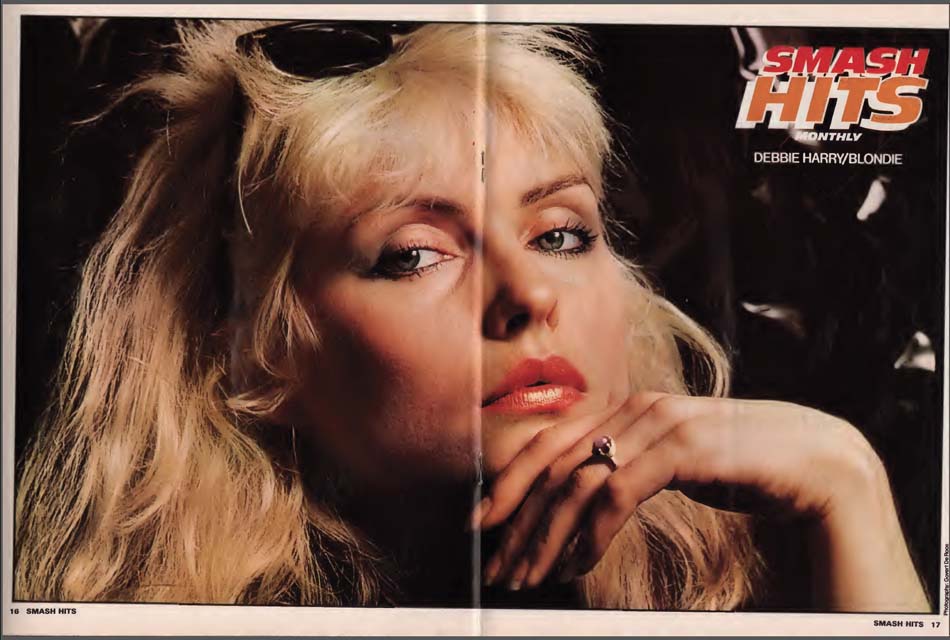 ABOVE: Smash Hits December 1978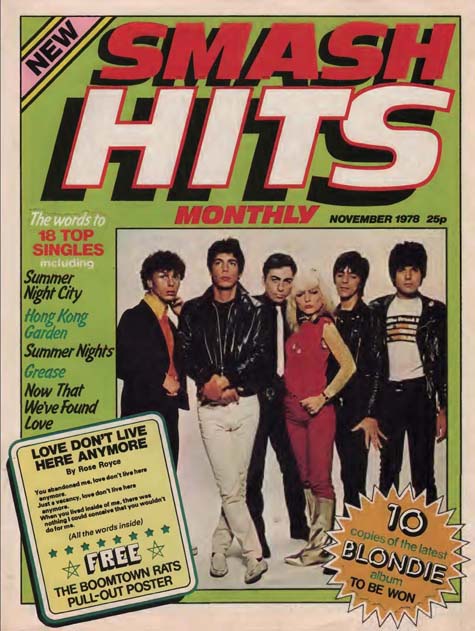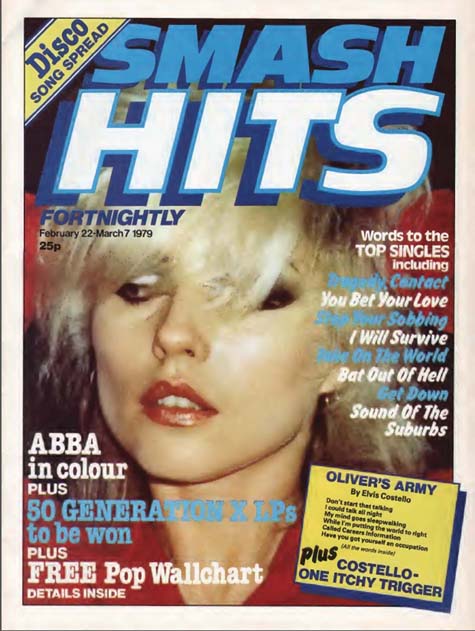 ABOVE: Smash Hits December 1978 and Trouser Press 1979 celebrate Blondie's success. The first two images are clickable.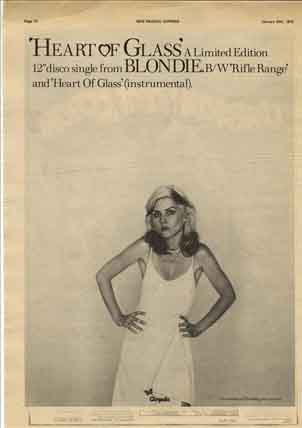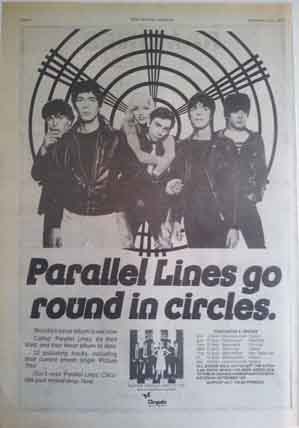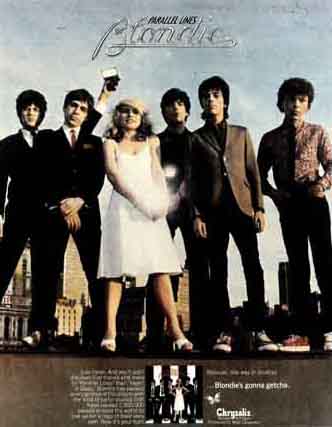 Never entirely comfortable with the punk/disco tag, Blondie attempted to prove they could still rock it out on Eat To The Beat, which does include three massive singles: Dreaming, Union City Blue and Atomic. The pounding 'Living In The Real World' captured them at their most rocking, and a song about a bank robbery, The Hardest Part, was issued as a single in the US.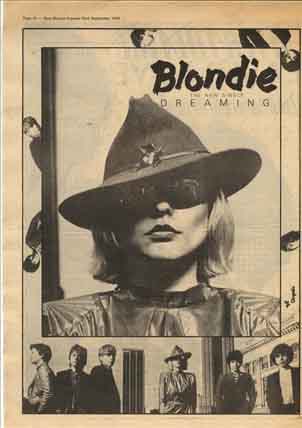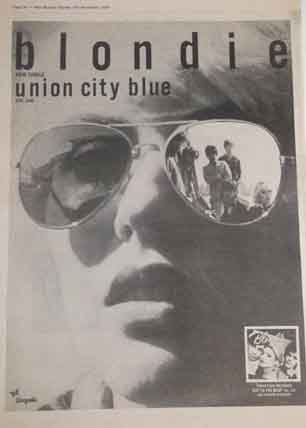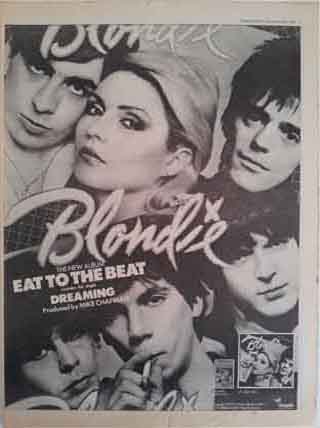 The Story - Part 2 (1980 -1982)
1980 got off to a bright start with 'Atomic' whizzing it's way to No 1 in the UK. A new wave disco song, it repeats the sonic success of 'Heart Of Glass' but has a harder edge, but it's better heard on this shorter, tightened-up 7"version which loses the faintly agonising bass solo that made the LP version sort of irritating.
Their next single, the Grammy-nominated Call Me was a collaboration with producer Giorgio Moroder, who had been responsible for Donna Summer's biggest hits (including 'I Feel Love') as well as recent hits for Sparks. The song was recorded as the title theme of the Richard Gere film American Gigolo, and shot to No 1 in the US, the UK, and other countries in February 1980. According to Wikipedia: "In the US, the song was released by three different record companies: the longest version (at 8:06) on the soundtrack album by Polydor, the 7" and 12" on Blondie's label Chrysalis, and a Spanish language 12" version, with lyrics by Buddy and Mary McCluskey, on the disco label Salsoul Records. The Spanish version, titled "Llámame", was meant for release in Mexico and some South American countries".
Delving further and further into "black" music, Autoamerican is wildly variable, but contains their last satisfying material: 'Walk Like Me' and 'Go Through It' are exuberant rockers', 'Europa' a fascinating excursion into entirely unprecedented atmospherics., and of course 'Rapture', an early example of white rap that pushed the emergent genre into the pop mainstream. There is, hover, some right crap: the Marilyn Monroe-esque 'Here's Looking At You' might have been recorded in the '50s, with Debbie vamping it up something rotten, but it is out of place here; 'T-Birds' is an instantly likeable piece of pop that becomes very tiresome on repeated spins, 'Faces' is a very boring ballad, and the limp reggae cover version 'The Tide Is High' is absolute bollocks (albeit a number 1 hit in the US and the UK).
The Best Of Blondie was issued during a brief sojourn and basically throws their 14 singles onto one eminently playable disc. Three of the songs ('Heart Of Glass', 'In The Flesh', 'Sunday Girl') are given "special mixes" by Chapman purely for the album. (During the period of this sojourn Debbie released a solo album, Koo Koo, which was produced by Nile Rodgers and Bernard Edwards of Chic. It did not sell in large quantities. Destri recorded a flop solo effort, Heart On A Wall.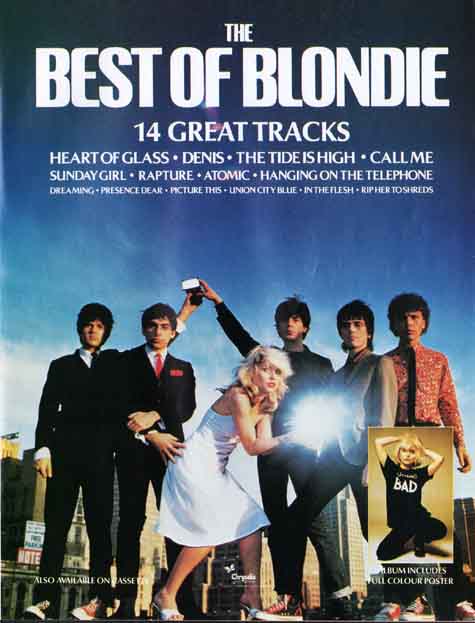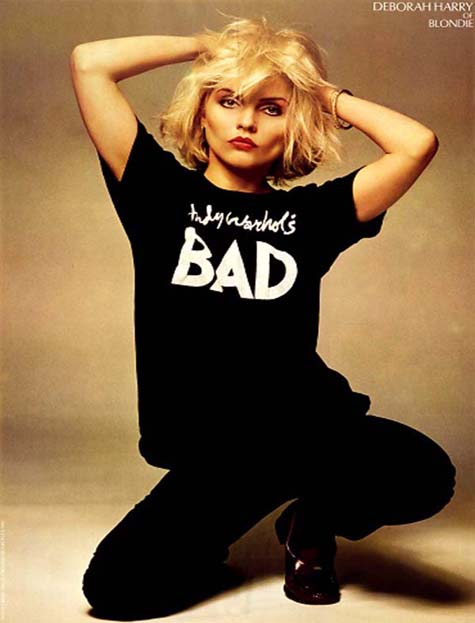 By this time relations in the band were fraying. Partially it was the stress of touring, but it was also because of drugs and personality clashes. Nobody other than Blondie knew it at the time, but Infante was being frozen out. In fact, his only contribution to 'Autoamerican' was the impressive guitar solo on 'Rapture'. He was flown in to record it halfway through the album sessions. When the group reconvened to make their next LP, he actually had to employ a lawyer to secure him a place on it! As a result, he did all his guitar work after the rest of band had finished all their stuff. Harrison was probably considered to be little more than a hired hand, and there were rumours that some members of the group resented the attention that the press played to Debbie. Also, the relative failure of Debbie's solo LP and the total failure of Destri's no doubt created an air of despondency, and Stein was increasingly dedicated to his Animal record label. They've even written a song for the James Bond film For Your Eyes Only and were passed over in favour of Sheena Easton!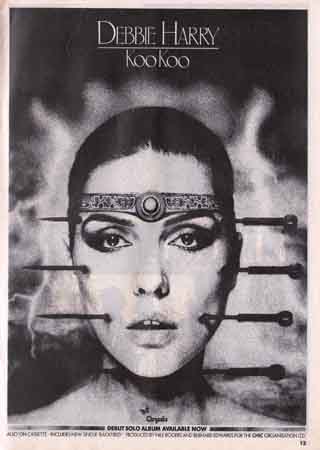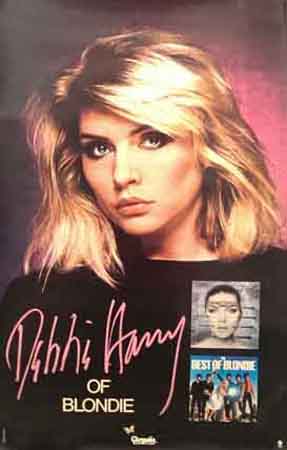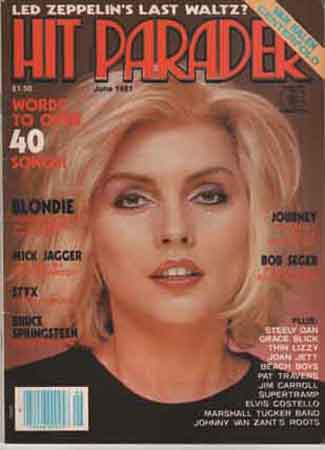 So, when they got around to making a new LP, it must have seemed doomed from the start. But was it? No, it was not. For their next LP was the crowning glory of their career.
I lie of course.
The arty bits on the previous album were transformed into sheer, bloated self-indulgence on The Hunter, a disaster of Titanic proportions. Saved only by 'War Child', the rest of the album shows tropical-sounding influences that place the band not many notches above Tight Fit. It's nadir isn't even the six-minute 'Dragonfly', a laughable, lamentable sci-fi saga – at least its bookends are melodic. Overall, it's shit. And if you get the British reissue from 2001, it's three songs shittier: 'Hot Shot', and live versions of 'Rapture' and 'Heart Of Glass'.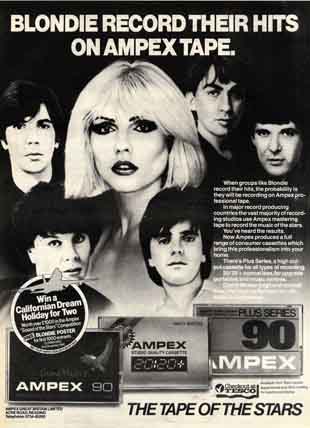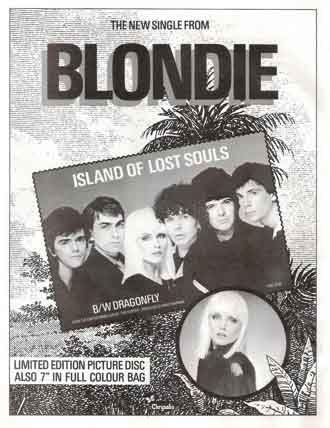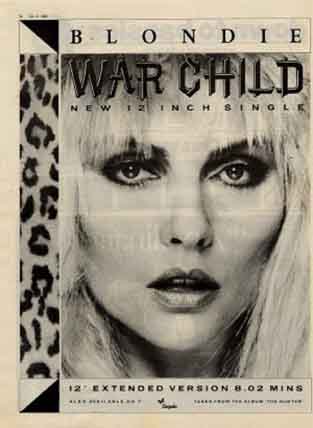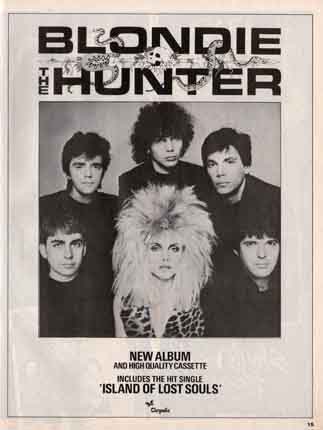 The band really did split up at this point, with the two singles from the LP failing to set the charts alight like their earlier singles did. 'Island Of Lost Souls' narrowly missed the UK Top 10, but 'War Child' barely made it into the Top 40. The band struggled through a poorly attended tour in late Summer 1982, with Infante having been replaced by some bloke called Eddie Martinez. Worse, Stein had contracted a disease called pemphigus. According to Wikipedia: " Desmoglein forms the "glue" that attaches adjacent epidermal cells via attachment points called desmosomes. When autoantibodies attack desmogleins, the cells become separated from each other and the epidermis becomes "unglued", a phenomenon called acantholysis. This causes blisters that slough off and turn into sores. In some cases, these blisters can cover a significant area of the skin." Their final show was later issued on video, and it's obvious that the band is pretty much dead on its legs.
Part 3 (1983 Onwards)
Following the split, Harry embarked on patchy solo career while looking after Stein, releasing a pair of rubbishy solo albums in the '80s - Rockbird (1986) and Def, Dumb and Blonde (1989), and the occasional LP thereafter. She also did a bit of acting, appearing in Videodrome and Hairspray. Burke became a drummer-in-demand (Eurhythmics, Ramones etc), and along with Harrison formed a shiteawful so-called "supergroup" called Chequered Past. Destri bought and ran a company that bought, renovated, and sold old buildings, and also did some production work.
Harry, Destri, Burke and Stein returned after a 17 year gap with a couple of new members and a number one single ('Maria') which conned the masses into thinking time had mercifully stood still for Blondie. They were wrong. No Exit manages to be even worse than The Hunter, with excursions into freeform jazz, blues, cod-reggae, hip-hop and country, with not many of those poptastic moments of yore. With Craig Leon in charge of production and sidemen like James Chance, this should have been a lot better, but is just an unwieldy mess.
Previewed by 'Good Boys', a terrible single that turned Debbie into Kylie, The Curse Of Blondie was held up for years due to lost tape dramas, and is a step-up from No Exit, the band sounding rejuvenated. Smart new-wave pop is the order of the day, although there's still room for dub reggae ('Background Melody'), disco ('Golden Rod'), rap ('Shakedown') and folk, even ('Magic (Asadoya Yunta)'). However, the real magic is still missing, and although they put up a good fight, 65 minutes of Blondie is about 20 too many.
Chrysalis has proven most adept at churning out best of albums every 18 months or so. However, there are some notable compilations which require elaboration:
Once More Into The Bleach; Remixed, Remade, Remodelled and Beautiful: The Remix Album - these are all reprehensible remix albums that try to make the band (and Harry's solo works) sound like Stock-Aitken-Waterman rejects, turning some of history's most succinct pop crackers into anonymous, lengthy, vacuous dance tracks. It goes without saying that you really don't want to hear, much less own, copies of these abortions.

The Platinum Collection is a wonderfully packaged and annotated double CD that operates on two levels. As a comprehensive collection of all of their UK and US singles for Chrysalis, including all the important B-Sides and a pair of unreleased songs ('Once I had A Love', 'Puerto Rico'), it should please fans. Also, considering that much of their best work was on the front of singles, it doubles as an excellent greatest hits LP, too.

Another cash-in, Picture This: Live (reissued as Live Philadelphia 1978 Dallas 1980) merely demonstrates how workmanlike Blondie could be in concert, rarely diversifying from the studio arrangements and not doing covers of 'Get It On (Bang A Gong)' or Iggy's 'Funtime' any justice.

Note: Blondie have also been the subject of two tribute albums, How Many Bands Does It Take To Screw Up A Blondie Tribute? (Sympathy CD, SFTRI 599) and Blondie Tribute- Platinum Girl: A Tribute To Blondie (Cleopatra CD, CLP-0784-2 ).
__________________________________________________________________________
DISCOGRAPHY (1976-1982 and Selected Compilations)
Subsequent studio albums: No Exit (1999), The Curse Of Blondie (2003), Panic Of Girls (2011), Ghosts Of Download (2014), Pollinator (2017).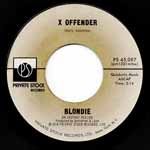 X Offender (7". 1976)
Blondie (LP, 1976)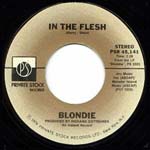 In The Flesh (7", 1977)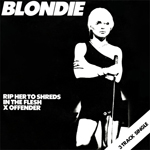 Rip Her To Shreds (7", 1977)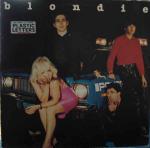 Plastic Letters (LP, 1978)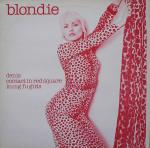 Denis (7", 1978)
(I'm Always Touched By Your) Presence, Dear (7"/12", 1978)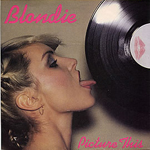 Picture This (7", 1978)

Parallel Lines (LP, 1978)

I'm Gonna Love You Too (7", 1978)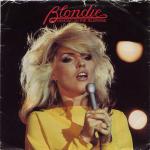 Hanging On The Telephone (7", 1978)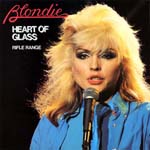 Heart Of Glass (7"/12", 1979)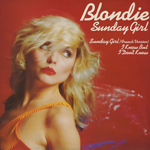 Sunday Girl (7/12", 1979)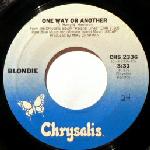 One Way Or Another (7", 1979)

Dreaming (7", 1979)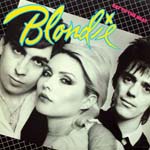 Eat To The Beat (LP, 1979)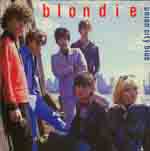 Union City Blue (7", 1979)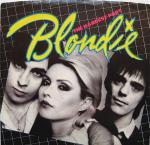 The Hardest Part (7", 1979)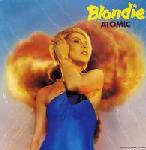 Atomic (7"/12", 1980)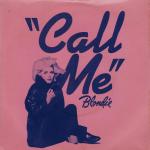 Call Me (7"/12", 1980)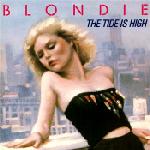 The Tide Is High (7", 1980)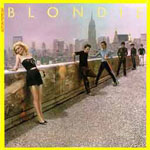 Autoamerican (LP, 1980)
Rapture (7"/12", 1981)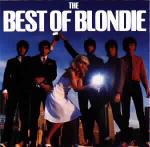 The Best Of Blondie (LP/CD, 1981)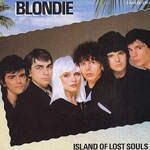 Island Of Lost Souls (7", 1982)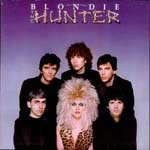 The Hunter (LP, 1982)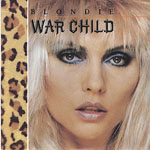 War Child (7"/12", 1982)
Extraneous Releases - Selected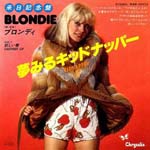 Kidnapper (7", Japan)
Llamame (Call Me) (12", 1980)
Speaking From The Studios (7", flexi 1980)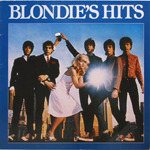 Blondie's Hits (LP, 1981)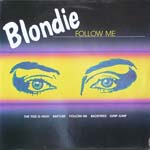 Follow Me (2xLP, 1981)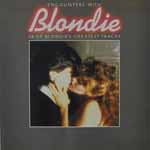 Encounters With Blondie (2xLP, 1983)
The Complete Picture: The Very Best Of Deborah Harry And Blondie (2xLP/CD, 1991)
Blonde And Beyond (CD, 1994)
The Platinum Collection (2xCD, 1994)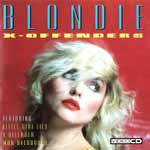 X-Offenders (CD/CVD, 1995)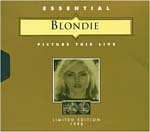 Picture This Live (CD, 1998)
Live Philadelphia 1978 / Dallas 1980 (CD, 1999)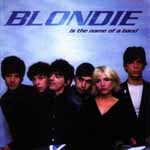 Is The Name Of A Band (2xCD, 2000)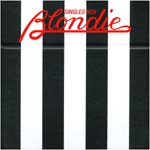 Singles Box (15xCD, box set, 2004)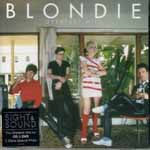 Greatest Hits: Sight & Sound (CD/DVD, 2005)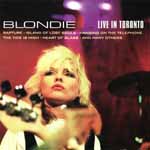 Live In Toronto (CD, 2006)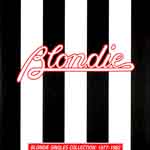 Blondie Singles Collection: 1977-1982 (2xCD, 2009)
Blondie At The BBC (CD+DVD, 2010)
Promos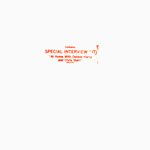 At Home With Debbie Harry And Chris Stein (LP, 1981)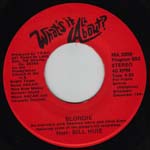 What's It All About? (7", split with Peter, Paul & Mary, 1981)
Various Artists
New Wave Is The Rave Australia LP 1977 (Festival): In The Flesh / Rip Her To Shreds
The Main Event UK LP 1979 (K-Tel): Hanging On The Telephone
New Rock Greece LP 1979 (Pop Olympic): Hanging On The Telephone

Roadie UK/US LP 1980 (Warner Bros): Ring Of Fire (Live)
Blondie Co Starring Freddie The Brattles Snuky Tate UK 7" Flexi 1981 (Flexipop): Yuletown Throw Down (Rapture)
The Best Punk Album In The World ... Ever! 2 UK 2xCD 1996 (Circa): Hanging On The Telephone
1-2-3-4 Punk & New Wave 1976-1979 UK 5xCD 1999 (Universal): Rip Her To Shreds
No Thanks! The '70s Punk Rebellion US 4xCD 2003 (Rhino): X Offender / Hanging On The Telephone
The Old Grey Whistle Test Live Europe 3xCD 2012 (BBC Worldwide/Rhino): Heart Of Glass [Live]
__________________________________________________________________________


Links
Debbie Harry Collector's Society - basic webpage

The Complete Discography - a mind-bogglingly comprehensive site

Deborah Harry Home Page - great site with excellent discography