Formed: London, England, UK
Diana Rich - vocals
Alex Fergusson - guitar
Alan Gruner - bass
Ray Weston - drums
A studio project masterminded by ex-Alternative TV guitarist Alex Fergusson and Pistols producer Dave Goodman, Cash Pussies issued just one single, 99% Is Shit, a "tribute" to Sid Vicious released within a week of his death.
Not only does it feature a memorable cover photo of the talented one, his face smeared with blood, Sid actually features on the disc too, as a pair of samples, courtesy of tapes offered by Sex Pistols biographers Fred and Judy Vermorel. One of the Sid soundbites declares that he'll probably be dead by the time he's 30; the other describes the public as "cunts".
As for the music, both sides are champion punk/pop songs with delightful female vocals by someone called Diana Rich.
Fergusson, bassist Alan Gruner and drummer Ray Weston all reconvened in 1981 as three-fifths of the reformed Alternative TV, but Fergusson found longer gainful employment with Genesis P. Orridge in Psykick TV, one of "rock" music's most elaborate put-ons. As for Goodman,this turned out to be merely his first attempt at shameless grave-robbing: he perpetrated more swindles with the Ex Pistols, The Friendly Hopefuls and several shoddy Pistols comps.
__________________________________________________________________________
DISCOGRAPHY
Singles & Albums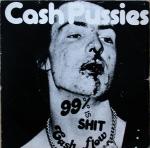 99% Is Shit (7", 1979)
Various Artists
The Label Sofar! UK LP 1979 (The Label): 99% Shit
__________________________________________________________________________
Links