Chaos U.K. - Loud Political & Uncompromising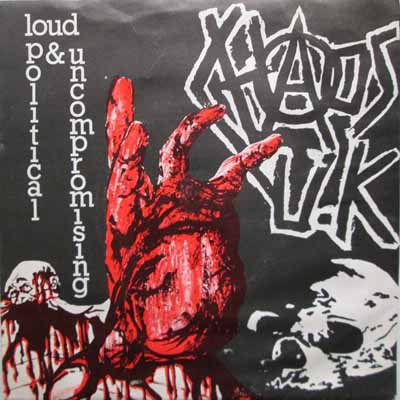 Original Release Date
1982
Release Information
UK 7" 1982 (Riot City - RIOT 12)
1 No Security
2 What About A Future
3 Hypocrite
Chart Placings
UK Indie Hit: 27, 6 wks
Credits
None
Additional Credits
Simon - vocals
Andy - guitar
Chaos - bass
Potts - drums
Reviews & Opinions
STEVE SPINALI, MAXIMUM ROCKNROLL #2, SEPTEMBER 1982: The incessant, no holds barred thrash on this EP surpasses on all counts CHAOS U.K.'s serviceable debut, "
Burning Britain
", with a strong combination of intense vocals and a blistering guitar sound. All three songs set fairly high standards of quality, but fans of the
VARUKERS
should take special note of the vitriolic rocker, "No Security". This
is
loud, political and uncompromising.
Additional Notes
None yet
Images