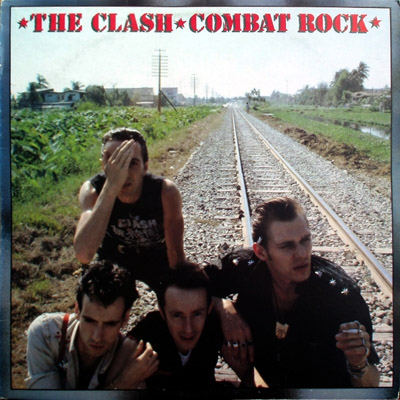 Original Release Date
1982
Release Information
UK LP 1982 (CBS - FMLN2)
US LP 1982 (Epic - FE-37689/FMLN 2)
UK CD 1999 (Columbia - 495349-2)
1 Know Your Rights 3:38
2 Car Jamming 3:58
3 Should I Stay Or Should I Go? 3:06
4 Rock The Casbah 3:43
5 Red Angel Dragnet 3:48
6 Straight To Hell 5:30
7 Overpowered By Funk 4:55
8 Atom Tan 2:35
9 Sean Flynn 4:30
10 Ghetto Defendant 4:45
11 Inoculated City 2:43
12 Death Is A Star 3:08
Chart Placings
UK Chart Hit: 2, 22 wks
US Billboard Chart: 7
Credits
LP:
Joe Strummer - vocals, guitar
Mick Jones - guitar, vocals
Paul Simonon - bass, vocals
Topper Headon - drums

Mixed by Glyn Johns
Made by The Clash
Recorded by Joe Blaney and Jerry Green
Tape Jock - Eddie Garcia
Backing vocals by Ellen Foley, Allen Ginsberg, Joe Ely, Futura 2000
Piano on 'Death Is A Star' by Tymon Dogg
Keyboards on 'Overpowered By Funk' by Polly Maxwell
Sax on 'Sh Fynn' [sic] by Gary Barnacle

Reviews & Opinions
PUNKY GIBBON: After doubles and triples, the band reverted to a single album format and cemented their position as the most popular non-mainstream band in America. They pay homage to Martin Scorcese on 'Ghetto Defendant' (with poetry provided by Allen Ginsberg), take a semi-serious look at the inequality of the law on 'Know Your Rights', spirit you to the shanty towns of Central America via the breathtaking 'Straight To Hell', offer a light-hearted glance at censorship on the disco-fied 'Rock The Casbah', and prove that the threat of nuclear war can be addressed without sloganeering ('Atom Tan'). 'Should I Stay Or Should I Go', a Mick Jones love song, is also present. Splashes of funk (and to a lesser extent, rap) abound, but it still sounds like The Clash, and strangely, there's no reggae or dub whatsoever.
RECORD COLLECTOR, 1992: By the time of Combat Rock, the band was firmly in retro mode and doing it no better than a thousand bands before them, who at least benefit from having nostalgia on their side. There's certainly nothing to get nostalgic about The Clash's U-turn back into the fold of respectable (and boring) rock.
Additional Notes
The LP ran into legal problems in America: Inoculated City' had an unauthorised sample of radio advert for some detergent, and so the second pressing had the last thirty seconds of the song faded out. This was also used on all subsequent reissues until the 1999 remaster reinstated the full version. For me, the 1999 CD has the nicest packaging and sound of all CD reissues, and although it will be reissued and reissued over and over, I can't see why this one shouldn't be definitive.
Images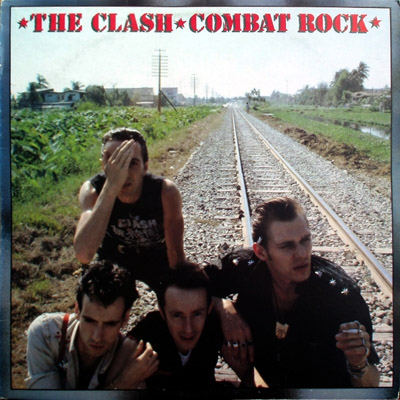 UK LP 1982 (CBS - FMLN2). Click here for more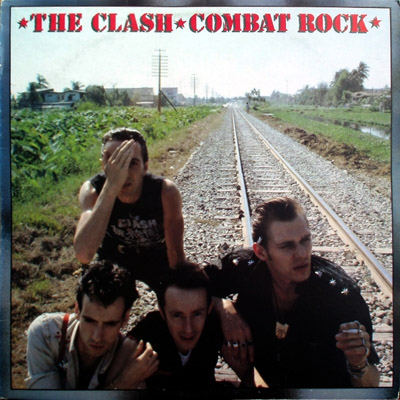 US LP 1982 (Epic - FE-37689/FMLN 2). Click here for more
UK CD 1999 (Columbia - 495349-2). Click here for more