Original Release Date
1980
Release Information
UK 3xLP 1980 (CBS - FSLN1)
US 3xLP 1980 (Epic - FSLN1)
UK 2xCD 1999 (Columbia - 495348-2)
1 The Magnificent Seven 5:33
2 Hitsville U.K. 4:21
3 Junco Partner 4:52
4 Ivan Meets G.I. Joe 3:05
5 The Leader 1:42
6 Something About England 3:42
7 Rebel Waltz 3:26
8 Look Here 2:45
9 The Crooked Beat 5:28
10 Somebody Got Murdered 3:34
11 One More Time 3:31
12 One More Dub 3:36
13 Lightning Strikes (Not Once But Twice) 4:50
14 Up In Heaven (Not Only Here) 4:32
15 Corner Soul 2:42
16 Let's Go Crazy 4:24
17 If Music Could Talk 4:36
18 The Sound Of Sinners 4:02
19 Police On My Back 3:17
20 Midnight Log 2:10
21 The Equaliser 5:46
22 The Call Up 5:28
23 Washington Bullets 3:51
24 Broadway 5:49
25 Lose This Skin 5:08
26 Charlie Don't Surf 4:54
27 Mensforth Hill 3:42
28 Junkie Slip 2:48
29 Kingston Advice 2:37
30 The Street Parade 3:28
31 Version City 4:22
32 Living In Fame 4:52
33 Silicone On Sapphire 4:14
34 Version Pardner 5:23
35 Career Opportunities 2:30
36 Shepherds Delight 3:29
Chart Placings
UK Chart Hit: 19, 9 wks
US Billboard Hit: 24
Credits
LP:
The Clash:
Paul Simonon - bass, voc.
Topper Headon - drums, voc.
Joe Strummer - voc., guitar
Mick Jones - guitar, voc.
Recorded and mixed by Bill Price
Production: The Clash
Version mix: Mikey Dread
Engineers + Studios: Jerry Green (Wessex), J.P. Nicholson (Electric Ladyland), Lancelot and Maxie McKenzie (Channel 1), Bill Price (Pluto + Power Station)

Guest musicians:
Mickey Gallagher [keyboards]
Tymon Dogg [violin, vocals on 'Lose This Skin']
Norman Watt-Roy – bass
J. P. Nicholson [bass on 'Washington Bullets']
Ellen Foley [vocals on 'Hitsville U.K.']
David Payne [sax]
Ray Gasconne
Band Sgt. Dave Yates
Den Hegarty
Luke 'n' Ben Gallagher [vocals on 'Career Opportunities']
Maria Gallagher [vocals on 'Broadway']
Gary 'n' Bill Barnacle [sax and trumpet]
Jody Winscott
Ivan Julian – guitar
Noel Tempo Bailey
Anthony Nelson Steelie
Lew Lewis [vocals, harmonica]
Gerald Baxter-Warman
Terry McQuade
Rudolf Adolphus Jordan
Battersea
Mikey Dread [vocals on 'Living In Fame']
Tim Curry [vocals on 'The Sound Of Sinners']

Reviews & Opinions
STEVE TAYLOR, SMASH HITS NOV 27-DEC 10, 1980: In their efforts to broaden their scope, tip the hat to various influences that have affected their thinking of late and generally come on like a proper grown up rock band, The Clash not only expose too many of their weaknesses but also play down a disturbing proportion of their strengths. They handle reggae rhythms with a good deal of swagger but they can't muster the vocal edge to get the full drama from the subject, and the same applies to their dabblings in rockabilly and Latin American. Although there are many engaging ideas here, as well as a handful of rockers as bolshie and rousing as ever, the lyrics are too often plucked straight out of the travel brochure and the fact that they've opted for three records has tempted them to include half formed ideas that should have been left on the cutting room floor. Still, at least we should be grateful hat they're let down by ambition. Anything's better than the sour conservatism that's stymied most of the rest of the class of '77. (5 1/2 our of 10).
PUNKY GIBBON: Releasing London Calling as a double album may have caused some consternation, but that was nothing compared to this flagrantly unwieldy triple set, retailing for the price of a double. It touches on just about every modern musical style imaginable, apart from heavy metal, and was recorded with assistance from various Blockheads, Mikey Dread, Jones' girlfriend Ellen Foley, Tymon Dogg (Joe's friend from the pre-Clash days), among others. While 'London Calling' was water-tight, this set literally sprawls. incorporating rap, disco, Motown, waltzes, jazz, calypso. kiddie renditions, gospel and dub reggae into their punkish rock. It is a messy but invigorating blend. When they opt for their usual firebrand rock and roll, the results are measured, controlled and muted, but the likes of 'Somebody Got Murdered' and 'Police On My Back' are still solidly entertaining. Madly mercurial, this is remarkable achievement from an increasingly politicised band (check out 'Washington Bullets', 'Ivan Meets G.I. Joe'), and one that gets better with each listen.
RECORD COLLECTOR, 1991: For this release The Clash discovered world music five years before the rest of the mainstream, and they succeeded in dipping their fingers into a variety of half-baked pies across the set's six sides. The results are interesting, to say the least: 'Mensforth Hill', for example, is the kind of track you might expect to hear on a Bevis Frond album - psychedelic, in other words. 'Lightnin' Strikes' sounds like a particularly strong piece of Jamaican dub; 'Magnificent Seven' has the power and grace of the best rap; and 'Hitsville U.K.' is just plain weird. So there's plenty to listen to, even if not all of it is worthy of the effort.
JOHN DORAN, BBC MUSIC, 2009: It might be grammatically incorrect in literal terms to call a triple album a thing of two halves, but that's what The Clash produced in 1980. Essentially, Sandinista! is divided between the Clash made of win and the Clash made of lose, and the latter, unfortunately, easily wins out. In rock music terms, things had moved on from the birth of punk in 1976. The genre was all but dead in the water, and had been for two years (John Lydon's post Sex Pistols act Public Image Limited had already released three albums, including Metal Box). Highly politicised second-wave UK punks such as Crass and Discharge were lurking, ready to make bands such as The Clash look like bloated, cash-corrupted anachronisms in a much more effective way than Jones, Strummer and co had done for prog four years earlier. Received wisdom would have you believe that this was the fault of the group's backline. By 1980 drummer Topper Headon was a heroin and cocaine addict and Paul Simonon had always had a lacklustre rep as a bassist. But the proof on Sandinista! suggests the opposite. Simonon's love for reggae was in full bloom, and freed from the restrictive nature of punk Headon had become one of the finest drummers of the era. This is why the best songs on the album are lead by the pair, and either reggae or disco orientated. When people say that Sandinista! would have been killer as a single album, what they never go on to say (but should) is that it would have been a killer single reggae album. With the help of advisors Mikey Dread and Don Letts, they had nailed down tight what they'd failed to capture on previous attempts such as Bankrobber and Junior Murvin's Police and Thieves; lumpen songs at best carried along by charisma and hook-like melodies. Here, Junco Partner and The Equaliser are much more assured rock-steady skanks. The rest of this two-and-a-half-hour slog represents The Clash at their saloon bar romantic, ramshackle rock'n'roll, lame pastiche and skiffle-punk worst. It is this unadventurous side which would go on to influence numerous urchin indie-rock groups, such as The Libertines, leaving one pertinent question: where are today's young indie bands influenced by the cutting edge of current black underground music, from dubstep to dancehall? In other words: where are today's young Paul Simonons?
Additional Notes
For me, the 1999 CD has the nicest packaging and sound of all CD reissues, and although it will be reissued and reissued over and over, I can't see why this one shouldn't be definitive.
Images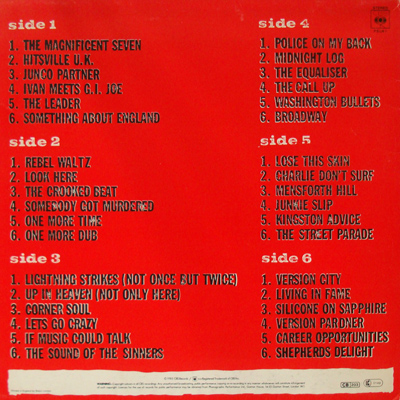 UK 3xLP 1980 (CBS - FSLN1). Click here for more
US 3xLP 1980 (Epic - E3X 37037). Click here for more
UK 2xCD 1999 (Columbia - 495348-2). Click here for more