Formed: Fleet, Hants, 1978 (as Bright Young Things)
Controls from Fleet, Hants formed in December 1978 (as Bright Young Things) from the remnants of three bands - the Grunties, Keine Namen and The Fastnets. The band name changed to Controls in July 1979.
Melvyn Crawford (guitar/vocals)
Kerry Kirk (drums)
Tim Naylor (bass/vocals)
Jon Monks (guitar/vocals)
The band played around 30 gigs over the following 18 months including various pubs, clubs and schools and was part of the 'punk and mod' season staged at the Tumbledown Dick in Farnborough, winter '79 (other bands playing included Angelic Upstarts, The Wall, the Nips and the Purple Hearts).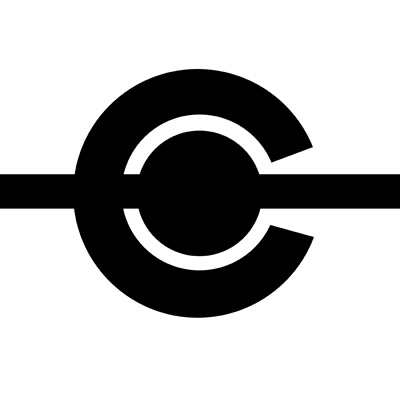 Controls released two tapes on the Stupid Rabbit Tapes label, Sock it to 'Em, Dave (April 1980) and Don't Adjust the Controls (July 1980).]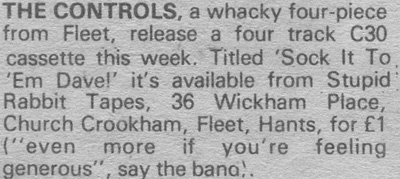 Above: Sounds magazine, 1980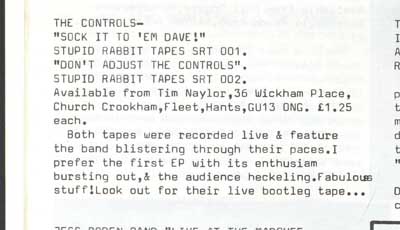 The band line-up changed in August 1980 to:
Kerry Kirk (drums)
Tim Naylor (bass/vocals)
Mick Pendleton (guitar/vocals)
Jim Rump (vocals)
This line-up played a further 20 or so gigs including a headline at the Wooden Bridge in Guildford and the West End Centre, Aldershot and issued another tape on Stupid Rabbit Tapes, Late Night Love Songs (April 1981). This was then re-issued on the Reading-based X-Cassettes label as Dance with additional tracks (X-003).
The band also appear on two X-Cassette compilations – Anything Could Happen In The Next Half Hour! (X-002) and Bits (X-005).
Information and images courtesy of Tim Naylor
__________________________________________________________________________
DISCOGRAPHY
Singles & Albums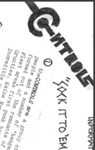 Sock It To 'Em, Dave (Tape, 1980)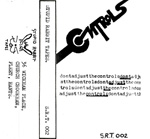 Don't Adjust The Controls (Tape, 1980)
Late Night Love Songs (Tape, 1981)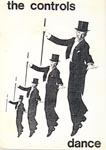 Dance (Tape, c.1981)
Various Artists
Anything Could Happen In The Next Half Hour! UK Tape 1981 (X-Cassettes): Apprehension / Over Now
Bits UK Tape 1981 (X-Cassettes): Late Night Love
__________________________________________________________________________
Links
Bored Teenagers - Much same as information given to me, but some additional stuff as well (bastards!!)