Formed: Huddersfield, Kirklees, West Yorkshire, England, UK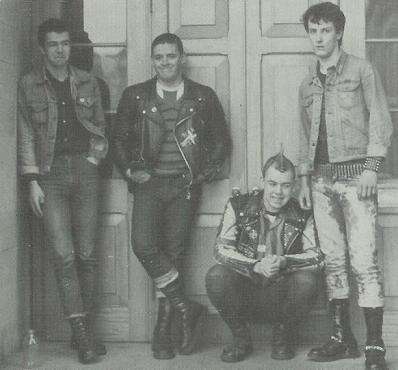 These obstreperous punksters from Huddersfield were a minor but amusing fixture on the Northern punk circuit, and (almost famously) the subject of the ITV documentary 'First Tuesday', which was presented by Jonathan Dimbleby, and broadcast in 1985.
The band formed in summer 1982 and made their live debut (an invites-only house party excepted) at the Fraternity Hall in Huddersfield that September, supporting The Macc Lads. Eh up!
In 1983 they recorded the Criminal Justice demo, a four song affair produced by members of The Xpozez, Tez and Trimble (both of whom ended up in The Instigators). One track from this was used on the Eject It tape.

Brooky actually joined The Xpozez as drummer soon after the demo, and continued to play in both bands for some time.
Two tracks from a second demo in December 1983, 'Machines And Systems' and 'Middle East Mayhem' appeared on the 1984 compilation LP On The Street, and this was followed by their one and only single, Hierarchy Of Hell! E.P, which quickly sold out of its pressing of 1000 copies.
As for the TV documentary, here's what it says in Ian Glasper's Burning Britain tome: "Chaz was placed on a government training programme, one of those 'Get back to work' things. He had to do some painting and decorating at the National Children's Centre building in Huddersfield for a couple of weeks. The Centre's boss, Hazel Whitmore, noticed him, 'cos of his appearance no doubt, and they got chatting. He said he was in a band and she told him of her friend Ruth Pitt at Yorkshire TV who might want to speak to him about a documentary she was going to do about punks in Huddersfield, and, to cut a long story short, that's how we were eventually approached to take part in the programme. "The film crew followed us around for about a week. They bought Chaz cider early in the morning and he played right into their hands! All they seemed to want to do was to portray us all as drunken yobs and for the most part they succeeded!"
Criminal Justice split in 1986 after having switched to playing thrash metal under the name Damage Inc. Nobby, Chaz, and Kitty went on to form a new three-piece band called Diekreist, which recorded a demo but didn't do much else.
According to Brooky in the same book: "Kitty is no longer involved in music. Nobby went on to become a salesman and was last heard of living in Ireland. I joined a punk-pop outfit called All Over The Carpet but am no longer playing in bands. Chaz went on to play guitar in various metal bands including Karrion and Solstice and is currently working on an album with his new band, Fireblade".
__________________________________________________________________________
LINEUP (1982-1986):
Lee 'Chaz' Netherwood - vocals
Paul 'Nobby' Ibbotson - guitars (ex-The Infected)
Kev 'Kitty' Kitson - bass
Andy 'Brooky' Brook - drums (ex-The Infected)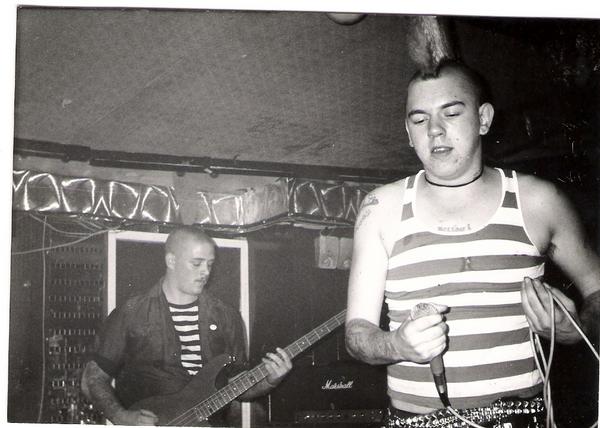 __________________________________________________________________________
DISCOGRAPHY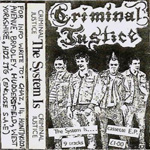 The System Is.... (Tape, 1983)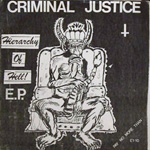 Hierarchy Of Hell! E.P. (7", 1984)
Extraneous Releases
Complete Collection 1983-89 (LP, 2016)
Demos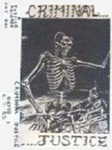 Criminal Justice (Tape, 1983) Demo 1984 (Tape, 1984) Demo '85 (Tape, 1985) Rehearsal (Tape, 2014)
Various Artists
Ere Whats This Volume One UK Tape 1983 (U.K. Tapes): Middle East Mayhem / Criminal Justice / The Race Is On / No Tomorrow
Eject It UK Tape 1984 (Holocaust Tapes): The Race Is On For N.A.T.O.
On The Street UK LP 1984 (Sane): Machines And Systems / Middle East Mayhem
"Get Lost!" UK Tape 1984 (Greenhouse Tapes): Religion Instagates / No Tomorrow
Hate Humanity-8U - Another Crummy Comp UK Tape 1984 (Crummy Stuff): Criminal Justice / Lebanese Lifestyle
"Get Lost!" UK Tape 1984 (Greenhouse Tapes): Religion Instagates / No Tomorrow
Crisis, What Crisis? UK Tape 1985 (Music Not Profit): Frenzy / Sten Guns In Huddersfield
The Growing Threat UK Tape 1980s (Unity Strength Productions): Overload
__________________________________________________________________________
Links
You can add stuff and make comments/corrections by emailing me at:
COMMENTS