Formed: Akron Ohio, USA
Intro
Sometime in the mid-'90s, Ms Gibbon (me) played in a band called The Squeelers. Don't bother googling that name or looking for it on this site, because we never played a gig and spent most of our time doing inept cover versions of punk/new wave classics. Anyway, at one point we started writing our own songs (well, mainly we nicked riffs from different punk/new wave classics to the ones we were covering and stitched them together Frankenstein-style to create our own songs) and one of the earliest ones was this absolute piece of shite called 'Godzilla'. We got a bit carried away with this song and thought how much of a wheeze it would be if we all dressed up as Godzilla, Rodan, Mothra and Megalon and smashed up a scaled down version of Tokyo on stage every time we played. Never form a moment did we think about how impractical or expensive this would be, or how unlikely it would be in the small room at the back of The Racehorse pub. Fortuitously, the band never made it past recording a demo and we all went back to our day jobs.
Which brings me to Devo.
In the late '70s they were quite the cult phenomenon. Part of their diseased appeal was they openly posited a theory of theirs known as "de-evolution", a concept founding member Gerald V. Casale described as "the idea that instead of continuing to evolve, mankind has actually begun to regress, as evidenced by the dysfunction and herd mentality of American society".
I expect this "de-evolution" thing was like our Godzilla thing, a goofy joke they never expected to take off. Their "de-evolution" theory was a wild mish-mash derived from nutjob Christian pamphlets from the likes of the Jehovah's Witnesses, parodies of television evangelism, and chiefly a book by Bavarian Creationist scientist/philosopher Rev. BH Shadduck PHD. Written in 1924, Jocko-Homo Heavenbound was a negation of the evolutionary theory put forward by Dickens. Mark Mothersbaugh (vocals) and Gerald V. Casale (guitar) ran riot with phrases and ideologies from the book ("wear gaudy colours or avoid display", "the fittest shall survive yet the unfit may live", "we must repeat") and coupled this with their resolutely anti-hippy stance, a disdain of progressive rock and an embracing of technology to create a music that was sterile, jerky, machine-like, abrasive, hilarious/annoying and cynical.
Pioneers in the field of video, their concerts were prefaced by truly bizarre short movies such as the award winning The Truth About De-Evolution (1975), featuring such characters as Booji Boy and General Boy, which helped build their reputation and earned them a place in rock history for being early advocates of the pop promo video. Highly theatrical, their visuals were as important as their music. For a start, they always looked odd, and this irritated people. Here's some nice pictures by way of example:
ABOVE: 1978, 1980 and 1981 Devos.
Musically, Devo was in a world of its own: In the early days Mark Mothersbaugh's hiccoughed vocals prevented the lyrics from being easily discerned, drummer Alan Myers' unorthodox time signatures prevented their songs from being danceable and leant them a spasticated quality, and Gerald V. Casale's guitarisms generally avoided blues-rock structures at all costs. On their first few singles and debut album their jerky rhythms, ragged guitar shapes and rudimentary keyboards made them unique. As time went on the synths became more prominent and by 1980 they were recording new wave dance-rock, which they have stuck with ever since.
Part 1 (1972-1979)
When the group formed in 1972 by Mark Mothersbaugh and Gerald V. Casale, it was two years after several Kent State University students were shot dead by National Guardsmen at a peaceful demonstration.
Gerry Casale: Whatever I would say would probably not at all touch upon the significance or gravity of the situation at this point of time -- it would probably sound trite or glib. All I can tell you is that it completely and utterly changed my life. I was a white hippie boy and then I saw exit wounds from M1 rifles out of the backs of two people I knew. Two of the four people who were killed, Jeffrey Miller and Allison Krause, were my friends. We were all running our asses off from these motherfuckers. It was total, utter bullshit. Live ammunition and gas masks - none of us knew, none of us could have imagined... They shot into a crowd that was running away from them! I stopped being a hippie and I started to develop the idea of devolution. I got real, real pissed off. (as told here)
The early Devo lineups were fluid, but always centred around Gerry Casale (guitar) and Mark Mothersbaugh (vocals, keyboards). Over the new few years various people came and went, but Gerald's brother Bob (bass) joined in 1973 and Mark's brother Jim (drums) joined in 1974 (unusually for a "rock" band, Jim used a set of homemade electronic drums rather than a traditional drum kit). Throughout this period and into 1975 they honed their stage show to rough perfection, with various band members and friends coming on in costumes to amuse and annoy the audience: the likes of the fat-faced, childlike Booji Boy (Mark Mothersbaugh), The Chinaman (Gerald Casale) and Soo Bawlz (Toni Basil) were all created during this time. When Jim left in 1975 they recruited Alan Myers', who actually played on a conventional, acoustic drum kit. Therefore, by 1976 the lineup was:
Mark Mothersbaugh - vocals, guitars, keyboards
Gerald V. Casale - bass, vocals
Bob Casale - guitar
Bob Mothersbaugh - guitar, vocals
Alan Myers' - drums
And it remained so for nearly a decade.
ABOVE: General Boy and Booji Boy.
Like many of their peers (including Pere Ubu), the only way for Devo to get a record out initially was to release one themselves, which is what they did in February 1977, on their on label, Booji Boy. Jocko Homo / Mongoloid is a startling debut, the A-Side a virtual manifesto: "We walk like an ape, talk like an ape, do what a monkey do/God made man, but the monkeys applied the glue." With its call-and-response refrain, herky-jerky weird-ass motherfucker guitar riff and some simple electronics, it is hilarious; likewise the B-Side and its unforgettable bass line and double-tracked geeky vocals, and weirdly moving lyrics about a "mongoloid with one chromosome too many" who was happy, nonetheless, because "he had a job, and he wore a hat, and he brought home the bacon so that no one knew".
A second single, a delightfully mechanised version of (I Can't Get Me No) Satisfaction, was issued on Booji Boy later that year.
ABOVE: Stiff press adverts for 'Jocko Homo' (left), 'Satisfaction' (the other two images).
Fortunately for the band, in May 1977 they played Max's Kansas City in New York and noticed everything had changed and that not only did they now have fans - i.e. people who paid to see them and not just confused hippies who were subjected to them when Devo played support slots - but some of them were properly famous. David Bowie was there, and he clambered on stage and declared them "the band of the future" and stated rather presumptuously that he would be producing their debut album. And so the band became UK press darlings, and had the likes of Eno, David Bowie and even Neil Young clamouring to work with them.
With this sort of publicity, it was no wonder a bidding war began, with Warner Bros, Elektra and Island all trying to get in on the deal. It was however Stiff who was first off the mark, when they were granted a license to release both Booji Boy singles in 1978, selling many more copies in the UK than they did at home, with 'Jocko Home' just missing the Top 60 and 'Satisfaction' just missing the Top 40. Suitably enthused, Devo's third single was a UK-only release for that very label. Be Stiff was their most punky-sounding release so far, with saucy nonsensical lyrics about one of the group's favourite subjects, sex: "Fruit ooze is wetly lewd/Stay dry in rubber boots And/Cucumbers ripe and rude/Bend over fixed to shoot and/Breath hard in metal suits/live right make lots of loot…" It was another UK chart hit (well, I suppose getting to number 71 counts).
The virtual (but not complete) absence of keyboards doesn't make any of these records seem any less odd: indeed, the guitar riff on 'Be Stiff' is pure Stones, which makes things even stranger. (Note: both sides of all three singles were reissued in 1979 as a British six-tack 12" entitled B Stiff.) In June, Devo also made a startling (and very unpopular) appearance at the Knebworth Festival, alongside the likes of Genesis and Jefferson Starship, where they were met with a barrage of bottles.
Gerry V. Casale: Richard Branson talked us into playing the Knebworth festival and we were on before Genesis, and were staring out all these hippies who fucking hated us, and we went into Smart Patrol ('We're the smart patrol nowhere to go') and they started throwing things at us, but the stage is so high above the ground, so they started hitting other people in the crowd with the cans and stuff, so the people at the front who wanted to see us turned on them and was this huge fight going on and we could see it all, it was just perfect, it took us back to when Devo started in Ohio, when people would threaten us to quit playing. - as told to God Is In The TV Zine (here)
ABOVE: Some of the inside art of the 'Jocko Homo' single.
While all this was Stiff activity was going on, the band was actually in Cologne recording its first LP, Q: Are We Not Men? A: We Are Devo!, with Eno producing. They weren't signed to a label at the time, but given the amount of press coverage the group was getting that was a formality. The finished product came out in August 1978 on Warner Bros (in the US) and Virgin (in the UK), going gold in the US and silver in the UK. Both sides of their first two singles were presented in much slicker versions and there were another eight songs of equal quality, among them the unforgettable 'Space Junk' and the epic 'Gut Feeling'. The original UK album was really marketed by Virgin: it came out on vinyl in at least ten different colours and also as a limited edition picture disc with a free 7" flexi single, the not exactly essential (shit, really) 'Flimsy Wrap'.
ABOVE: Japanese Picture Sleeves: B Stiff 12" and (I Can't Get Me No) Satisfaction 7"
After that they fell foul of the inevitable backlash and were seen as over-hyped arch irritants by many in the press, who slated their July 1979 LP Duty Now For The Future. Although (possibly because) the record was slicker than anything they'd released before it didn't replicate the global success of the debut but still featured some classic Devo numbers, such as 'Wiggly World', 'Blockhead', 'S.I.B. (Swelling Itching Brain)' and 'Smart Patrol"/"Mr DNA'. Two songs from the LP were selected as UK singles, The Day My Baby Gave Me A Surprize and Secret Agent Man (another weirdo cover version, the original having been a 1966 hit for Johnny Rivers), but neither charted there.
ABOVE: 'Duty Now' UK press adverts
Part 2(1980-1985)
The May 1980 release of their third LP, Freedom Of Choice, saw the band enjoy a brief crossover into mainstream success when it sold enough copies to warrant platinum disc status in the US (i.e. at least a million copies were sold there). Much less emphatic about their devolution theories, Mothersbaugh and Casale instead seemed to be heading for more dancey waters, yet still retained their nerdy weirdness. The album's best known song (and also a hit single), Whip It was misconceived by many as being about bondage, but was actually based on phrases grabbed from a motivational book for employers. More reliant on synthesisers, the guitars were pushed even father back into the mix and the rough edges were sanded off almost completely, but this is still, without question, the Devo we all know and love.
Devo's next assignment was not actually Devo product at all, but working as Toni Basil's back-up band (and songwriters) for Toni Basil. Basil was a dancer, choreographer, actress and pop singer, whose numerous credits included releasing a single in 1966 for A&M (Breakaway), appearing in The Monkees' film Head (1968), playing bit parts in Easy Rider (1969) and American Graffiti (1973), and performing in a street-dance ensemble called the Lockers, "the group that changed the face of dance." That glut of info came from Wikipedia and I can't be bothered double-checking it, so let's all assume it's true, eh? Anyway, Devo contributed heavily to her 1981 LP 'Word Of Mouth', which included several cover versions, including Devo's 'Be Stiff', David Essex's 'Rock On', and the delightful 'Mickey', the latter a massive international hit single in 1982.
ABOVE: Japanese Picture Sleeves: Secret Agent Man 7" and Girl U Want 7"
May 1981 saw the release of a 12" mini-album, Dev-O Live, which featured six tracks, five of which were from 'Freedom Of Choice'. (This EP was later expanded into a full-length CD by Rhino, and was also released a DVD in 2005). Shortly after the live EP, Devo unleashed yet another cover version, this time a giddily automated rendition of Lee Dorsey's 1966 soul classic Working In A Coal Mine, before releasing their fourth studio long-player, New Traditionalists. Said LP was - by comparison with the earlier records - kind of boringly predictable, with Alan Myers now thwacking out a monotonous 4/4 beat and the synths taking on a very '80s sounding sheen. Nonetheless, the LP had some standout tracks, some of which were issued as singles: Through Being Cool, a bemused stab at their new fanbase, which actually came out prior to 'Working In A Coal Mine', the sarcastic Beautiful World, and a love song of sorts, Jerkin' Back 'N' Forth. None of these singles performed very well in the UK or US charts, but all did well in Australia and New Zealand.
Come November 1982, the band released the glorious Oh, No! It's Devo, in many ways the quintessential Devo LP, with hilarious cover art (the band as spuds) and songs that were somehow simultaneously pedestrian and astonishing. They hit a real "ten" on the cringe-o-meter with 'Peek-A-Boo', which featured an insanely irritating chorus and a 'HAW HAW HAW HAW' refrain that defied belief, and the mighty 'Speed Racer' had the band putting on silly voices (Barbie, a macho soldier, a pirate) to incredibly embarrassing yet highly entertaining effect. Another song harps on about "big shots from the big spud gun" (potatoes being a frequent reference point), and while 'I Desire' was an ostensibly dull dance-rock number its lyrics were taken from a poem written by Ronnie Reagan's would-be assassin John Hinkley Jr. The sort of record that I used to play only when nobody - and I mean absolutely nobody - else was is in the house, its complete lack of self-consciousness make it a winner.
After this it was a major downhill slope for the band, both artistically, critically and commercially. Theme From Doctor Detroit, which came out in 1983, was their sole release that year, and was a terrible, terrible song. During this time they were still very popular in the Antipodes, but elsewhere their records sold in progressively smaller quantities. Shout, their sixth album, came out in October 1984 and flopped everywhere it was released. It was over-produced garbage with nothing to recommend it, unless you want to hear an appalling version of Jimi Hendrix's 'Are You Experienced?' and nine awful originals all based on the same whomping beat, with a surfeit of mightily irksome and now incredibly dated keyboard sounds. This shit record wasn't even released in the UK. That's a measure of a how bad it is and b) how far the band's credibility had dropped. Little wonder that Warner Bros dropped them soon after it's release, after which Alan Myers quit, and then the band decided to split up, leaving a stand-alone 12" single, Here To Go, as their parting shot.
Part 3 (1987-Present)
Unfortunately, the split was short-lived. The four men from Devo teamed up with new drummer David Kendrick (ex-Sparks) because they knew they still had at least two more fucking horrible records in them. But before those monstrosities, they recorded two new songs for Slaughterhouse Rock, a useless horror film which starred Devo's old friend Toni Basil and currently has a 3.3 rating on the IMDB. I own this on blu-ray. The new songs were 'The Only One' (with Basil on vocals) and 'Man Turned Inside Out'. The third song was 'Part Of You', an 'Oh, No! It's Devo' outtake.
'Man Turned Inside Out' re-appeared on their new studio LP, Total Devo, which came out in May 1988 to not-entirely-ecstatic reviews. Samples: "If you listen closely, the bass drum on this record sounds suspiciously like a digital sampling of the sound of a dead horse being beaten" (Rolling Stone). "...little more than a timid and bland imitation of the countless bands Devo inspired. Lost and confused, Devo attempts to sound like Human League, sings of being a 'Disco Dancer' with far too little irony and essays a witless cover of "Don't Be Cruel" that reveals a rather profound absence of humour" (Trouser Press). The two singles lifted from the LP, Disco Dancer and Baby Doll, were likewise rubbish, and to make matters worse the numerous formats - 7", 12", cassette singles, CD singles - heaved with multiple remixes.
The group went on tour to promote the LP, eventually spawning Now It Can Be Told, Devo At The Palace 12/9/88, a three-sided LP and one-sided CD.
Things got even worse for Devo when their 1990 LP Smooth Noodle Maps did really badly (and with good reason), as did their European tour of 1991, which was so poorly-attended the group decided to split.
The embarrassing demise of Devo did not prevent record companies from realising that there was still a market for good Devo product, and the early-to-mid 1990s saw a plethora of compilations being released. The best of these were the ones Rykodisc swiftly trotted out: Hardcore Devo Vol. 1 74-77, Hardcore Devo Vol. 2 74-77, Live: The Mongoloid Years. These archival releases featured vintage home demos and lo-fi live recordings that demonstrated just how radical and entertaining Devo was at its peak. Hot Potatoes: The Best Of Devo was a nifty compilation of fairly obvious recordings from 1978 to 1982, released to coincide with Virgin's budget-price twofer reissues of the group's first six albums. (Cunningly, Virgin were sure to pair a great album with a not-so-great one, to ensure maximum sales; after all, not many people would have bought a twofer containing 'New Traditionalists' and 'Oh No! It's Devo!'.) Less worthwhile was Devo Presents Music From Adventures Of The Smart Patrol, which began life as a CD-Rom video game but is essentially a too-short "best of" (five old hits) with some extras: an instrumental version of 'Mechanical Man', three new songs, including a reworking of one of their older tracks ('U Got Me Bugged') and – believe it or not - a synth-surf instrumental; and two numbers by acts that are neither Devo nor tolerable. (Some of this bonus material also ended up The Essentials, otherwise a normal best-of.)
Devo activity post-1995 can be boned-up on by clicking on Wikipedia.
DISCOGRAPHY
Subsequent studio albums: Total Devo (1988), Smooth Noodle Maps (1990), Something For Everybody (2010).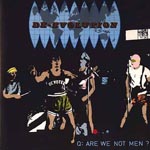 Jocko Homo / Mongoloid (7", 1977)
(I Can't Get Me No) Satisfaction (7"/12", 1977)
Be Stiff (7", 1978)
Come Back Jonee (7", 1978)
Q: Are We Not Men? A: We Are Devo! (LP+7", 1978)
(I Can't Get No) Satisfaction (7"", 1978)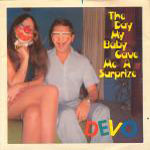 The Day My Baby Gave Me A Surprize (7", 1979)
Duty Now For The Future (LP, 1979)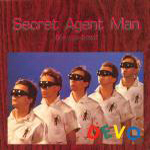 Secret Agent Man (7", 1979)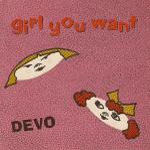 Girl You Want (7", 1980)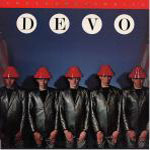 Freedom Of Choice (LP, 1980)
Whip It (7"/12", 1980)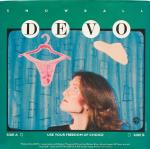 Snowball / Freedom Of Choice (7", 1980)
Devo-O Live (12", 1981)
Through Being Cool (7", 1981)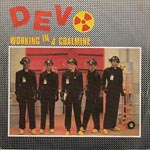 Working In A Coal Mine (7", 1981)
New Traditionalists (LP, 1981)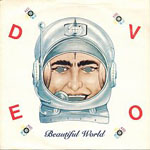 Beautiful World (7", 1981)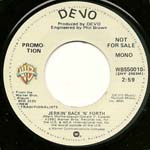 Jerkin' Back 'N' Forth (7", 1982)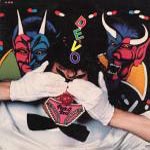 Peek-A-Boo! (7"/12, 1982)
Oh, No! It's Devo (LP, 1982)
That's Good (7"/12, 1982)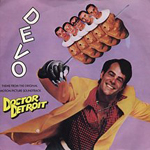 Theme From Doctor Detroit (7"/12", 1983)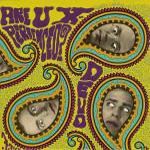 Are U X-Perienced? (7", 1984)
Shout (LP, 1984)
Shout (7"/2x7", 1985)
Here To Go (12", 1985)
Extraneous Releases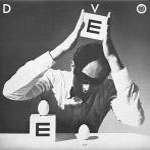 B Stiff (12", 1978)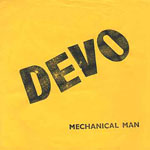 Mechanical Man (7", 1978)
Gut Feeling / Satisfaction (7", 1979)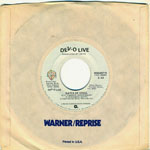 Dev-O Live (7", 1980)
EZ Listening Cassette (Tape, 1981)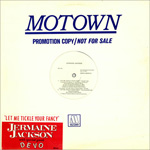 Let Me Tickle Your Fancy (12", as Jermaine Jackson with Devo, 1982)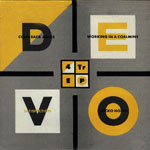 4 Track EP (12", 1983)
EZ Listening Cassette Volume 2 (Tape, 1984)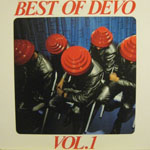 Best Of Devo Vol. 1 (LP, 1986)
E-Z Listening Disc (CD, 1987)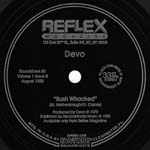 Bush Whacked / Si Tu Attends (6" Flexi, split with Colin Newman, 1988)
Hardcore Devo Vol. 1 74-77 (LP/CD, 1990)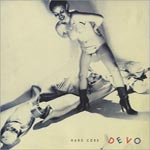 Hard Core (LP, 1990)
Greatest Hits (CD, 1990)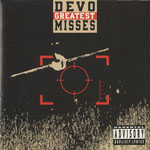 Greatest Misses (CD, 1990)
Hardcore Devo Vol. 2 74-77 (CD, 1991)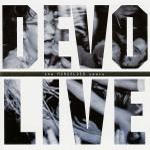 Live: The Mongoloid Years (CD, 1992)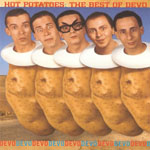 Hot Potatoes: The Best Of Devo (CD, 1993)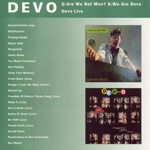 Q: Are We Not Men? A: We Are Devo / Devo Live (CD, twofer, 1993)
Duty Now For The Future / New Traditionalists (CD, twofer, 1993)
Oh No It's Devo / Freedom Of Choice (CD, twofer, 1993)
Devo Presents Music From Adventures Of The Smart Patrol (CD, 1996)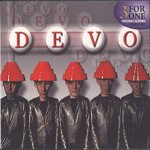 3 For 1 (3xCD, 1996)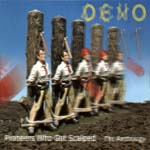 Pioneers Who Got Scalped - The Anthology (2xCD, 2000)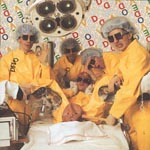 Recombo DNA (2xCD, 2000)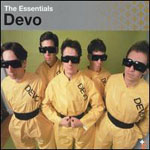 The Essentials (CD, 2002)
Whip It And Other Hits (CD, 2003)
Live 1980 (CD, 2005)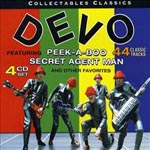 Collectables Classics (4xCD, box set, 2006)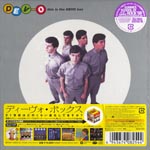 This Is The Devo Box (7xCD, box set, 2008)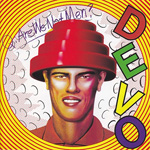 The Ultra Devo-lux Ltd. Edition (2xCD + 2xDVD + 7", box set, 2009)
Q: Are We Not Men? A: We Are Devo / Oh, No! It's Devo (2xCD, twofer, 2011)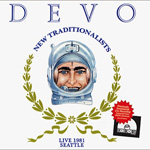 New Traditionalists - Live 1981 Seattle (2xLP/CD, 2012)
Hardcore (2xCD, 2013)
Miracle Witness Hour (LP/CD, 2014)
Live At Max's Kansas City - November 15, 1977 (LP, 2014)
Gates Of Steel (Live) (7", split with The Flaming Lips, 2014)
Nutty Buddy (Cassingle, 2015)
Social Fools The Virgin Singles 1978 - 1982 (CD, 2015)
EZ Listening Muzak (2xLP/2xCD, 2016)
Turn Around: B-Sides & More (1978-1984) (LP, 2019)
Promos
What's It All About? (7", split with Dire Straits, 1979)
Live - The Warner Bros Music Show (LP, 1980)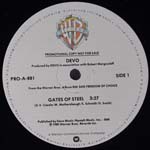 Gates Of Steel (12", 1980)
New Traditionalists (12", 1981)
What's It All About? (7", split with Kiss, 1981)
Oh, No! It's Devo (12", 1983)
Bootlegs - There are also lots of CDRs/tapes not on this list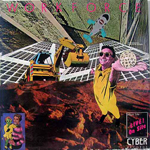 Workforce To The World Live! On Site (LP, 1978)
How To Keep A DEVOtee Busy For Hours (LP, 1979)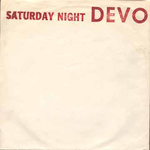 Saturday Night DEVO (7", 1978)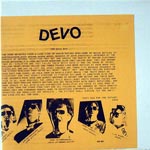 Tru Devo Bio - Can U Take It? (LP, 1978)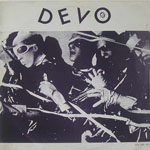 Innocent Spuds (LP, 1978)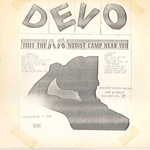 Visit The Devo Nudist Camp Near You (LP, 1978)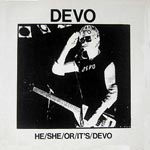 He/She/Or/It's/Devo (LP, 1978)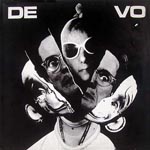 Mabuhay Gardens (LP, 1979)
You Can Take It! (LP, 1979)
The Men Who Make The Music (2xLP, 1979)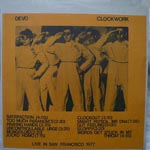 Clockwork (LP, 1979)
Sing If You're Glad To Be Devo (LP, aka Devonia, 1979)
Devostate Your Mind (LP, 1979)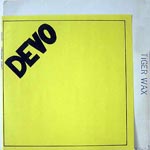 Tigerwax (LP, 1980)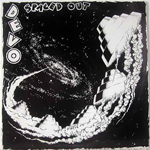 Spaced Out (LP, 1981)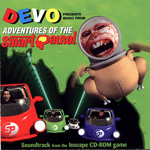 Smart Patrol (CD, 2015)
Satisfaction - Live At Mabuhay Gardens, San Francisco 1977 (LP/CD, 2015)
Orpheum Theater Boston, 17th July 1980 (CD, 2015)
Live At The Orpheum, Boston, July 17th, 1980 (LP, 2017)
The Crypt Akron Ohio 1977 (CD)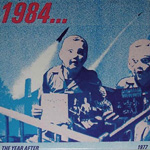 1984...The Year After 1977 (LP)
The Forgotten Bits (CD)
DVDs
Live 1980 (DVD/CD, 2005)

Various Artists
Rock 'N' Roll High School UK/US LP 1979 (Sire): Come Back Jonee
We Do 'Em Our Way UK LP 1980 (Music For Pleasure): Satisfaction (I Can't Get Me No)
Heavy Metal - Music From The Motion Picture US LP 1981 (Epic): Working In The Coal Mine
URGH! A Music War UK 2xLP 1981 (A&M): Uncontrollable Urge
Fright Night (The Complete Original Soundtrack) US LP/CD 1985 (Private): Let's Talk
9½ Weeks - Original Motion Picture Soundtrack US LP/CD 1986 (Capitol): Bread And Butter
Punk Diary 1970-1979 US CD 1994 (no label): De-evolution In Akron
Mighty Morphin Power Rangers The Movie: Music From And Inspired By The Movie US LP/CD 1995 (Atlantic): Are You Ready?!
The Best Punk Album In The World ... Ever! 2 UK 2xCD 1996 (Circa): Satisfaction (I Can't Get Me No)
1-2-3-4 Punk & New Wave 1976-1979 UK 5xCD 1999 (Universal): Jocko Homo
No Thanks! The '70s Punk Rebellion US 4xCD 2003 (Rhino): Mongoloid
__________________________________________________________________________

Links
Devo Obsesso - Staggering Devo discography and stuff
Club Devo - The official site
Mutato Muzika - Mark Mothersbaugh's "full music production service"
All Music - Devo bio and reviews
Dangerous Minds: Q: Are We Not Men? The origins of DEVO's theory of De-Evolution!