The Expelled - No Life No Future (EP)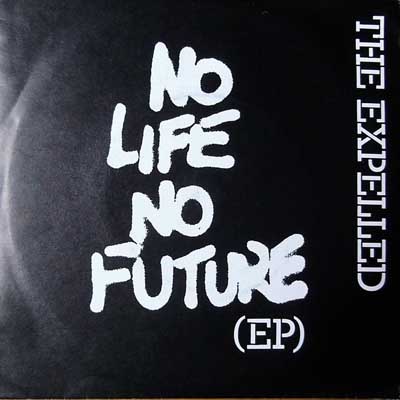 Original Release Date
1982
Release Information
UK 7" 1982 (Riot City - RIOT 8)
A
1 Dreaming
AA
2 No Life No Future
3 What Justice?
Chart Placings
UK indie Hit: 16, 10 wks
Credits
Macca - bass
Tim - guitar
Jo! - vocals
Rick - drums
Backing vocals - Col, Bill, Igor, Shane, Dave, Us
Recorded at Cave Studios, Bristol, February 1st 1982
Produced by The Expelled and Shane

Reviews & Opinions
JEFF BALE, MAXIMUM ROCKNROLL #1, JULY 1982: I would have thought it premature, but here's a band that's inspired by VICE SQUAD. Even though "What Justice' is super fast and catchy, one VICE SQUAD is enough, thank you.
Additional Notes
'What Justice?' has no question mark on the back cover. Pedantic, eh?
Images