AKA: THE BUZZARDS
Formed: Leyton, East London, England, UK
The Leyton Buzzards hailed from the East London suburb of Leyton but took their punny name from the Bedfordshire town Leighton Buzzard, no doubt causing no end of confusion. This four piece were punk rock satirists who made great records in a jocular vein. They never achieved any kind of credibility, mainly because of their lack of seriousness, but there were other reasons: entering a Sun/Radio 1 sponsored Battle Of The Bands contest simply wasn't the punk thing to do.
They first surfaced on Small Wonder in 1978 with the snotty 19 & Mad. This suffered from poor production but offered a good Members-esque romp on the front and two lesser numbers on the back. The chorus of the main song was a punky corker:
I am nineteen, out of my way
I am nineteen, got nothing to say
I am nineteen, don;'t know what to do
I won't reach twenty and I don't want to
A subsequent move to Chrysalis resolved budget problems, and for the label they issued three singles in 1979, the first of which, Saturday Night Beneath The Plastic Palm Trees, propelled them into the lower reaches of the pop charts. Although the A-Side was softer sounding than the debut, its fondly nostalgic lyrics about late '60s discos, skinheads, and failing to get off with girls was charming, and Steve Lillywhite's production was excellent. 'Through With You' on the other side was a brilliant fast punk song that demonstrated that they coulda been contenders.
The follow-up, 1979's I'm Hanging Around was a further move towards new wave that didn't duplicate the success of the earlier 7", but it had a great tune and some quirky anti-rhyming lyrics that made it stand out from the lumpy likes of The Vapors. And it had two superb songs on the B-Side: the wonderfully self-deprecating punk racket of 'No Dry Ice Or Flying Pigs', and the sarcy skank 'I Don't Want To Go To Art School'.
We Make A Noise, the third of the trio, was an Albertos-esque paean to the garageland spirit, but despite dropping the Leyton bit of their name (the cover actually credits them to The Buzzards from Leyton), being coupled with another terrific pogoer ('Disco Romeo'), coming in a sleeve especially designed by Terry Gilliam and strong production by Chas Chandler, it also failed to chart.
"We make a noise, what a bloomin' racket
We make a noise, you're playing much too loud
We make a noise, your guitars all need tuning
We make a noise
Yes I know…but I'm proud"
'We Make A Noise', 1979
Jellied Eels To Record Deals - their sole album - was actually a collection. it proves what a minor treasure they really were. Both sides of all three Chrysalis singles are present (including the hilarious 'Dry Ice And Flying Pigs'), as is the main track of the Small Wonder outing. The rest of the album consists of unreleased studio recordings and some top-notch Peel Session tracks ('Land Of The Free' and 'Sharp Young Men' are particularly awesome). 'British Justice' shows the group have a serious side, but mostly the tongue is planted firmly in cheek.
A cover of Andy Williams Can't Get Used To Losing You was issued as a single in 1980 under their old punkier moniker, but it did cack all. The band promptly splintered, with half of them going on to find chart success with the horrible Modern Romance (Ay Ay Ay Ay Moosey indeed!).
Captain Oi's The Punk Collection compiles most of the band's recorded output, although anything that falls out of the label's blinkered definition of punk is omitted i.e. 'I Don't Wanna Go To Art School' (too reggae), 'Can't Get Used To Losing You' (too pop), 'Baby If You Love Me Say Yes If You Don't Say No' (too calypso). They could have fit all of their released output on one disc, so this half-arsed attempt is a bit of shame.
__________________________________________________________________________
Lineup 1 (1976-1978):
Nick Nayme (real name Geoff Deane) - vocals
Chip Monk (real name Dave Monk) - guitar
Dave DePrave (real name David Jaymes) - bass
Gray Mare (real name Kevin Steptoe) - drums
Recorded: 19 & Mad


Lineup 2 (1978-1979):
Geoff Deane - vocals
Vernon Austin - guitar
David Jaymes - bass
Kevin Steptoe - drums
Recorded: All the Chrysalis singles and three Peel Sessions (August '78, December '78, and June '79)
Lineup 3 (1980):
Geoff Deane - vocals
Vernon Austin - guitar
David Jaymes - bass
Tony Gainsborough - drums
Milton Reame James - keyboards
Recorded: Can't Get Used To Losing You 7" (maybe) and a fourth Peel Session in January 1980.
__________________________________________________________________________
DISCOGRAPHY
Singles & Albums
19 & Mad (7", 1978)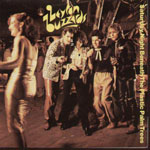 Saturday Night Beneath The Plastic Palm Trees (7", 1979)
I'm Hanging Around (7", 1979)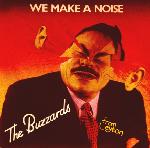 We Make A Noise (7", as The Buzzards, 1979)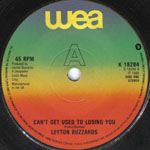 Can't Get Used To Losing You (7", 1980)
Extraneous Releases
Jellied Eels To Record Deals (LP, as The Buzzards, 1979)
The Punk Collection (CD, 2003)
Various Artists
Business Unusual (The Other Record Collection) UK LP 1978 (Cherry Red): 19 And Mad
Hi-Energy UK LP 1979 (K-Tel): Saturday Night (Beneath The Plastic Palm Trees)
La Gran Descarga Spain 2xLP 1981 (Edigsa): 19 And Mad
Vital Vinyl Volume Two. UK LP 1989 (Pickwick): Saturday Night Beneath The Plastic Palm Trees
Small Wonder: The Punk Singles Collection UK CD 1994 (Anagram): 19 & Mad
Small Wonder: The Punk Singles Collection Volume Two UK CD 1996 (Anagram): Youthanasia
1-2-3-4 Punk & New Wave 1976-1979 UK 5xCD 1999 (Universal): 19 & Mad
Action Time Vision (A Story Of Independent UK Punk 1976-1979) UK 4xCD 2016 (Cherry Red): 19 And Mad
__________________________________________________________________________
Links